GGPoker has worked to offer some big bang for the poker buck over the last few years when it comes to online poker players with smaller bankrolls. The site is making yet another effort beginning this month by announcing the launch of the mini MILLION$ tournament series.
The festival runs Jan. 15 – Feb. 6 with $10 million in guaranteed prizes. That is twice the guarantee from October's first mini MILLION$.
The action is designed to appeal to all players with buy-ins starting at $1 and running no higher than $25. Players can expect some massive prize pools for what it might cost to buy lunch.
$50 Bonus OR 100% up to $600 On Deposit
1
$50 Bonus
On a $20 Deposit
Deposit $20 & Get $50 Bonus OR
100% up to $600 On Deposit
Rewards program with attainable milestones
To Claim: Click Get Started
Inside the GGPoker mini MILLION$ series
In the mini MILLION$, those with smaller bankrolls have a shot at some major payouts. That is certainly the case with the $10.50 Mystery Bounty MILLION$, which headlines the series.
Stage 1 starting flights begin on Jan. 27 with $1 million guaranteed. The tournament also includes a top bounty of $50,000.
Another interesting event to watch out for is the $15 Sunday Hundred Grand. These special events are set for Jan. 15, 22, 29, and Feb. 5 with $101,000 guaranteed in each outing, as the name implies.
Other highlights from the series include:
$5 mini Global MILLION$ ($300,000 guaranteed) – starting flights begin Jan. 15 
$5.40 mini Omaholic Bounty MILLION$ ($150,000 guaranteed) – starting flights begin Jan. 15
$25 GGMasters Sunday Bounty Special Edition ($100,000 guaranteed) – Jan. 15, 22, 29, Feb. 5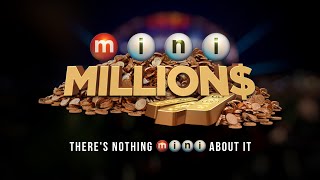 Going big with the mini
GG aims to bring plenty of fun to the tables with the mini MILLION$. Players will find a deep schedule of low roller events. This is the largest low-stakes series the site has ever run.
"It might have 'mini' in the title, but this series boasts over $10 million in prizes – fully double the amount guaranteed the first time around," GGPoker managing director Sarne Lightman said in a news release. "No matter the size of your bankroll, there will be massive tournaments with some really juicy prizes waiting for you!"
Here's a look at the complete series:
2023 GGPoker mini MILLION$
| Date | Event | Buy-in | Guarantee |
| --- | --- | --- | --- |
| Jan 15 | $8.88 Black Rabbit Bounty Kick-Off | $8.88 | $25,000 |
| Jan 15 | $2.50 Sunday Monster Stack | $2.50 | $12,000 |
| Jan 15 | $10.80 Sunday Bounty Blast | $10.80 | $75,000 |
| Jan 15 | $3.21 Sunday Bounty Hunters Warm-Up | $3.21 | $20,000 |
| Jan 15 | $8.55 Bounty Hunters Special | $8.55 | $50,000 |
| Jan 15 | $25 GGMasters Sunday Bounty Special Edition | $25 | $100,000 |
| Jan 15 | $1.11 Bounty Hunters Sunday Big One | $1.11 | $7,500 |
| Jan 15 | $8.88 Sunday CRAZY EIGHTS | $8.88 | $50,000 |
| Jan 15 | $5.40 Bounty Hunters Sunday Main | $5.40 | $50,000 |
| Jan 15 | $1.50 mini Masters Freezeout | $1.50 | $10,000 |
| Jan 15 | $2.50 Bounty Hunters Sunday Big Game | $2.50 | $20,000 |
| Jan 15 | $15 Sunday Hundred Grand, $101K GTD | $15 | $101,000 |
| Jan 15 | $3.21 Sunday Bounty King Baby | $3.21 | $20,000 |
| Jan 15 | $5.50 Sunday FIFTY STACK | $5.50 | $25,000 |
| Jan 15 | $10.80 Bounty Hunters Sunday Special | $10.80 | $50,000 |
| Jan 15 | $10.80 Sunday Omaholic Bounty ME | $10.80 | $20,000 |
| Jan 15 | $7.77 LUCKY SEVENS Sunday Turbo [7-Max] | $7.77 | $30,000 |
| Jan 15 | $5.40 Sunday Heater [Bounty Turbo] | $5.40 | $12,000 |
| Jan 15 | mini Global MILLION$, $300K GTD [Day 1] | $5 | $300,000 |
| Jan 15 | $8.55 Bounty Hunters Sunday Carnaval | $8.55 | $20,000 |
| Jan 15 | mini Omaholic Bounty MILLION$, $150K GTD [Stage 1] | $5.40 | $150,000 |
| Jan 15 | $6.45 Sunday SUPER SIX Bounty | $6.45 | $10,000 |
| Jan 15 | mini Global MILLION$, $300K GTD [Day 1] | $5 | $300,000 |
| Jan 15 | $15 Sunday Saver [Hyper] | $15 | $15,000 |
| Jan 15 | mini Omaholic Bounty MILLION$, $150K GTD [Stage 1] | $5.40 | $150,000 |
| Jan 16 | $8.88 Mini MILLION$ Sunday Madness [Hyper] | $8.88 | $10,000 |
| Jan 16 | mini Global MILLION$, $300K GTD [Day 1] | $5 | $300,000 |
| Jan 16 | mini Omaholic Bounty MILLION$, $150K GTD [Stage 1] | $5.40 | $150,000 |
| Jan 16 | mini Global MILLION$, $300K GTD [Day 1] | $5 | $300,000 |
| Jan 16 | mini Omaholic Bounty MILLION$, $150K GTD [Stage 1] | $5.40 | $150,000 |
| Jan 16 | mini Global MILLION$, $300K GTD [Day 1] | $5 | $300,000 |
| Jan 16 | mini Omaholic Bounty MILLION$, $150K GTD [Stage 1] | $5.40 | $150,000 |
| Jan 16 | mini Global MILLION$, $300K GTD [Day 1] | $5 | $300,000 |
| Jan 16 | mini Omaholic Bounty MILLION$, $150K GTD [Stage 1] | $5.40 | $150,000 |
| Jan 16 | mini Global MILLION$, $300K GTD [Day 1] | $5 | $300,000 |
| Jan 16 | mini Omaholic Bounty MILLION$, $150K GTD [Stage 1] | $5.40 | $150,000 |
| Jan 16 | mini Global MILLION$, $300K GTD [Day 1] | $5 | $300,000 |
| Jan 16 | mini Omaholic Bounty MILLION$, $150K GTD [Stage 1] | $5.40 | $150,000 |
| Jan 16 | mini Global MILLION$, $300K GTD [Day 1] | $5 | $300,000 |
| Jan 16 | $10.80 Bounty Blast | $10.80 | $40,000 |
| Jan 16 | mini Omaholic Bounty MILLION$, $150K GTD [Stage 1] | $5.40 | $150,000 |
| Jan 16 | $3.21 Bounty Hunters Warm-Up | $3.21 | $15,000 |
| Jan 16 | mini Global MILLION$, $300K GTD [Day 1] | $5 | $300,000 |
| Jan 16 | $4.40 FORTY STACK | $4.40 | $12,000 |
| Jan 16 | $1.11 Bounty Hunters Big One | $1.11 | $5,000 |
| Jan 16 | mini Omaholic Bounty MILLION$, $150K GTD [Stage 1] | $5.40 | $150,000 |
| Jan 16 | $8.88 CRAZY EIGHTS | $8.88 | $15,000 |
| Jan 16 | $5.40 Bounty Hunters Main | $5.40 | $30,000 |
| Jan 16 | mini Global MILLION$, $300K GTD [Day 1] | $5 | $300,000 |
| Jan 16 | $10.80 Omaholic Bounty Thriller | $10.80 | $10,000 |
| Jan 16 | $2.50 Bounty Hunters Big Game | $2.50 | $10,000 |
| Jan 16 | mini Omaholic Bounty MILLION$, $150K GTD [Stage 1] | $5.40 | $150,000 |
| Jan 16 | $10.80 Bounty Hunters Grand Slam | $10.80 | $50,000 |
| Jan 16 | $3.21 Bounty King Baby | $3.21 | $12,000 |
| Jan 16 | mini Global MILLION$, $300K GTD [Day 1] | $5 | $300,000 |
| Jan 16 | $5.50 FIFTY STACK | $5.50 | $10,000 |
| Jan 16 | mini Omaholic Bounty MILLION$, $150K GTD [Stage 1] | $5.40 | $150,000 |
| Jan 16 | $3.21 Bounty King Omaholic | $3.21 | $5,000 |
| Jan 16 | $7.77 LUCKY SEVENS Superstack Turbo [7-Max] | $7.77 | $20,000 |
| Jan 16 | mini Global MILLION$, $300K GTD [Day 1] | $5 | $300,000 |
| Jan 16 | $5.40 Monday Heater [Bounty Turbo] | $5.40 | $8,000 |
| Jan 16 | $8.55 Bounty Hunters Carnaval | $8.55 | $12,000 |
| Jan 16 | mini Omaholic Bounty MILLION$, $150K GTD [Stage 1] | $5.40 | $150,000 |
| Jan 16 | $6.45 SUPER SIX Bounty | $6.45 | $6,000 |
| Jan 16 | mini Global MILLION$, $300K GTD [Day 1] | $5 | $300,000 |
| Jan 16 | $15 Monday Saver [Hyper] | $15 | $10,000 |
| Jan 16 | mini Omaholic Bounty MILLION$, $150K GTD [Stage 1] | $5.40 | $150,000 |
| Jan 17 | $8.88 Mini MILLION$ Madness [Hyper] | $8.88 | $8,000 |
| Jan 17 | mini Global MILLION$, $300K GTD [Day 1] | $5 | $300,000 |
| Jan 17 | mini Omaholic Bounty MILLION$, $150K GTD [Stage 1] | $5.40 | $150,000 |
| Jan 17 | mini Global MILLION$, $300K GTD [Day 1] | $5 | $300,000 |
| Jan 17 | mini Omaholic Bounty MILLION$, $150K GTD [Stage 1] | $5.40 | $150,000 |
| Jan 17 | mini Global MILLION$, $300K GTD [Day 1] | $5 | $300,000 |
| Jan 17 | mini Omaholic Bounty MILLION$, $150K GTD [Stage 1] | $5.40 | $150,000 |
| Jan 17 | mini Global MILLION$, $300K GTD [Day 1] | $5 | $300,000 |
| Jan 17 | mini Omaholic Bounty MILLION$, $150K GTD [Stage 1] | $5.40 | $150,000 |
| Jan 17 | mini Global MILLION$, $300K GTD [Day 1] | $5 | $300,000 |
| Jan 17 | mini Omaholic Bounty MILLION$, $150K GTD [Stage 1] | $5.40 | $150,000 |
| Jan 17 | mini Global MILLION$, $300K GTD [Day 1] | $5 | $300,000 |
| Jan 17 | mini Omaholic Bounty MILLION$, $150K GTD [Stage 1] | $5.40 | $150,000 |
| Jan 17 | mini Global MILLION$, $300K GTD [Day 1] | $5 | $300,000 |
| Jan 17 | $10.80 Bounty Blast | $10.80 | $40,000 |
| Jan 17 | mini Omaholic Bounty MILLION$, $150K GTD [Stage 1] | $5.40 | $150,000 |
| Jan 17 | $3.21 Bounty Hunters Warm-Up | $3.21 | $15,000 |
| Jan 17 | mini Global MILLION$, $300K GTD [Day 1] | $5 | $300,000 |
| Jan 17 | $4.40 FORTY STACK | $4.40 | $12,000 |
| Jan 17 | $1.11 Bounty Hunters Big One | $1.11 | $5,000 |
| Jan 17 | mini Omaholic Bounty MILLION$, $150K GTD [Stage 1] | $5.40 | $150,000 |
| Jan 17 | $8.88 CRAZY EIGHTS | $8.88 | $15,000 |
| Jan 17 | $5.40 Bounty Hunters Main | $5.40 | $30,000 |
| Jan 17 | mini Global MILLION$, $300K GTD [Day 1] | $5 | $300,000 |
| Jan 17 | $10.80 Omaholic Bounty Thriller | $10.80 | $10,000 |
| Jan 17 | $2.50 Bounty Hunters Big Game | $2.50 | $10,000 |
| Jan 17 | mini Omaholic Bounty MILLION$, $150K GTD [Stage 1] | $5.40 | $150,000 |
| Jan 17 | $10.80 Bounty Hunters Grand Slam | $10.80 | $50,000 |
| Jan 17 | $3.21 Bounty King Baby | $3.21 | $12,000 |
| Jan 17 | mini Global MILLION$, $300K GTD [Day 1] | $5 | $300,000 |
| Jan 17 | $5.50 FIFTY STACK | $5.50 | $10,000 |
| Jan 17 | mini Omaholic Bounty MILLION$, $150K GTD [Stage 1] | $5.40 | $150,000 |
| Jan 17 | $3.21 Bounty King Omaholic | $3.21 | $5,000 |
| Jan 17 | $7.77 LUCKY SEVENS Superstack Turbo [7-Max] | $7.77 | $20,000 |
| Jan 17 | mini Global MILLION$, $300K GTD [Day 1] | $5 | $300,000 |
| Jan 17 | $5.40 Tuesday Heater [Bounty Turbo] | $5.40 | $8,000 |
| Jan 17 | $8.55 Bounty Hunters Carnaval | $8.55 | $12,000 |
| Jan 17 | mini Omaholic Bounty MILLION$, $150K GTD [Stage 1] | $5.40 | $150,000 |
| Jan 17 | $6.45 SUPER SIX Bounty | $6.45 | $6,000 |
| Jan 17 | mini Global MILLION$, $300K GTD [Day 1] | $5 | $300,000 |
| Jan 17 | $15 Tuesday Saver [Hyper] | $15 | $10,000 |
| Jan 17 | mini Omaholic Bounty MILLION$, $150K GTD [Stage 1] | $5.40 | $150,000 |
| Jan 18 | $8.88 Mini MILLION$ Madness [Hyper] | $8.88 | $8,000 |
| Jan 18 | mini Global MILLION$, $300K GTD [Day 1] | $5 | $300,000 |
| Jan 18 | mini Omaholic Bounty MILLION$, $150K GTD [Stage 1] | $5.40 | $150,000 |
| Jan 18 | mini Global MILLION$, $300K GTD [Day 1] | $5 | $300,000 |
| Jan 18 | mini Omaholic Bounty MILLION$, $150K GTD [Stage 1] | $5.40 | $150,000 |
| Jan 18 | mini Global MILLION$, $300K GTD [Day 1] | $5 | $300,000 |
| Jan 18 | mini Omaholic Bounty MILLION$, $150K GTD [Stage 1] | $5.40 | $150,000 |
| Jan 18 | mini Global MILLION$, $300K GTD [Day 1] | $5 | $300,000 |
| Jan 18 | mini Omaholic Bounty MILLION$, $150K GTD [Stage 1] | $5.40 | $150,000 |
| Jan 18 | mini Global MILLION$, $300K GTD [Day 1] | $5 | $300,000 |
| Jan 18 | mini Omaholic Bounty MILLION$, $150K GTD [Stage 1] | $5.40 | $150,000 |
| Jan 18 | mini Global MILLION$, $300K GTD [Day 1] | $5 | $300,000 |
| Jan 18 | mini Omaholic Bounty MILLION$, $150K GTD [Stage 1] | $5.40 | $150,000 |
| Jan 18 | mini Global MILLION$, $300K GTD [Day 1] | $5 | $300,000 |
| Jan 18 | $10.80 Bounty Blast | $10.80 | $40,000 |
| Jan 18 | mini Omaholic Bounty MILLION$, $150K GTD [Stage 1] | $5.40 | $150,000 |
| Jan 18 | $3.21 Bounty Hunters Warm-Up | $3.21 | $15,000 |
| Jan 18 | mini Global MILLION$, $300K GTD [Day 1] | $5 | $300,000 |
| Jan 18 | $4.40 FORTY STACK | $4.40 | $12,000 |
| Jan 18 | $1.11 Bounty Hunters Big One | $1.11 | $5,000 |
| Jan 18 | mini Omaholic Bounty MILLION$, $150K GTD [Stage 1] | $5.40 | $150,000 |
| Jan 18 | $8.88 CRAZY EIGHTS | $8.88 | $15,000 |
| Jan 18 | $5.40 Bounty Hunters Main | $5.40 | $30,000 |
| Jan 18 | mini Global MILLION$, $300K GTD [Day 1] | $5 | $300,000 |
| Jan 18 | $10.80 Omaholic Bounty Thriller | $10.80 | $10,000 |
| Jan 18 | $2.50 Bounty Hunters Big Game | $2.50 | $10,000 |
| Jan 18 | mini Omaholic Bounty MILLION$, $150K GTD [Stage 1] | $5.40 | $150,000 |
| Jan 18 | $10.80 Bounty Hunters Grand Slam | $10.80 | $50,000 |
| Jan 18 | $3.21 Bounty King Baby | $3.21 | $12,000 |
| Jan 18 | mini Global MILLION$, $300K GTD [Day 1] | $5 | $300,000 |
| Jan 18 | $5.50 FIFTY STACK | $5.50 | $10,000 |
| Jan 18 | mini Omaholic Bounty MILLION$, $150K GTD [Stage 1] | $5.40 | $150,000 |
| Jan 18 | $3.21 Bounty King Omaholic | $3.21 | $5,000 |
| Jan 18 | $7.77 LUCKY SEVENS Superstack Turbo [7-Max] | $7.77 | $20,000 |
| Jan 18 | mini Global MILLION$, $300K GTD [Day 1] | $5 | $300,000 |
| Jan 18 | $5.40 Wednesday Heater [Bounty Turbo] | $5.40 | $8,000 |
| Jan 18 | $8.55 Bounty Hunters Carnaval | $8.55 | $12,000 |
| Jan 18 | mini Omaholic Bounty MILLION$, $150K GTD [Stage 1] | $5.40 | $150,000 |
| Jan 18 | $6.45 SUPER SIX Bounty | $6.45 | $6,000 |
| Jan 18 | mini Global MILLION$, $300K GTD [Day 1] | $5 | $300,000 |
| Jan 18 | $15 Wednesday Saver [Hyper] | $15 | $10,000 |
| Jan 18 | mini Omaholic Bounty MILLION$, $150K GTD [Stage 1] | $5.40 | $150,000 |
| Jan 19 | $8.88 Mini MILLION$ Madness [Hyper] | $8.88 | $8,000 |
| Jan 19 | mini Global MILLION$, $300K GTD [Day 1] | $5 | $300,000 |
| Jan 19 | mini Omaholic Bounty MILLION$, $150K GTD [Stage 1] | $5.40 | $150,000 |
| Jan 19 | mini Global MILLION$, $300K GTD [Day 1] | $5 | $300,000 |
| Jan 19 | mini Omaholic Bounty MILLION$, $150K GTD [Stage 1] | $5.40 | $150,000 |
| Jan 19 | mini Global MILLION$, $300K GTD [Day 1] | $5 | $300,000 |
| Jan 19 | mini Omaholic Bounty MILLION$, $150K GTD [Stage 1] | $5.40 | $150,000 |
| Jan 19 | mini Global MILLION$, $300K GTD [Day 1] | $5 | $300,000 |
| Jan 19 | mini Omaholic Bounty MILLION$, $150K GTD [Stage 1] | $5.40 | $150,000 |
| Jan 19 | mini Global MILLION$, $300K GTD [Day 1] | $5 | $300,000 |
| Jan 19 | mini Omaholic Bounty MILLION$, $150K GTD [Stage 1] | $5.40 | $150,000 |
| Jan 19 | mini Global MILLION$, $300K GTD [Day 1] | $5 | $300,000 |
| Jan 19 | mini Omaholic Bounty MILLION$, $150K GTD [Stage 1] | $5.40 | $150,000 |
| Jan 19 | mini Global MILLION$, $300K GTD [Day 1] | $5 | $300,000 |
| Jan 19 | $10.80 Bounty Blast | $10.80 | $40,000 |
| Jan 19 | mini Omaholic Bounty MILLION$, $150K GTD [Stage 1] | $5.40 | $150,000 |
| Jan 19 | $3.21 Bounty Hunters Warm-Up | $3.21 | $15,000 |
| Jan 19 | mini Global MILLION$, $300K GTD [Day 1] | $5 | $300,000 |
| Jan 19 | $4.40 FORTY STACK | $4.40 | $12,000 |
| Jan 19 | $1.11 Bounty Hunters Big One | $1.11 | $5,000 |
| Jan 19 | mini Omaholic Bounty MILLION$, $150K GTD [Stage 1] | $5.40 | $150,000 |
| Jan 19 | $8.88 CRAZY EIGHTS | $8.88 | $15,000 |
| Jan 19 | $5.40 Bounty Hunters Main | $5.40 | $30,000 |
| Jan 19 | mini Global MILLION$, $300K GTD [Day 1] | $5 | $300,000 |
| Jan 19 | $10.80 Omaholic Bounty Thriller | $10.80 | $10,000 |
| Jan 19 | $2.50 Bounty Hunters Big Game | $2.50 | $10,000 |
| Jan 19 | mini Omaholic Bounty MILLION$, $150K GTD [Stage 1] | $5.40 | $150,000 |
| Jan 19 | $10.80 Bounty Hunters Grand Slam | $10.80 | $50,000 |
| Jan 19 | $3.21 Bounty King Baby | $3.21 | $12,000 |
| Jan 19 | mini Global MILLION$, $300K GTD [Day 1] | $5 | $300,000 |
| Jan 19 | $5.50 FIFTY STACK | $5.50 | $10,000 |
| Jan 19 | mini Omaholic Bounty MILLION$, $150K GTD [Stage 1] | $5.40 | $150,000 |
| Jan 19 | $3.21 Bounty King Omaholic | $3.21 | $5,000 |
| Jan 19 | $7.77 LUCKY SEVENS Superstack Turbo [7-Max] | $7.77 | $20,000 |
| Jan 19 | mini Global MILLION$, $300K GTD [Day 1] | $5 | $300,000 |
| Jan 19 | $5.40 Thursday Heater [Bounty Turbo] | $5.40 | $8,000 |
| Jan 19 | $8.55 Bounty Hunters Carnaval | $8.55 | $12,000 |
| Jan 19 | mini Omaholic Bounty MILLION$, $150K GTD [Stage 1] | $5.40 | $150,000 |
| Jan 19 | $6.45 SUPER SIX Bounty | $6.45 | $6,000 |
| Jan 19 | mini Global MILLION$, $300K GTD [Day 1] | $5 | $300,000 |
| Jan 19 | $15 Thursday Saver [Hyper] | $15 | $10,000 |
| Jan 19 | mini Omaholic Bounty MILLION$, $150K GTD [Stage 1] | $5.40 | $150,000 |
| Jan 20 | $8.88 Mini MILLION$ Madness [Hyper] | $8.88 | $8,000 |
| Jan 20 | mini Global MILLION$, $300K GTD [Day 1] | $5 | $300,000 |
| Jan 20 | mini Omaholic Bounty MILLION$, $150K GTD [Stage 1] | $5.40 | $150,000 |
| Jan 20 | mini Global MILLION$, $300K GTD [Day 1] | $5 | $300,000 |
| Jan 20 | mini Omaholic Bounty MILLION$, $150K GTD [Stage 1] | $5.40 | $150,000 |
| Jan 20 | mini Global MILLION$, $300K GTD [Day 1] | $5 | $300,000 |
| Jan 20 | mini Omaholic Bounty MILLION$, $150K GTD [Stage 1] | $5.40 | $150,000 |
| Jan 20 | mini Global MILLION$, $300K GTD [Day 1] | $5 | $300,000 |
| Jan 20 | mini Omaholic Bounty MILLION$, $150K GTD [Stage 1] | $5.40 | $150,000 |
| Jan 20 | mini Global MILLION$, $300K GTD [Day 1] | $5 | $300,000 |
| Jan 20 | mini Omaholic Bounty MILLION$, $150K GTD [Stage 1] | $5.40 | $150,000 |
| Jan 20 | mini Global MILLION$, $300K GTD [Day 1] | $5 | $300,000 |
| Jan 20 | mini Omaholic Bounty MILLION$, $150K GTD [Stage 1] | $5.40 | $150,000 |
| Jan 20 | mini Global MILLION$, $300K GTD [Day 1] | $5 | $300,000 |
| Jan 20 | $10.80 Bounty Blast | $10.80 | $40,000 |
| Jan 20 | mini Omaholic Bounty MILLION$, $150K GTD [Stage 1] | $5.40 | $150,000 |
| Jan 20 | $3.21 Bounty Hunters Warm-Up | $3.21 | $15,000 |
| Jan 20 | mini Global MILLION$, $300K GTD [Day 1] | $5 | $300,000 |
| Jan 20 | $4.40 FORTY STACK | $4.40 | $12,000 |
| Jan 20 | $1.11 Bounty Hunters Big One | $1.11 | $5,000 |
| Jan 20 | mini Omaholic Bounty MILLION$, $150K GTD [Stage 1] | $5.40 | $150,000 |
| Jan 20 | $8.88 CRAZY EIGHTS | $8.88 | $15,000 |
| Jan 20 | $5.40 Bounty Hunters Main | $5.40 | $30,000 |
| Jan 20 | mini Global MILLION$, $300K GTD [Day 1] | $5 | $300,000 |
| Jan 20 | $10.80 Omaholic Bounty Thriller | $10.80 | $10,000 |
| Jan 20 | $2.50 Bounty Hunters Big Game | $2.50 | $10,000 |
| Jan 20 | mini Omaholic Bounty MILLION$, $150K GTD [Stage 1] | $5.40 | $150,000 |
| Jan 20 | $10.80 Bounty Hunters Grand Slam | $10.80 | $50,000 |
| Jan 20 | $3.21 Bounty King Baby | $3.21 | $12,000 |
| Jan 20 | mini Global MILLION$, $300K GTD [Day 1] | $5 | $300,000 |
| Jan 20 | $5.50 FIFTY STACK | $5.50 | $10,000 |
| Jan 20 | mini Omaholic Bounty MILLION$, $150K GTD [Stage 1] | $5.40 | $150,000 |
| Jan 20 | $3.21 Bounty King Omaholic | $3.21 | $5,000 |
| Jan 20 | $7.77 LUCKY SEVENS Superstack Turbo [7-Max] | $7.77 | $20,000 |
| Jan 20 | mini Global MILLION$, $300K GTD [Day 1] | $5 | $300,000 |
| Jan 20 | $5.40 Friday Heater [Bounty Turbo] | $5.40 | $8,000 |
| Jan 20 | $8.55 Bounty Hunters Carnaval | $8.55 | $12,000 |
| Jan 20 | mini Omaholic Bounty MILLION$, $150K GTD [Stage 1] | $5.40 | $150,000 |
| Jan 20 | $6.45 SUPER SIX Bounty | $6.45 | $6,000 |
| Jan 20 | mini Global MILLION$, $300K GTD [Day 1] | $5 | $300,000 |
| Jan 20 | $15 Friday Saver [Hyper] | $15 | $10,000 |
| Jan 20 | mini Omaholic Bounty MILLION$, $150K GTD [Stage 1] | $5.40 | $150,000 |
| Jan 21 | $8.88 Mini MILLION$ Madness [Hyper] | $8.88 | $8,000 |
| Jan 21 | mini Global MILLION$, $300K GTD [Day 1] | $5 | $300,000 |
| Jan 21 | mini Omaholic Bounty MILLION$, $150K GTD [Stage 1] | $5.40 | $150,000 |
| Jan 21 | mini Global MILLION$, $300K GTD [Day 1] | $5 | $300,000 |
| Jan 21 | mini Omaholic Bounty MILLION$, $150K GTD [Stage 1] | $5.40 | $150,000 |
| Jan 21 | mini Global MILLION$, $300K GTD [Day 1] | $5 | $300,000 |
| Jan 21 | mini Omaholic Bounty MILLION$, $150K GTD [Stage 1] | $5.40 | $150,000 |
| Jan 21 | mini Global MILLION$, $300K GTD [Day 1] | $5 | $300,000 |
| Jan 21 | mini Omaholic Bounty MILLION$, $150K GTD [Stage 1] | $5.40 | $150,000 |
| Jan 21 | mini Global MILLION$, $300K GTD [Day 1] | $5 | $300,000 |
| Jan 21 | mini Omaholic Bounty MILLION$, $150K GTD [Stage 1] | $5.40 | $150,000 |
| Jan 21 | mini Global MILLION$, $300K GTD [Day 1] | $5 | $300,000 |
| Jan 21 | mini Omaholic Bounty MILLION$, $150K GTD [Stage 1] | $5.40 | $150,000 |
| Jan 21 | mini Global MILLION$, $300K GTD [Day 1] | $5 | $300,000 |
| Jan 21 | $10.80 Bounty Blast | $10.80 | $40,000 |
| Jan 21 | mini Omaholic Bounty MILLION$, $150K GTD [Stage 1] | $5.40 | $150,000 |
| Jan 21 | $3.21 Bounty Hunters Warm-Up | $3.21 | $15,000 |
| Jan 21 | mini Global MILLION$, $300K GTD [Day 1] | $5 | $300,000 |
| Jan 21 | $4.40 FORTY STACK | $4.40 | $12,000 |
| Jan 21 | $1.11 Bounty Hunters Big One | $1.11 | $5,000 |
| Jan 21 | mini Omaholic Bounty MILLION$, $150K GTD [Stage 1] | $5.40 | $150,000 |
| Jan 21 | $8.88 CRAZY EIGHTS | $8.88 | $15,000 |
| Jan 21 | $5.40 Bounty Hunters Main | $5.40 | $30,000 |
| Jan 21 | mini Global MILLION$, $300K GTD [Day 1] | $5 | $300,000 |
| Jan 21 | $10.80 Omaholic Bounty Thriller | $10.80 | $10,000 |
| Jan 21 | $2.50 Bounty Hunters Big Game | $2.50 | $10,000 |
| Jan 21 | mini Omaholic Bounty MILLION$, $150K GTD [Stage 1] | $5.40 | $150,000 |
| Jan 21 | $10.80 Bounty Hunters Grand Slam | $10.80 | $50,000 |
| Jan 21 | $3.21 Bounty King Baby | $3.21 | $12,000 |
| Jan 21 | mini Global MILLION$, $300K GTD [Day 1] | $5 | $300,000 |
| Jan 21 | $5.50 FIFTY STACK | $5.50 | $10,000 |
| Jan 21 | mini Omaholic Bounty MILLION$, $150K GTD [Stage 1] | $5.40 | $150,000 |
| Jan 21 | $3.21 Bounty King Omaholic | $3.21 | $5,000 |
| Jan 21 | $7.77 LUCKY SEVENS Superstack Turbo [7-Max] | $7.77 | $20,000 |
| Jan 21 | mini Global MILLION$, $300K GTD [Day 1] | $5 | $300,000 |
| Jan 21 | $5.40 Saturday Heater [Bounty Turbo] | $5.40 | $8,000 |
| Jan 21 | $8.55 Bounty Hunters Carnaval | $8.55 | $12,000 |
| Jan 21 | mini Omaholic Bounty MILLION$, $150K GTD [Stage 1] | $5.40 | $150,000 |
| Jan 21 | $6.45 SUPER SIX Bounty | $6.45 | $6,000 |
| Jan 21 | mini Global MILLION$, $300K GTD [Day 1] | $5 | $300,000 |
| Jan 21 | $15 Saturday Saver [Hyper] | $15 | $10,000 |
| Jan 21 | mini Omaholic Bounty MILLION$, $150K GTD [Stage 1] | $5.40 | $150,000 |
| Jan 22 | $8.88 Mini MILLION$ Madness [Hyper] | $8.88 | $8,000 |
| Jan 22 | mini Global MILLION$, $300K GTD [Day 1] | $5 | $300,000 |
| Jan 22 | mini Omaholic Bounty MILLION$, $150K GTD [Stage 1] | $5.40 | $150,000 |
| Jan 22 | mini Global MILLION$, $300K GTD [Day 1] | $5 | $300,000 |
| Jan 22 | mini Omaholic Bounty MILLION$, $150K GTD [Stage 1] | $5.40 | $150,000 |
| Jan 22 | mini Global MILLION$, $300K GTD [Day 1] | $5 | $300,000 |
| Jan 22 | mini Omaholic Bounty MILLION$, $150K GTD [Stage 1] | $5.40 | $150,000 |
| Jan 22 | mini Global MILLION$, $300K GTD [Day 1] | $5 | $300,000 |
| Jan 22 | mini Omaholic Bounty MILLION$, $150K GTD [Stage 1] | $5.40 | $150,000 |
| Jan 22 | mini Global MILLION$, $300K GTD [Day 1] | $5 | $300,000 |
| Jan 22 | mini Omaholic Bounty MILLION$, $150K GTD [Stage 1] | $5.40 | $150,000 |
| Jan 22 | mini Global MILLION$, $300K GTD [Day 1] | $5 | $300,000 |
| Jan 22 | mini Omaholic Bounty MILLION$, $150K GTD [Stage 1] | $5.40 | $150,000 |
| Jan 22 | $8.88 Black Rabbit Bounty Kick-Off | $8.88 | $25,000 |
| Jan 22 | mini Global MILLION$, $300K GTD [Day 1] | $5 | $300,000 |
| Jan 22 | $2.50 Sunday Monster Stack | $2.50 | $12,000 |
| Jan 22 | $10.80 Sunday Bounty Blast | $10.80 | $75,000 |
| Jan 22 | mini Omaholic Bounty MILLION$, $150K GTD [Stage 1] | $5.40 | $150,000 |
| Jan 22 | $3.21 Sunday Bounty Hunters Warm-Up | $3.21 | $20,000 |
| Jan 22 | $8.55 Bounty Hunters Special | $8.55 | $50,000 |
| Jan 22 | mini Global MILLION$, $300K GTD [Day 1] | $5 | $300,000 |
| Jan 22 | $25 GGMasters Sunday Bounty Special Edition | $25 | $100,000 |
| Jan 22 | $1.11 Bounty Hunters Sunday Big One | $1.11 | $7,500 |
| Jan 22 | mini Omaholic Bounty MILLION$, $150K GTD [Stage 1] | $5.40 | $150,000 |
| Jan 22 | $8.88 Sunday CRAZY EIGHTS | $8.88 | $50,000 |
| Jan 22 | $5.40 Bounty Hunters Sunday Main | $5.40 | $50,000 |
| Jan 22 | mini Global MILLION$, $300K GTD [Day 1] | $5 | $300,000 |
| Jan 22 | $1.50 mini Masters Freezeout | $1.50 | $10,000 |
| Jan 22 | $2.50 Bounty Hunters Sunday Big Game | $2.50 | $20,000 |
| Jan 22 | mini Omaholic Bounty MILLION$, $150K GTD [Stage 1] | $5.40 | $150,000 |
| Jan 22 | $15 Sunday Hundred Grand, $101K GTD | $15 | $101,000 |
| Jan 22 | $3.21 Sunday Bounty King Baby | $3.21 | $20,000 |
| Jan 22 | mini Global MILLION$, $300K GTD [Day 1] | $5 | $300,000 |
| Jan 22 | $5.50 Sunday FIFTY STACK | $5.50 | $25,000 |
| Jan 22 | $10.80 Bounty Hunters Sunday Special | $10.80 | $50,000 |
| Jan 22 | mini Omaholic Bounty MILLION$, $150K GTD [Stage 1] | $5.40 | $150,000 |
| Jan 22 | $10.80 Sunday Omaholic Bounty ME | $10.80 | $20,000 |
| Jan 22 | $7.77 LUCKY SEVENS Sunday Turbo [7-Max] | $7.77 | $30,000 |
| Jan 22 | mini Global MILLION$, $300K GTD [Day 1] | $5 | $300,000 |
| Jan 22 | $5.40 Sunday Heater [Bounty Turbo] | $5.40 | $12,000 |
| Jan 22 | $8.55 Bounty Hunters Sunday Carnaval | $8.55 | $20,000 |
| Jan 22 | mini Omaholic Bounty MILLION$, $150K GTD [Stage 1] | $5.40 | $150,000 |
| Jan 22 | $6.45 Sunday SUPER SIX Bounty | $6.45 | $10,000 |
| Jan 22 | mini Global MILLION$, $300K GTD [Day 1] | $5 | $300,000 |
| Jan 22 | $15 Sunday Saver [Hyper] | $15 | $15,000 |
| Jan 22 | mini Omaholic Bounty MILLION$, $150K GTD [Stage 1] | $5.40 | $150,000 |
| Jan 23 | $8.88 Mini MILLION$ Sunday Madness [Hyper] | $8.88 | $10,000 |
| Jan 23 | mini Global MILLION$, $300K GTD [Day 1] | $5 | $300,000 |
| Jan 23 | mini Omaholic Bounty MILLION$, $150K GTD [Stage 1] | $5.40 | $150,000 |
| Jan 23 | mini Global MILLION$, $300K GTD [Day 1] | $5 | $300,000 |
| Jan 23 | mini Omaholic Bounty MILLION$, $150K GTD [Stage 1] | $5.40 | $150,000 |
| Jan 23 | mini Global MILLION$, $300K GTD [Day 1] | $5 | $300,000 |
| Jan 23 | mini Omaholic Bounty MILLION$, $150K GTD [Stage 1] | $5.40 | $150,000 |
| Jan 23 | mini Global MILLION$, $300K GTD [Day 1] | $5 | $300,000 |
| Jan 23 | mini Omaholic Bounty MILLION$, $150K GTD [Stage 1] | $5.40 | $150,000 |
| Jan 23 | mini Global MILLION$, $300K GTD [Day 1] | $5 | $300,000 |
| Jan 23 | mini Omaholic Bounty MILLION$, $150K GTD [Stage 1] | $5.40 | $150,000 |
| Jan 23 | mini Global MILLION$, $300K GTD [Day 1] | $5 | $300,000 |
| Jan 23 | mini Omaholic Bounty MILLION$, $150K GTD [Stage 1] | $5.40 | $150,000 |
| Jan 23 | mini Global MILLION$, $300K GTD [Day 1] | $5 | $300,000 |
| Jan 23 | $10.80 Bounty Blast | $10.80 | $40,000 |
| Jan 23 | mini Omaholic Bounty MILLION$, $150K GTD [Stage 1] | $5.40 | $150,000 |
| Jan 23 | $3.21 Bounty Hunters Warm-Up | $3.21 | $15,000 |
| Jan 23 | mini Global MILLION$, $300K GTD [Day 1] | $5 | $300,000 |
| Jan 23 | $4.40 FORTY STACK | $4.40 | $12,000 |
| Jan 23 | $1.11 Bounty Hunters Big One | $1.11 | $5,000 |
| Jan 23 | mini Omaholic Bounty MILLION$, $150K GTD [Stage 1] | $5.40 | $150,000 |
| Jan 23 | $8.88 CRAZY EIGHTS | $8.88 | $15,000 |
| Jan 23 | mini Global MILLION$, $300K GTD [Last Chance] | $5 | $300,000 |
| Jan 23 | $5.40 Bounty Hunters Main | $5.40 | $30,000 |
| Jan 23 | $10.80 Omaholic Bounty Thriller | $10.80 | $10,000 |
| Jan 23 | mini Global MILLION$, $300K GTD [Last Minute] | $5 | $300,000 |
| Jan 23 | mini Omaholic Bounty MILLION$, $150K GTD [Last Chance] | $5.40 | $150,000 |
| Jan 23 | $2.50 Bounty Hunters Big Game | $2.50 | $10,000 |
| Jan 23 | $10.80 Bounty Hunters Grand Slam | $10.80 | $50,000 |
| Jan 23 | mini Omaholic Bounty MILLION$, $150K GTD [Last Minute] | $5.40 | $150,000 |
| Jan 23 | $3.21 Bounty King Baby | $3.21 | $12,000 |
| Jan 23 | mini Global MILLION$, $300K GTD [Final Day] | $5 | $300,000 |
| Jan 23 | $5.50 FIFTY STACK | $5.50 | $10,000 |
| Jan 23 | mini Omaholic Bounty MILLION$, $150K GTD [Final Stage] | $5.40 | $150,000 |
| Jan 23 | $3.21 Bounty King Omaholic | $3.21 | $5,000 |
| Jan 23 | $7.77 LUCKY SEVENS Superstack Turbo [7-Max] | $7.77 | $20,000 |
| Jan 23 | $5.40 Monday Heater [Bounty Turbo] | $5.40 | $8,000 |
| Jan 23 | $8.55 Bounty Hunters Carnaval | $8.55 | $12,000 |
| Jan 23 | $6.45 SUPER SIX Bounty | $6.45 | $6,000 |
| Jan 23 | $15 Monday Saver [Hyper] | $15 | $10,000 |
| Jan 24 | $8.88 Mini MILLION$ Madness [Hyper] | $8.88 | $8,000 |
| Jan 24 | $10.80 Bounty Blast | $10.80 | $40,000 |
| Jan 24 | $3.21 Bounty Hunters Warm-Up | $3.21 | $15,000 |
| Jan 24 | $4.40 FORTY STACK | $4.40 | $12,000 |
| Jan 24 | $1.11 Bounty Hunters Big One | $1.11 | $5,000 |
| Jan 24 | $8.88 CRAZY EIGHTS | $8.88 | $15,000 |
| Jan 24 | $5.40 Bounty Hunters Main | $5.40 | $30,000 |
| Jan 24 | $10.80 Omaholic Bounty Thriller | $10.80 | $10,000 |
| Jan 24 | $2.50 Bounty Hunters Big Game | $2.50 | $10,000 |
| Jan 24 | $10.80 Bounty Hunters Grand Slam | $10.80 | $50,000 |
| Jan 24 | $3.21 Bounty King Baby | $3.21 | $12,000 |
| Jan 24 | $5.50 FIFTY STACK | $5.50 | $10,000 |
| Jan 24 | $3.21 Bounty King Omaholic | $3.21 | $5,000 |
| Jan 24 | $7.77 LUCKY SEVENS Superstack Turbo [7-Max] | $7.77 | $20,000 |
| Jan 24 | $5.40 Tuesday Heater [Bounty Turbo] | $5.40 | $8,000 |
| Jan 24 | $8.55 Bounty Hunters Carnaval | $8.55 | $12,000 |
| Jan 24 | $6.45 SUPER SIX Bounty | $6.45 | $6,000 |
| Jan 24 | $15 Tuesday Saver [Hyper] | $15 | $10,000 |
| Jan 25 | $8.88 Mini MILLION$ Madness [Hyper] | $8.88 | $8,000 |
| Jan 25 | $10.80 Bounty Blast | $10.80 | $40,000 |
| Jan 25 | $3.21 Bounty Hunters Warm-Up | $3.21 | $15,000 |
| Jan 25 | $4.40 FORTY STACK | $4.40 | $12,000 |
| Jan 25 | $1.11 Bounty Hunters Big One | $1.11 | $5,000 |
| Jan 25 | $8.88 CRAZY EIGHTS | $8.88 | $15,000 |
| Jan 25 | $5.40 Bounty Hunters Main | $5.40 | $30,000 |
| Jan 25 | $10.80 Omaholic Bounty Thriller | $10.80 | $10,000 |
| Jan 25 | $2.50 Bounty Hunters Big Game | $2.50 | $10,000 |
| Jan 25 | $10.80 Bounty Hunters Grand Slam | $10.80 | $50,000 |
| Jan 25 | $3.21 Bounty King Baby | $3.21 | $12,000 |
| Jan 25 | $5.50 FIFTY STACK | $5.50 | $10,000 |
| Jan 25 | $3.21 Bounty King Omaholic | $3.21 | $5,000 |
| Jan 25 | $7.77 LUCKY SEVENS Superstack Turbo [7-Max] | $7.77 | $20,000 |
| Jan 25 | $5.40 Wednesday Heater [Bounty Turbo] | $5.40 | $8,000 |
| Jan 25 | $8.55 Bounty Hunters Carnaval | $8.55 | $12,000 |
| Jan 25 | $6.45 SUPER SIX Bounty | $6.45 | $6,000 |
| Jan 25 | $15 Wednesday Saver [Hyper] | $15 | $10,000 |
| Jan 26 | $8.88 Mini MILLION$ Madness [Hyper] | $8.88 | $8,000 |
| Jan 26 | $10.80 Bounty Blast | $10.80 | $40,000 |
| Jan 26 | $3.21 Bounty Hunters Warm-Up | $3.21 | $15,000 |
| Jan 26 | $4.40 FORTY STACK | $4.40 | $12,000 |
| Jan 26 | $1.11 Bounty Hunters Big One | $1.11 | $5,000 |
| Jan 26 | $8.88 CRAZY EIGHTS | $8.88 | $15,000 |
| Jan 26 | $5.40 Bounty Hunters Main | $5.40 | $30,000 |
| Jan 26 | $10.80 Omaholic Bounty Thriller | $10.80 | $10,000 |
| Jan 26 | $2.50 Bounty Hunters Big Game | $2.50 | $10,000 |
| Jan 26 | $10.80 Bounty Hunters Grand Slam | $10.80 | $50,000 |
| Jan 26 | $3.21 Bounty King Baby | $3.21 | $12,000 |
| Jan 26 | $5.50 FIFTY STACK | $5.50 | $10,000 |
| Jan 26 | $3.21 Bounty King Omaholic | $3.21 | $5,000 |
| Jan 26 | $7.77 LUCKY SEVENS Superstack Turbo [7-Max] | $7.77 | $20,000 |
| Jan 26 | $5.40 Thursday Heater [Bounty Turbo] | $5.40 | $8,000 |
| Jan 26 | $8.55 Bounty Hunters Carnaval | $8.55 | $12,000 |
| Jan 26 | $6.45 SUPER SIX Bounty | $6.45 | $6,000 |
| Jan 26 | $15 Thursday Saver [Hyper] | $15 | $10,000 |
| Jan 27 | $8.88 Mini MILLION$ Madness [Hyper] | $8.88 | $8,000 |
| Jan 27 | $10.80 Bounty Blast | $10.80 | $40,000 |
| Jan 27 | $3.21 Bounty Hunters Warm-Up | $3.21 | $15,000 |
| Jan 27 | $4.40 FORTY STACK | $4.40 | $12,000 |
| Jan 27 | $1.11 Bounty Hunters Big One | $1.11 | $5,000 |
| Jan 27 | $8.88 CRAZY EIGHTS | $8.88 | $15,000 |
| Jan 27 | $5.40 Bounty Hunters Main | $5.40 | $30,000 |
| Jan 27 | $10.80 Omaholic Bounty Thriller | $10.80 | $10,000 |
| Jan 27 | $2.50 Bounty Hunters Big Game | $2.50 | $10,000 |
| Jan 27 | $10.80 Bounty Hunters Grand Slam | $10.80 | $50,000 |
| Jan 27 | $3.21 Bounty King Baby | $3.21 | $12,000 |
| Jan 27 | $5.50 FIFTY STACK | $5.50 | $10,000 |
| Jan 27 | $3.21 Bounty King Omaholic | $3.21 | $5,000 |
| Jan 27 | $7.77 LUCKY SEVENS Superstack Turbo [7-Max] | $7.77 | $20,000 |
| Jan 27 | $5.40 Friday Heater [Bounty Turbo] | $5.40 | $8,000 |
| Jan 27 | $8.55 Bounty Hunters Carnaval | $8.55 | $12,000 |
| Jan 27 | $6.45 SUPER SIX Bounty | $6.45 | $6,000 |
| Jan 27 | $15 Friday Saver [Hyper] | $15 | $10,000 |
| Jan 28 | $8.88 Mini MILLION$ Madness [Hyper] | $8.88 | $8,000 |
| Jan 28 | $10.80 Bounty Blast | $10.80 | $40,000 |
| Jan 28 | $3.21 Bounty Hunters Warm-Up | $3.21 | $15,000 |
| Jan 28 | $4.40 FORTY STACK | $4.40 | $12,000 |
| Jan 28 | $1.11 Bounty Hunters Big One | $1.11 | $5,000 |
| Jan 28 | $8.88 CRAZY EIGHTS | $8.88 | $15,000 |
| Jan 28 | $5.40 Bounty Hunters Main | $5.40 | $30,000 |
| Jan 28 | $10.80 Omaholic Bounty Thriller | $10.80 | $10,000 |
| Jan 28 | $2.50 Bounty Hunters Big Game | $2.50 | $10,000 |
| Jan 28 | $10.80 Bounty Hunters Grand Slam | $10.80 | $50,000 |
| Jan 28 | $3.21 Bounty King Baby | $3.21 | $12,000 |
| Jan 28 | $5.50 FIFTY STACK | $5.50 | $10,000 |
| Jan 28 | $3.21 Bounty King Omaholic | $3.21 | $5,000 |
| Jan 28 | $7.77 LUCKY SEVENS Superstack Turbo [7-Max] | $7.77 | $20,000 |
| Jan 28 | $5.40 Saturday Heater [Bounty Turbo] | $5.40 | $8,000 |
| Jan 28 | $8.55 Bounty Hunters Carnaval | $8.55 | $12,000 |
| Jan 28 | $6.45 SUPER SIX Bounty | $6.45 | $6,000 |
| Jan 28 | $15 Saturday Saver [Hyper] | $15 | $10,000 |
| Jan 29 | $8.88 Mini MILLION$ Madness [Hyper] | $8.88 | $8,000 |
| Jan 29 | $8.88 Black Rabbit Bounty Kick-Off | $8.88 | $25,000 |
| Jan 29 | $2.50 Sunday Monster Stack | $2.50 | $12,000 |
| Jan 29 | $10.80 Sunday Bounty Blast | $10.80 | $75,000 |
| Jan 29 | $3.21 Sunday Bounty Hunters Warm-Up | $3.21 | $20,000 |
| Jan 29 | $8.55 Bounty Hunters Special | $8.55 | $50,000 |
| Jan 29 | $25 GGMasters Sunday Bounty Special Edition | $25 | $100,000 |
| Jan 29 | $1.11 Bounty Hunters Sunday Big One | $1.11 | $7,500 |
| Jan 29 | $8.88 Sunday CRAZY EIGHTS | $8.88 | $50,000 |
| Jan 29 | $5.40 Bounty Hunters Sunday Main | $5.40 | $50,000 |
| Jan 29 | $1.50 mini Masters Freezeout | $1.50 | $10,000 |
| Jan 29 | $2.50 Bounty Hunters Sunday Big Game | $2.50 | $20,000 |
| Jan 29 | $15 Sunday Hundred Grand, $101K GTD | $15 | $101,000 |
| Jan 29 | $3.21 Sunday Bounty King Baby | $3.21 | $20,000 |
| Jan 29 | $5.50 Sunday FIFTY STACK | $5.50 | $25,000 |
| Jan 29 | $10.80 Bounty Hunters Sunday Special | $10.80 | $50,000 |
| Jan 29 | $10.80 Sunday Omaholic Bounty ME | $10.80 | $20,000 |
| Jan 29 | $7.77 LUCKY SEVENS Sunday Turbo [7-Max] | $7.77 | $30,000 |
| Jan 29 | $5.40 Sunday Heater [Bounty Turbo] | $5.40 | $12,000 |
| Jan 29 | $8.55 Bounty Hunters Sunday Carnaval | $8.55 | $20,000 |
| Jan 29 | $6.45 Sunday SUPER SIX Bounty | $6.45 | $10,000 |
| Jan 29 | $15 Sunday Saver [Hyper] | $15 | $15,000 |
| Jan 30 | $8.88 Mini MILLION$ Sunday Madness [Hyper] | $8.88 | $10,000 |
| Jan 30 | $10.80 Bounty Blast | $10.80 | $40,000 |
| Jan 30 | $3.21 Bounty Hunters Warm-Up | $3.21 | $15,000 |
| Jan 30 | $4.40 FORTY STACK | $4.40 | $12,000 |
| Jan 30 | $1.11 Bounty Hunters Big One | $1.11 | $5,000 |
| Jan 30 | $8.88 CRAZY EIGHTS | $8.88 | $15,000 |
| Jan 30 | $5.40 Bounty Hunters Main | $5.40 | $30,000 |
| Jan 30 | $10.80 Omaholic Bounty Thriller | $10.80 | $10,000 |
| Jan 30 | $2.50 Bounty Hunters Big Game | $2.50 | $10,000 |
| Jan 30 | $10.80 Bounty Hunters Grand Slam | $10.80 | $50,000 |
| Jan 30 | $3.21 Bounty King Baby | $3.21 | $12,000 |
| Jan 30 | $5.50 FIFTY STACK | $5.50 | $10,000 |
| Jan 30 | $3.21 Bounty King Omaholic | $3.21 | $5,000 |
| Jan 30 | $7.77 LUCKY SEVENS Superstack Turbo [7-Max] | $7.77 | $20,000 |
| Jan 30 | $5.40 Monday Heater [Bounty Turbo] | $5.40 | $8,000 |
| Jan 30 | $8.55 Bounty Hunters Carnaval | $8.55 | $12,000 |
| Jan 30 | $6.45 SUPER SIX Bounty | $6.45 | $6,000 |
| Jan 30 | $15 Monday Saver [Hyper] | $15 | $10,000 |
| Jan 31 | $8.88 Mini MILLION$ Madness [Hyper] | $8.88 | $8,000 |
| Jan 31 | $10.80 Bounty Blast | $10.80 | $40,000 |
| Jan 31 | $3.21 Bounty Hunters Warm-Up | $3.21 | $15,000 |
| Jan 31 | $4.40 FORTY STACK | $4.40 | $12,000 |
| Jan 31 | $1.11 Bounty Hunters Big One | $1.11 | $5,000 |
| Jan 31 | $8.88 CRAZY EIGHTS | $8.88 | $15,000 |
| Jan 31 | $5.40 Bounty Hunters Main | $5.40 | $30,000 |
| Jan 31 | $10.80 Omaholic Bounty Thriller | $10.80 | $10,000 |
| Jan 31 | $2.50 Bounty Hunters Big Game | $2.50 | $10,000 |
| Jan 31 | $10.80 Bounty Hunters Grand Slam | $10.80 | $50,000 |
| Jan 31 | $3.21 Bounty King Baby | $3.21 | $12,000 |
| Jan 31 | $5.50 FIFTY STACK | $5.50 | $10,000 |
| Jan 31 | $3.21 Bounty King Omaholic | $3.21 | $5,000 |
| Jan 31 | $7.77 LUCKY SEVENS Superstack Turbo [7-Max] | $7.77 | $20,000 |
| Jan 31 | $5.40 Tuesday Heater [Bounty Turbo] | $5.40 | $8,000 |
| Jan 31 | $8.55 Bounty Hunters Carnaval | $8.55 | $12,000 |
| Jan 31 | $6.45 SUPER SIX Bounty | $6.45 | $6,000 |
| Jan 31 | $15 Tuesday Saver [Hyper] | $15 | $10,000 |
| Feb 1 | $8.88 Mini MILLION$ Madness [Hyper] | $8.88 | $8,000 |
| Feb 1 | $10.80 Bounty Blast | $10.80 | $40,000 |
| Feb 1 | $3.21 Bounty Hunters Warm-Up | $3.21 | $15,000 |
| Feb 1 | $4.40 FORTY STACK | $4.40 | $12,000 |
| Feb 1 | $1.11 Bounty Hunters Big One | $1.11 | $5,000 |
| Feb 1 | $8.88 CRAZY EIGHTS | $8.88 | $15,000 |
| Feb 1 | $5.40 Bounty Hunters Main | $5.40 | $30,000 |
| Feb 1 | $10.80 Omaholic Bounty Thriller | $10.80 | $10,000 |
| Feb 1 | $2.50 Bounty Hunters Big Game | $2.50 | $10,000 |
| Feb 1 | $10.80 Bounty Hunters Grand Slam | $10.80 | $50,000 |
| Feb 1 | $3.21 Bounty King Baby | $3.21 | $12,000 |
| Feb 1 | $5.50 FIFTY STACK | $5.50 | $10,000 |
| Feb 1 | $3.21 Bounty King Omaholic | $3.21 | $5,000 |
| Feb 1 | $7.77 LUCKY SEVENS Superstack Turbo [7-Max] | $7.77 | $20,000 |
| Feb 1 | $5.40 Wednesday Heater [Bounty Turbo] | $5.40 | $8,000 |
| Feb 1 | $8.55 Bounty Hunters Carnaval | $8.55 | $12,000 |
| Feb 1 | $6.45 SUPER SIX Bounty | $6.45 | $6,000 |
| Feb 1 | $15 Wednesday Saver [Hyper] | $15 | $10,000 |
| Feb 2 | $8.88 Mini MILLION$ Madness [Hyper] | $8.88 | $8,000 |
| Feb 2 | $10.80 Bounty Blast | $10.80 | $40,000 |
| Feb 2 | $3.21 Bounty Hunters Warm-Up | $3.21 | $15,000 |
| Feb 2 | $4.40 FORTY STACK | $4.40 | $12,000 |
| Feb 2 | $1.11 Bounty Hunters Big One | $1.11 | $5,000 |
| Feb 2 | $8.88 CRAZY EIGHTS | $8.88 | $15,000 |
| Feb 2 | $5.40 Bounty Hunters Main | $5.40 | $30,000 |
| Feb 2 | $10.80 Omaholic Bounty Thriller | $10.80 | $10,000 |
| Feb 2 | $2.50 Bounty Hunters Big Game | $2.50 | $10,000 |
| Feb 2 | $10.80 Bounty Hunters Grand Slam | $10.80 | $50,000 |
| Feb 2 | $3.21 Bounty King Baby | $3.21 | $12,000 |
| Feb 2 | $5.50 FIFTY STACK | $5.50 | $10,000 |
| Feb 2 | $3.21 Bounty King Omaholic | $3.21 | $5,000 |
| Feb 2 | $7.77 LUCKY SEVENS Superstack Turbo [7-Max] | $7.77 | $20,000 |
| Feb 2 | $5.40 Thursday Heater [Bounty Turbo] | $5.40 | $8,000 |
| Feb 2 | $8.55 Bounty Hunters Carnaval | $8.55 | $12,000 |
| Feb 2 | $6.45 SUPER SIX Bounty | $6.45 | $6,000 |
| Feb 2 | $15 Thursday Saver [Hyper] | $15 | $10,000 |
| Feb 3 | $8.88 Mini MILLION$ Madness [Hyper] | $8.88 | $8,000 |
| Feb 3 | $10.80 Bounty Blast | $10.80 | $40,000 |
| Feb 3 | $3.21 Bounty Hunters Warm-Up | $3.21 | $15,000 |
| Feb 3 | $4.40 FORTY STACK | $4.40 | $12,000 |
| Feb 3 | $1.11 Bounty Hunters Big One | $1.11 | $5,000 |
| Feb 3 | $8.88 CRAZY EIGHTS | $8.88 | $15,000 |
| Feb 3 | $5.40 Bounty Hunters Main | $5.40 | $30,000 |
| Feb 3 | $10.80 Omaholic Bounty Thriller | $10.80 | $10,000 |
| Feb 3 | $2.50 Bounty Hunters Big Game | $2.50 | $10,000 |
| Feb 3 | $10.80 Bounty Hunters Grand Slam | $10.80 | $50,000 |
| Feb 3 | $3.21 Bounty King Baby | $3.21 | $12,000 |
| Feb 3 | $5.50 FIFTY STACK | $5.50 | $10,000 |
| Feb 3 | $3.21 Bounty King Omaholic | $3.21 | $5,000 |
| Feb 3 | $7.77 LUCKY SEVENS Superstack Turbo [7-Max] | $7.77 | $20,000 |
| Feb 3 | $5.40 Friday Heater [Bounty Turbo] | $5.40 | $8,000 |
| Feb 3 | $8.55 Bounty Hunters Carnaval | $8.55 | $12,000 |
| Feb 3 | $6.45 SUPER SIX Bounty | $6.45 | $6,000 |
| Feb 3 | $15 Friday Saver [Hyper] | $15 | $10,000 |
| Feb 4 | $8.88 Mini MILLION$ Madness [Hyper] | $8.88 | $8,000 |
| Feb 4 | $10.80 Bounty Blast | $10.80 | $40,000 |
| Feb 4 | $3.21 Bounty Hunters Warm-Up | $3.21 | $15,000 |
| Feb 4 | $4.40 FORTY STACK | $4.40 | $12,000 |
| Feb 4 | $1.11 Bounty Hunters Big One | $1.11 | $5,000 |
| Feb 4 | $8.88 CRAZY EIGHTS | $8.88 | $15,000 |
| Feb 4 | $5.40 Bounty Hunters Main | $5.40 | $30,000 |
| Feb 4 | $10.80 Omaholic Bounty Thriller | $10.80 | $10,000 |
| Feb 4 | $2.50 Bounty Hunters Big Game | $2.50 | $10,000 |
| Feb 4 | $10.80 Bounty Hunters Grand Slam | $10.80 | $50,000 |
| Feb 4 | $3.21 Bounty King Baby | $3.21 | $12,000 |
| Feb 4 | $5.50 FIFTY STACK | $5.50 | $10,000 |
| Feb 4 | $3.21 Bounty King Omaholic | $3.21 | $5,000 |
| Feb 4 | $7.77 LUCKY SEVENS Superstack Turbo [7-Max] | $7.77 | $20,000 |
| Feb 4 | $5.40 Saturday Heater [Bounty Turbo] | $5.40 | $8,000 |
| Feb 4 | $8.55 Bounty Hunters Carnaval | $8.55 | $12,000 |
| Feb 4 | $6.45 SUPER SIX Bounty | $6.45 | $6,000 |
| Feb 4 | $15 Saturday Saver [Hyper] | $15 | $10,000 |
| Feb 5 | $8.88 Mini MILLION$ Madness [Hyper] | $8.88 | $8,000 |
| Feb 5 | $8.88 Black Rabbit Bounty Kick-Off | $8.88 | $25,000 |
| Feb 5 | $2.50 Sunday Monster Stack | $2.50 | $12,000 |
| Feb 5 | $10.80 Sunday Bounty Blast | $10.80 | $75,000 |
| Feb 5 | $3.21 Sunday Bounty Hunters Warm-Up | $3.21 | $20,000 |
| Feb 5 | $8.55 Bounty Hunters Special | $8.55 | $50,000 |
| Feb 5 | $25 GGMasters Sunday Bounty Special Edition | $25 | $100,000 |
| Feb 5 | $1.11 Bounty Hunters Sunday Big One | $1.11 | $7,500 |
| Feb 5 | $8.88 Sunday CRAZY EIGHTS | $8.88 | $50,000 |
| Feb 5 | $5.40 Bounty Hunters Sunday Main | $5.40 | $50,000 |
| Feb 5 | $1.50 mini Masters Freezeout | $1.50 | $10,000 |
| Feb 5 | $2.50 Bounty Hunters Sunday Big Game | $2.50 | $20,000 |
| Feb 5 | $15 Sunday Hundred Grand, $101K GTD | $15 | $101,000 |
| Feb 5 | $3.21 Sunday Bounty King Baby | $3.21 | $20,000 |
| Feb 5 | $5.50 Sunday FIFTY STACK | $5.50 | $25,000 |
| Feb 5 | $10.80 Bounty Hunters Sunday Special | $10.80 | $50,000 |
| Feb 5 | $10.80 Sunday Omaholic Bounty ME | $10.80 | $20,000 |
| Feb 5 | $7.77 LUCKY SEVENS Sunday Turbo [7-Max] | $7.77 | $30,000 |
| Feb 5 | $5.40 Sunday Heater [Bounty Turbo] | $5.40 | $12,000 |
| Feb 5 | $8.55 Bounty Hunters Sunday Carnaval | $8.55 | $20,000 |
| Feb 5 | $6.45 Sunday SUPER SIX Bounty | $6.45 | $10,000 |
| Feb 5 | $15 Sunday Saver [Hyper] | $15 | $15,000 |
| Feb 6 | $8.88 Mini MILLION$ Sunday Madness [Hyper] | $8.88 | $10,000 |
| Feb 6 | MYSTERY BOUNTY Main Event - $50K Top Bounty [Final Stage] | $10.50 | $1,000,000 |
★★★ Ready to get in the action at GGPoker? Click here for a complete site review with exclusive PokerScout bonus offers. ★★★