To play the part, you have to look the part. With any major gaming or sports niche, a clothing brand is close behind. 
Poker players are known to rock the latest fashion at the tables. From hoodies to track suits and even a tuxedo once in a while, all kinds of looks can be seen around the rails. 
Some entrepreneurs have dived into this trendy world by offering the hottest fashions for poker players. Here's a look at three poker apparel brands keeping players fitted on the felt. 
The Best Social Poker Room in the USA
1
GET 150,000
GOLD COINS for $10
PLUS 30 FREE Sweeps Coins

Most US Players Accepted

Get Over 65% Off Your First Purchase
Daily Free GC and SC on Log In

Use Promo Code: FLUSH
Tana Karn is the founder and CEO of RunGood. He started the company by hustling from the ground up and has become one of the top apparel brands in the game. 
"RunGoodGear came to life from a backpack full of shirts in the halls of the Rio during the World Series of Poker," Karn says.
The company also has one key element that no other brand has right now. 
"To our knowledge, we're the only poker clothing company to have a poker tour," he says. "The brand is a mix of many things over the past 10 years, but overall it's a combination of reputation and quality clothes that has set us apart." 
In 2014, the company launched the RunGood Poker Series. It has since expanded to over 12 properties. 
The company offers sporty clothes but also takes pride in some of its community efforts as well. In 2017, the company raised $30,000 as a fundraiser to send care kits to soldiers overseas with Operation Gratitude. 
The clothing company also has a group of ambassadors that travel around playing in poker tournaments. Players such as Jamie Kerstetter, Daniel Lowery, and Blair Hinkle represent the brand.
One of the newest brands to come to the poker room is PokerNChill. The company is located in New Jersey and founded by Darnell "Rico" Davis and Chris Reyes.
"Our goal is to bring people together with the idea of being able to share their poker experiences and let it be spoken through PokerNChill's stylish brand," the company's website notes.
"Furthermore, comes the exquisite quality of our apparel brand so that customers can experience a full lifetime of their purchased merchandise. We stand behind our product 100% guaranteed."
The new company makes some fun merchandise, including the popular "Donkey I Call" shirt, as well as hoodies and hats.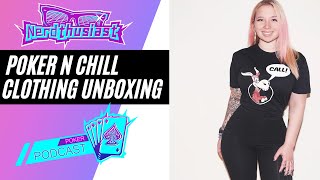 Joe Reddick has a story that sounds like it came straight from a movie. Reddick was a former self-admitted crack dealer from New York who served 15 years behind bars.
During his life in a cell, he learned how to play cards and turned his time from rags to riches. In 2016, Reddick hit big when he took down the Borgata Million Dollar Open. Reddick bullied his way through the final table to take home $217,792.
"It's just something I slipped into," he told WPT.com of his fashion business. "It's going great, and sales have been great. I started it after I won the Borgata Open in 2016."
According to the company site, Chip Bully is designed for "determined people who grind with style. His story is not only inspiring but it is the dark side of the American Dream."
Chip Bully sells T-shirts, hats, jackets, and the popular "Bluff Proof" vest.