In the spirit of athletic competition, 888poker is launching a new series this summer. The ChampionChip Games runs Aug. 8-16 with 25 events and more than $735,000 guaranteed.
The goal of the series is to offer a poker tournament series that's affordable and boasts massive prize pools. Fitting this summer's Olympics, the ChampionChip Games feature plenty of competitive event names – from boxing and wrestling to decathlon and swimming.
The series offers online poker players plenty of opportunities to go for the gold. And while the action may not start until Aug. 8, the site begins offering daily Main Event starting flights on July 18.
Claim Your $20 For Joining 888 Now
1
$20 Free No Deposit Needed
100% Up to $888 On Deposit
Use Promo Code: NEW888
A look at the ChampionChips
888 hopes to deliver plenty of fun with the new series. That includes buy-ins for every level of player and champion-chip trophy for every winner.
The $50 Main Event features several starting flights beginning on July 18 and offers a $500,000 guarantee. That's a lot of value considering the price point. The series is capped by Day 2 of the Main Event on Aug. 16.
Buy-ins start at just $2.20 with the $55 Weightlifting the highest price in the series. Some other highlights include:
$33 Opening Ceremony (Event 1, Aug. 8) – $30,000 guaranteed
$55 Weightlifting (Event 7, Aug. 10) – $20,000 guaranteed
$3.30 Taekwondo PKO 8-Max (Event 12, Aug. 11) – $3,000 guaranteed
$11 Mountain biking PKO (Event 20, Aug. 14) – $8,000 guaranteed
$16.50 Mini Main Event (Event 22, Aug. 15) – $25,000 guaranteed
$5.50 Micro Main Event (Event 24,

Aug. 15) –

$10,000

guaranteed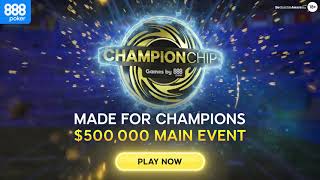 888 adds adds even more to Games
Those in training for the ChampionChips have some extra opportunities to get in the games. New depositors of at least $10 receive a free $50 ticket for the Main Event.
The site is also hosting daily ChampionChip Freerolls as well. These events will award even more players with Main Event tickets. Here's a look at the complete schedule.
2021 888poker ChampionChip Games
| Date | Event | Buy-in | Guarantee |
| --- | --- | --- | --- |
| July 18 to Aug. 15 | $500,000 Main Event Day 1 | $50 | $500,000 |
| Aug. 8 | Event 1 - $30,000 Opening Ceremony | $33 | $30,000 |
| Aug. 8 | Event 2 - $7,500 High Jump (R&A) | $5.50 | $7,500 |
| Aug. 8 | Event 3 - $3,000 Triple Jump (Extended R&A) | $2.20 | $3,000 |
| Aug. 9 | Event 4 - $15,000 Boxing (PKO 6-Max) | $22 | $15,000 |
| Aug. 9 | Event 5 - $5,000 Karate (PKO 6-Max) | $5.50 | $5,000 |
| Aug. 9 | Event 6 - $3,000 Judo (PKO 6-Max) | $3.30 | $3,000 |
| Aug. 10 | Event 7 - $20,000 Weightlifting | $55 | $20,000 |
| Aug. 10 | Event 8 - $15,000 Wrestling | $22 | $15,000 |
| Aug. 10 | Event 9 - $7,500 Hammer Throw | $11 | $7,500 |
| Aug. 11 | Event 10 - $15,000 Shooting (PKO 8-Max) | $16.50 | $15,000 |
| Aug. 11 | Event 11 - $8,000 Fencing (PKO 8-Max) | $8.80 | $8,000 |
| Aug. 11 | Event 12 - $3,000 Taekwondo (PKO 8-Max) | $3.30 | $3,000 |
| Aug. 12 | Event 13 - $15,000 Marathon (Deepstack) | $22 | $15,000 |
| Aug. 12 | Event 14 - $8,000 Triathlon (Deepstack) | $11 | $8,000 |
| Aug. 12 | Event 15 - $5.000 Decathlon (Deepstack) | $5.50 | $5,000 |
| Aug. 13 | Event 16 - $7,500 Surfing (6-Max) | $11 | $7,500 |
| Aug. 13 | Event 17 - $5,000 Sailing (6-Max) | $5.50 | $5,000 |
| Aug. 13 | Event 18 - $2,000 Swimming (6-Max) | $2.20 | $2,000 |
| Aug. 14 | Event 19 - $15,000 Sport Climbing (PKO) | $22 | $15,000 |
| Aug. 14 | Event 20 - $8,000 Mountain biking (PKO) | $11 | $8,000 |
| Aug. 14 | Event 21 - $3,000 Skateboarding (PKO) | $3.30 | $3,000 |
| Aug. 15 | Event 22 - $25,000 Mini Main Event | $16.50 | $25,000 |
| Aug. 15 | Event 24 - $10,000 Micro Main Event | $5.50 | $10,000 |
| Aug. 16 | Event 25 - $500,000 Main Event Day 2 | | $500,000 |
★★★ Ready to get in the action at 888poker? Click here for a complete site review with exclusive PokerScout bonus offers. ★★★