Players have a shot at some big payouts for a cut-rate buy-in this weekend at 888poker. The site's Sunday Sale returns to the site on May 23, offering a nice promotion for online poker players.
The promotion brings discounted special buy-ins on three of 888's popular Sunday tournaments.
Claim Your $20 For Joining 888 Now
1
$20 Free No Deposit Needed
100% Up to $888 On Deposit
Use Promo Code: NEW888
888poker offers some bang for the buck
Players will find three tournaments to check out with a chance at some nice prize pools. Here's a look at the three tournaments offering half-price buy-ins:
$27.50 Big Shot (normally $55) – $25,000 guaranteed
$55 Main Event (normally $109) – $150,000 guaranteed
 $265 High Roller (normally $525) – $50,000 guaranteed
The guarantees for each tournament stay the same, offering some plenty of value for players. The Sunday Sale offers a nice day for players looking to raise their stakes a bit.
Freerolls awarding Main Event seats
Players looking for even more value have a chance to grab a Main Event seat without spending a dollar. The Sunday Sale Freeroll satellites will award seats for the Main Event without players having to even buy in.
The site is also offering low-priced sub-satellites and other qualifying events. This allows players a shot at a Main Event seat for a minimum buy-in.
More tournaments on the way with 888poker XL Spring Series
Beyond the Sunday Sale, players have a lot more to look forward to at 888poker. The XL Spring Series runs May 30 to June 6 with 25 events and  $1 million guaranteed.
The festival features buy-ins from $5.50 to $55 with numerous promotions also planned. 888 has worked to provide a schedule appealing to all levels of players. The Spring Series features micro and mini events for most tournaments. 
The $250 Main Event highlights the series on June 6 with a $500,000 guarantee.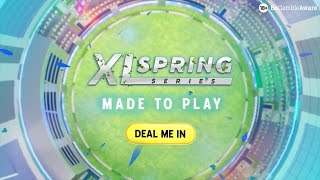 The $33 Mini Main Event comes with a $50,000 guarantee. The $5.50 Micro Main Event promises a $15,000 prize pool. Both of these events are also planned for June 6.
Throughout the Spring Series, 888 will offer freerolls and satellites to most tournaments. Satellite tournaments start at just a penny.
Daily freerolls reward Main Event seats as well as cash. Random gift drops are also planned and award tournament entries, freeroll tickets, and cash.
The site will stream three events live on 888pokerTV via Twitch with other prizes given out to players. Players can enter giveaways to win XL Spring tickets and other prizes.
There will also be a special freeroll during each of the live streams. Here's a look at the complete streaming schedule and series schedule.
May 30 – $55 Opener ($50,000 guarantee)
June 1 – $320 High Roller ($50,000 guarantee)
June 6 – $250 Main Event ($500,000 guarantee)
888poker XL Spring Series 2021
| Date | Event | Buy–in | Guarantee |
| --- | --- | --- | --- |
| May 30 | #1 – $50,000 Opening Event | $55 | $50,000 |
| May 30 | #2 – $25,000 Mini Opening | $16.50 | $25,000 |
| May 30 | #3 – $10,000 Micro Opening | $5.50 | $10,000 |
| May 30 | #4 – $15,000 Late Opening | $33 | $15,000 |
| May 31 | #5 – $20,000 R&A Event | $33 | $20,000 |
| May 31 | #6 – $8,000 Mini R&A | $5.50 | $8,000 |
| May 31 | #7 – $8,000 Late R&A | $11 | $8,000 |
| June 1 | #8 – $50,000 High Roller | $320 | $50,000 |
| June 1 | #9 – $25,000 Mini High Roller | $55 | $25,000 |
| June 1 | #10 – $20,000 Late High Roller | $109 | $20,000 |
| June 2 | #11 – $30,000 PKO | $109 | $30,000 |
| June 2 | #12 – $15,000 Mini PKO | $16.50 | $15,000 |
| June 2 | #13 – $10,000 Late PKO | $33 | $10,000 |
| June 3 | #14 – $40,000 PKO 8–Max | $160 | $40,000 |
| June 3 | #15 – $15,000 Mini PKO 8–Max | $22 | $15,000 |
| June 3 | #16 – $15,000 Late PKO 8–Max | $55 | $15,000 |
| June 4 | #17 – $30,000 DeepStack | $55 | $30,000 |
| June 4 | #18 – $15,000 Mini DeepStack | $16.50 | $15,000 |
| June 4 | #19 – $10,000 Late DeepStack | $33 | $10,000 |
| June 5 | #20 – $30,000 6–Max | $109 | $30,000 |
| June 5 | #21 – $15,000 Mini 6–Max | $16.50 | $15,000 |
| June 5 | #22 – $15,000 Late 6–Max | $55 | $15,000 |
| June 6 | #23 – $500,000 Main Event | $250 | $500,000 |
| June 6 | #24 – $50,000 Mini Main Event | $33 | $50,000 |
| June 6 | #25 – $15,000 Micro Main Event | $5.50 | $15,000 |
★★★ Ready to get in the 888poker action? Click here for a complete site review and exclusive PokerScout bonus offers. ★★★