888poker LIVE continues its resurgence and announced another major stop in Spain on Monday. The 888poker Live Festival Barcelona runs May 12-23, highlighted by the €1,100 Main Event running May 19-23.
As part of the action, all 888 ambassadors and Twitch streamers will be on site. The company is also inviting some special guests to play including Dan "Jungle Man" Cates, Maria Ho, and Michael Mizrachi.
888poker is bringing more special events to the series as the company celebrates is 20th anniversary. The site is also planning numerous opportunities for online players to qualify for the live series.
Claim Your $20 For Joining 888 Now
1
$20 Free No Deposit Needed
100% Up to $888 On Deposit
Use Promo Code: NEW888
Highlights from 888poker Live Barcelona
The €1,100 Main Event allows players to get in on the action for pennies via online satellites and qualifiers. Direct registration for a satellite is also available for $109.
Qualifier winners score a $2,200 package to 888poker LIVE Barcelona. The package includes:
$1,250 buy-in to the 888poker LIVE Barcelona Main Event

$550 for three nights' accommodation from May 19-22

$400 travel money paid into the winner's player account

a 888poker LIVE kit
Players in Barcelona will find four starting flights and the tournament features big blind antes and "shot clocks." 888 will stream the four-day event on the site's official Twitch channel.
Beyond the Main Event, a €5,300 High Roller is also on the schedule and should attract interest among higher stakes players.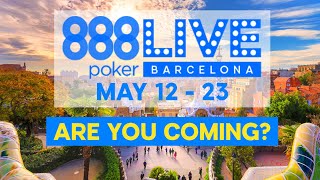 What to expect in Barcelona
Barcelona is located in the northeast region of Spain called Catalonia, a great place for a poker vacation. The city boasts renowned structures like the Sagrada Família. Designed by famed Catalan architect Antoni Gaudí, the building is part of a UNESCO World Heritage Site.
The city also features museums and beautifully manicured city parks. There's also plenty of nightlife, bars, and clubs to keep players entertained.
For sports fans, FC Barcelona also offers a long sporting tradition. The club is one of the largest and richest in the world.
Casino Barcelona has also hosted 888poker LIVE in the past. In 2019, Italy's Gabriele Rossi walked away with the Main Event prize of €110,000 ($123,121) and the winner's trophy.
Here's a look at the complete schedule.
888poker LIVE Barcelona
Date
Event
Buy-in
Buy-in
Chips
May 11
Turboellite to
Opening Event 1A
50€
€50
5,000
May 11
STEP 2 Main Event
220€
€220
10,000
May 12
888poker LIVE
Barcelona Festival –
Opening Event Day 1A
220€
€220
30,000
May 12
Turboellite to
Opening Event 1B
50€
€50
5,000
May 13
888poker LIVE
Barcelona Festival –
Opening Event Day 1B
220€
€220
30,000
May 13
The Mayhem
88€
€88
15,000
May 14
Turboellite to
Opening Event 1C
50€
€50
5,000
May 14
888poker LIVE
Barcelona Festival –
Opening Event Day 1C
220€
€220
30,000
May 14
888poker LIVE
Barcelona Festival –
Opening Event Day 1D TURBO
220€
€220
30,000
May 14
The Rumble
110€
€110
15,000
May 15
888poker LIVE
Barcelona Festival –
Opening Event FINAL
220€
€220
N/A
May 15
The Mini Shot Turbo
50€
€50
10,000
May 15
The Triple Threat
110€
€110
15,000
May 16
The Mid Shot
55€
€55
15,000
May 16
STEP 2 Main Event
220€
€220
10,000
May 17
The Turbo Deepstack
77€
€77
30,000
May 17
High Roller Day 1
2,200€
€2,200
100,000
May 17
Satellite High Roller
440€
€440
10,000
May 18
Made To Play
66€
€66
20,000
May 18
High Roller Final Day
2,200€
€2,200
100,000
May 18
Superellite to
Main Event Day 1A
110€
€110
8,000
May 18
Super High Roller
Day 1
5,300€
€5,300
100,000
May 19
Superellite to
Main Event Day 1B
110€
€110
10,000
May 19
Super High Roller
Final Day
5,300€
€5,300
100,000
May 19
888poker LIVE
Barcelona Festival
ME Day 1A
1,100€
€1,100
30,000
May 20
888poker LIVE
Barcelona Festival
ME Day 1B
1,100€
€1,100
30,000
May 20
The Mega Knockout
[50€ Bounty]
165€
€165
25,000
May 21
Turbo Superellite to
Main Event Day 1C
110€
€110
5,000
May 21
888poker LIVE
Barcelona Festival
ME Day 1C
1,100€
€1,100
30,000
May 21
Pot Limit Omaha
150€
€150
30,000
May 21
Turbo Superellite to
Main Event Day 1D
110€
€110
10,000
May 22
888poker LIVE
Barcelona Festival
ME Day 1D Turbo
1,100€
€1,100
30,000
May 22
888poker LIVE Barcelona
Festival ME
Day 2
1,100€
€1,100
30,000
May 22
The Big Shot
333€
€333
20,000
May 22
The Ladies Event
55€
€55
15,000
May 23
888poker LIVE Barcelona Festival
ME Final Day
★★★ Ready to get in the action at 888poker? Click here for a complete site review with exclusive PokerScout bonus offers. ★★★