Blast sit and go events have paid off for some lucky players at 888poker over the last few days. That included one player finding a five-figure score after playing on the site for just a few days.
The Blast events are the site's version of popular short-handed tournaments. These have become popular over the last several years with online poker players.
These 888 events have awarded jackpots of about $400,000 over the last month, offering some players real bang for the buck.
Claim Your $20 For Joining 888 Now
1
$20 Free No Deposit Needed
100% Up to $888 On Deposit
Use Promo Code: NEW888
What is an 888poker Blast Sit and Go?
Many sites offer short-handed tournaments. These events usually feature a wide range of buy-ins and a random prize determined before play begins. They offer quick-paced action with a winner-take-all format and are great for those looking to play a quick tournament.
At 888, Blast jackpot games feature three players with the prize pool randomly set. The prize pool ranges from twice a player's buy-in to as high as 10,000 times that amount invested.
Players begin with a 1,500-chip starting stack and a timer also counts down as play continues. Once time is out, all three players are then all in every hand until one winner is left standing.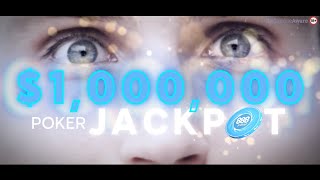 Big winners crowned in Blast events
The first big win came on Aug. 24 when "Bellyfuff" played a $10 Blast. The player had just joined 888 only four days earlier and was rewarded with a $70,000 payday.
While normal Blast events are winner take all, those events reaching the jackpot prize pool also pay out the other two players at the table as well. Second-place winner "belacroatia1" scored a $20,000 payout with "Brisels" collecting $10,000 for third.
That wasn't the only big win in recent action however. Three more players had massive wins in the last month for another $300,000 over the last month.
All three of these players also bought in for only $10 and all hit the $100,000 jackpot prize pool.
Additionally, 888 players bagged more than $400,000 altogether in top 10 Blast wins in August. That came from buy-ins of just under $500.
Past winners in 2021 included the ultimate $1 million prize pool. Winners in that event scored $700,000 for first, $200,000 for second, and $100,000 for third.
Beyond Blast events, cash games, and daily tournaments, the ChampionChip Games have run at 888 over the last few weeks. The series wraps up on Tuesday with the $60 Main Event, featuring a $200,000 guarantee. For a complete look at some of those winners, click here.
★★★ Looking to get in the action at 888poker? Click here for a complete site review and exclusive PokerScout bonus offers. ★★★