It seems impossible for an online poker operator – drawing enough entries into a $150 freezeout to reach a $5 million guarantee. But that's what GGPoker is at least attempting.
Earlier this week, the operator announced a special edition of its GGMasters event on March 20. The Overlay Edition celebrates two years of running the online poker world's biggest weekly freezeout event.
What makes the upcoming event is the massive guarantee, which seems impossible to meet, at such a low price point. Or is it?
Site ambassador Daniel Negreanu certainly doesn't believe it's possible and tournament organizers probably don't either.
"I've never seen an online site be this aggressive with a guarantee they can't really think is going to hit," he told PokerScout this week. "It's a unique way to give back to the players."
$50 Bonus OR 100% up to $600 On Deposit
1
$50 Bonus
On a $20 Deposit
Deposit $20 & Get $50 Bonus OR
100% up to $600 On Deposit
Rewards program with attainable milestones
To Claim: Click Get Started
A head-shaving guarantee at GGPoker
Certainly the number of entries needed to meet such a guarantee in a freezeout seems almost insurmountable. Negreanu has gone so far to say that he'll shave his hair off should the tournament actually reach the $5 million mark.
"I think the chances of it hitting the guarantee are close to nil, so sure, I'll shave my head on camera if it does," he says.
Negreanu has gone with a cue ball cut once before, but didn't find it really fit his personality.
"I did (shave my head) many years ago, but it didn't feel like me," he says. "I'm not so sure I have the right head shape for the bald look."
I can't believe what @GGPoker is doing!!! Make sure you don't miss out on this one: pic.twitter.com/TsX1H9v9sh

— Daniel Negreanu (@RealKidPoker) February 14, 2022
A look at the math
Is there any shot Negreanu gets the Lex Luthor look? The numbers certainly make that hair-cutting conundrum an uphill climb. The prospect may be more like venturing into outer space.
Of the $150 buy-in, the tournament fee is $12. That means $138 from every buy-in goes to the prize pool, unless of course the tournament indeed doesn't make the guarantee, as expected.
Then that 12 bucks from each player would be added to help make up for the overlay.
Considering that $138, the event would need 36,232 individual players. Remember, this event is in freezeout format, so no re-entries allowed.
That number would actually add a whopping extra $16 to the prize pool. Players certainly have some nice incentive to play with the event paying out a massive $450,000 to the winner. But is that enough?
Hitting the $5-mil mark?
36,000 one-time entries is simply massive. But then again, GG has seen some record-setting numbers in recent years.
In 2020, the site ran the World Series of Poker Online and the $5,000 Main Event reached a huge number of players. That tournament, with a substantially higher buy-in, produced 5,802 players for a $29.6 million prize pool.
Bulgaria's Stoyan Madanzhiev came out on top for $3.9 million. The event even earned a Guinness World Record for "largest prize pool for an online poker tournament."
There is precedent for even larger turnouts in the online poker world. In 2013, PokerStars ran a $1 buy-in tournament that reached 225,000 entries. Russia's "Mr.SlavaPro" took the top spot for $25,000.
In 2008, Stars also brought in 35,000 entries for an $11 tournament. The Overlay Edition however is another animal altogether with a much larger buy-in.
Just to compare, the tournament would need a number of entries that's greater than seven US state capitals (Vermont, South Dakota, Maine, Kentucky, Montana, Alaska, and Delaware).
The number of players needed is almost half of the number of fans that attended the 2018 World Cup final, which saw France beat Croatia. It seems unlikely, but you never know.
$50 Bonus OR 100% up to $600 On Deposit
1
$50 Bonus
On a $20 Deposit
Deposit $20 & Get $50 Bonus OR
100% up to $600 On Deposit
Rewards program with attainable milestones
To Claim: Click Get Started
Plenty of chances to qualify
Even GGPoker believes the guarantee more than likely won't meet the guarantee – hence the Overlay Edition moniker. However, the operator is offering plenty of routes to funnel more players into the event.
Players will find satellites already underway and running daily. Qualifiers start at just $2 and allow players of all bankrolls a shot at the real extra cash offered.
With over a month before the event, these should produce plenty of players. Some massive payouts for simply finding a deep run should motivate many to jump in the action as well.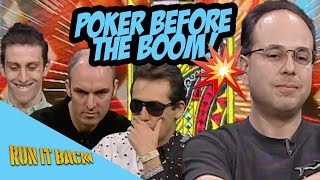 While it may be a little tongue in cheek, the Negreanu head-shaving guarantee adds a little extra fun. Who could forget Phil Hellmuth's commentary on the 2002 WSOP Main Event?
He promised to shave his own hair if non-poker pro Robert Varkonyi emerged as the champion. The New Yorker did just that and took home $2 million.
As the episode comes to a close some clippers indeed meet Hellmuth's head. Is there any chance the name GGMasters Overlay Edition becomes an oxymoron? Will Negreanu see his locks lanced?
Only time will tell, but the company has created a tournament that looks to bring some intrigue to the world of online poker. And some fun – with or without the clippers
★★★ Ready to get in the action at GGPoker? Click here for a complete site review with exclusive PokerScout bonus offers. ★★★