Already a star on the pitch, Brazilian football icon Neymar Jr. also hopes to bring plenty of stardom to the poker world. On Tuesday, PokerStars announced a new partnership and collaboration that will be seen "across many aspects of the brand."
With Neymar's off the field passion for poker and gaming, PokerStars officials see the agreement as a perfect match. In a news release, the company announced that Neymar will bring his flair and personality to the online and live tables.
As part of the deal, PokerStars gains a name recognized around the world. Bringing in new players to the game has been a major push in the industry in recent years. Neymar offers the site an opportunity to reach fans of the world's most popular sport.
Claim Your £50 at PokerStars Now
1
Deposit £10, Get £50 Bonus Play

World's Biggest Poker Room
Bonus Code: SPINANDGO
"Neymar Jr is a true global superstar," PokerStars global director of brand and creative Martin Nieri said in a news release. "But what underpins this partnership is his genuine love for poker. It's about a shared passion for the game and the beautiful uncertainty at the heart of it.
"At PokerStars, we are constantly trying new things to bring new energy, excitement, and entertainment to our customers. Together with Neymar Jr we believe we can take this to the next level for the PokerStars community."
What's planned for Neymar at PokerStars?
The announcement marks the start of Neymar's new chapter with PokerStars. He previously served as a brand ambassador in the past and has now rejoined the fold.
The signing follows a recent global brand refresh for PokerStars. The company hopes to move beyond "just product" in a bid to become an international entertainment brand.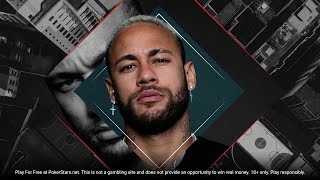 Those efforts included PokerStars' first dedicated safer gambling television ads. The site's responsible gaming team was one of the first in the industry.
Neymar brings name recognition for the site and adds to those rebranding efforts. In recent years, poker sites have moved beyond merely poker pros as brand ambassadors.
A football star who can convert soccer fans to poker players could pay big dividends. Company officials must see the agreement having an impact after bringing him back on board a second time.
"As a true poker fan, I am excited to start a new chapter with PokerStars," Neymar said. "Together we'll be creating moments for our community and fans all over the world."
Neymar at the poker table
Beyond simply adding a name however, Neymar represents an athlete who really enjoys poker. He's jumped in a few PokerStars live events through the years.
In 2018, Neymar finished sixth in a $1,400 side event at the Brazilian Series of Poker for $21,072. In May, he finished 12th in a $2,100 PokerStars SCOOP (Spring Championship of Online Poker) event for $6,700.
"When I'm not playing football, I love playing cards," Neymar said in announcing his new role with the company.
"Competing with my friends is a huge passion of mine, I love the sense of community, the fun, and the unpredictable moments that can occur in any game."
Reaching a growing Brazilian market as well
Beyond the global aspects of reaching new players, adding a Brazilian star could also be important. The country has become a growing poker market with many players scoring in major international online poker events.
That played out on Tuesday, with Brazilian Brunno Botteon taking runner-up in the international half of the World Series of Poker Main Event for $1.1 million.
Neymar adds real name recognition in a country of 210 million where football is a real passion. His involvement offers opportunities for expansion in the land of samba and sun.
PokerStars hasn't named many specifics yet on Neymar's role just yet however. The company notes in a news release: "This is only the start of the journey with more to be revealed in 2021."