After a two-year delay because of COVID-19, the PokerStars Women's Platinum Pass tournament finally played out last week at the European Poker Tour stop in Barcelona. In the end, Italy's Giada Fang came out on top for one of the most coveted poker prizes.
A Platinum Pass is valued at $30,000 and includes a complete trip for two to the Bahamas in January. That includes a $25,000 buy-in to the PokerStars Players Championship (PSPC).
"I just can't wait to fly to the Bahamas!" Fang said as PokerStars commentator Joe Stapleton and ambassador Jennifer Shahade presented her with the prize.
Claim Your £50 at PokerStars Now
1
Deposit £10, Get £50 Bonus Play

World's Biggest Poker Room
Bonus Code: SPINANDGO
A look at the PokerStars Platinum Pass winner
The winner-take-all women's event turned into a major part of EPT Barcelona with PokerStars streaming the entire tournament. Fang (pictured in lead image) made an interesting life change prior to playing poker. She left behind a career in medicine to become a full-time player.
"I never regretted my change," she said in her post-tournament interview. "I loved being a doctor and surgeon, but that's something I can always go back to. Now that I'm still young and can travel, and I love playing poker, I decided to make poker my career. I definitely don't regret it."
At the live tables, Fang has more than $53,000 in live tournament winnings. She also works as a poker commentator and has achieved European female Supernova Elite status online. Fang now serves as a PokerStars ambassador and also streams her action on Twitch.
Now with a Platinum Pass in hand, Fang has six months to prepare for what should be one of the biggest events on the 2023 poker calendar.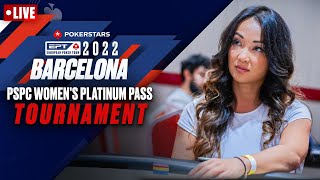 Inspirational women take part
The original idea for the Platinum Pass competition saw poker fans nominate inspirational women for the event. Seven made the trip to Casino Barcelona for the tournament.
This final table was two years in the making, with finalists selected in 2020 as part of International Women's Day. PokerStars asked for nominations of women who made an impact on the poker community. The winner was to take home a Platinum Pass, which awards:
$25,000 PSPC buy-in

six nights' hotel accommodation for winner and a guest

airport transfers

$1,900 in expenses

exclusive winner experiences
"Our record-breaking event in Barcelona was the perfect setting to bring some of poker's amazing women together and shine a spotlight on them," PokerStars director of partnerships and consumer engagement Rebecca McAdam Willetts said in a news release.
"We are committed to making sure our online and live tables are a comfortable, fun, and inclusive space for everyone to compete on a level playing ground."
Highlighting female players
Nine finalists were eventually selected and 28 months later, the special tournament was on in Barcelona. Along with Fang, the finalists included:
Davia Bryne – Poker pro and founder of FLIP (Fantastic Ladies in Poker), the largest female-only poker community on Facebook.
Christina Read – Founder of the Poker Queens women's poker group. The forum supports fellow female players in the industry through providing tips, advice, and mentoring.
Meichelle Culhane – Volunteer poker teacher for senior citizens at the Broken Arrow Senior Activity Center in Oklahoma.
Terry Hatcher – Founder of a weekly Monday night PokerStars Home Games ladies tournament. All proceeds, $30,000 to date,​​ go toward female non-profit charities.
Lexi Sterner – The nurse and poker player fell in love with the game following some tragic family news at a young age. That helped shape her into the person she is today.
Aurelie Reard – A former audio-visual engineer, Reard has played professionally for nine years in tournaments around the globe. She's also committed herself to promoting female players in the industry.
Claim Your £50 at PokerStars Now
1
Deposit £10, Get £50 Bonus Play

World's Biggest Poker Room
Bonus Code: SPINANDGO
Qualifiers were pleased to have an opportunity to compete for such a big poker prize.
"When I found out, I was so surprised and overwhelmed by the support," Byrne recently told PokerScout. "To be part of the top nine, you needed to have so many votes and the kind validation from the community means so much to me. Knowing that people appreciate what you do encourages me even more to work harder to achieve more equality at the tables and higher female representation in the poker industry as a whole."
Finalists Jan Fisher and Katie Stone couldn't make the trip, but received Road to PSPC tournament packages instead. The entire tournament took three and a half hours. Here's a look at where each player finished.
PokerStars Women's Platinum Pass tournament
Giada Fang – Platinum Pass winner

Aurelie Reard

Daiva Byrne

Lexi Sterner

Meichelle Culhane

Christina Read

Terry Hatcher
★★★ Ready to get in the action at PokerStars? Click here for a complete site review with exclusive PokerScout bonus offers. ★★★