Players at partypoker may soon be seeing the site's logo as part of the Formula 1 auto racing circuit. Party's parent company, Entain, announced a deal earlier this week with McLaren Racing that starts this year.
The multi-year deal will feature the partypoker and PartyCasino brands and officially begins Sunday at the Monaco Grand Prix.
"We are immensely proud to be partnering with McLaren Racing, a team who are synonymous with creating thrilling entertainment by constantly innovating and staying at the cutting-edge of technology," Entain CEO Jette Nygaard-Andersen said in a news release.
"This is the same approach we take in providing moments of excitement for our customers and we are truly excited about the opportunities we have to create new content for our PartyCasino and partypoker customers as well as bringing these great brands to new audiences."
Claim Your £40 Spins Tickets Today!
1
£40 of SPINS tickets for £10
New Players Only 
To Claim: Click Play Now

A look at the Formula 1/partypoker deal
Company branding will appear on the halos of McLaren MCL35M race cars as well as driver Daniel Ricciardo's helmet.
The Australian has been driving in Formula 1 since 2011 and currently sits seventh in the circuit's standings. The agreement goes beyond the racetrack as well.
Entain will offer player and racing fans a range of dedicated content and exclusive experiences. A new activation platform called "Access" will feature:
McLaren themed casino content access all games on PartyCasino and partypoker.
Competitions to win access to the McLaren Technology Centre, McLaren's headquarters in Surrey, England.
Shared promotions throughout the companies' social media channels.
Jointly-developed marketing content.
Additionally, Entain will use the partnership to explore strategies to promote safer betting and gaming. Party hopes to benefit "from the team's unique perspective on maintaining control and managing risk."
"Fan entertainment is a major focus for our team and sport," McLaren Racing CEO Zak Brown said. "Like McLaren Racing, Entain brands such as PartyCasino and partypoker place a high importance in providing moments of safe and responsible excitement for their customers.
"We look forward to starting our partnership with Entain from this weekend's Monaco Grand Prix and the activity we have planned together in creating moments of excitement for fans and customers."
WPT series rolls on at partypoker
On the poker felt, the WPT Online Series is currently underway on partypoker's international platform. The festival runs through June 2 and offers players a chance to add their name to the Mike Sexton WPT Champions Cup.
The series got off to a good start on May 14 with the $33 Pro Hunt featuring team partypoker players and special guests. The event promised a $30,000 guarantee and attracted 1,788 players for a $53,640 top prize.
Players busting any pros or guests earned a mystery prize ranging from a $33 ticket to a $320 Mini Main Event seat.
Brazil's Douglas Souza took home a $3,200 seat to the $3 million guaranteed WPT Online Series Main Event. He was streaming his play on PokerStars' Brazilian Twitch channel when he won the event.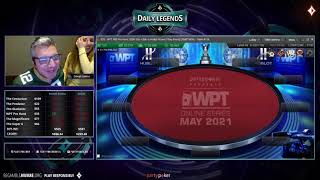 In other news, one of the winningest players in poker also scored a title early in the series. Steve O'Dwyer took down the $5,200 WPT High Roller Turbo on May 18.
Based in the Netherlands, O'Dwyer was one of 50 players buying into the event for a $250,000 prize pool. He topped Finland's Samuel Vousden in heads-up play for the $80,891 top prize. Vousden took $49,736 for runner-up.
Here's a look at the events remaining in the series.
2021 partypoker WPT Online Series
| Date | Event | Tournament | Format | Buy-In | Guarantee | Fee | Day | Tournament length |
| --- | --- | --- | --- | --- | --- | --- | --- | --- |
| May 28 | #34 | Warm Up | 8-Max PKO | $1,000 | $500,000 | $50 | Day 1A | [2-Day Event] |
| May 28 | #34 | Mini Warm Up | 8-Max PKO | $100 | $250,000 | $9 | Day 1A | [2-Day Event] |
| May 28 | #34 | Micro Warm Up | 8-Max PKO | $10 | $50,000 | $1 | Day 1A | [2-Day Event] |
| May 28 | #24 | WPT500 | 8-Max | $500 | - | $30 | Day 1E | [2-Day Event + FT Tuesday] |
| May 28 | #25 | Super50 | 8-Max | $50 | - | $5 | Day 1E | [3-Day Event] |
| May 28 | #26 | Super5 | 8-Max | $5 | - | $0.50 | Day 1E | [3-Day Event] |
| May 28 | | 7-Max Turbo Knockout | 7-Max, PKO | $200 | $30,000 | $15 | - | [1-Day Event] |
| May 29 | #34 | Warm Up | 8-Max PKO | $1,000 | - | $50 | Day 1B | [2-Day Event] |
| May 29 | #34 | Mini Warm Up | 8-Max PKO | $100 | - | $9 | Day 1B | [2-Day Event] |
| May 29 | #34 | Micro Warm Up | 8-Max PKO | $10 | - | $1 | Day 1B | [2-Day Event] |
| May 29 | #24 | WPT500 | 8-Max | $500 | - | $30 | Day 1F | [2-Day Event + FT Tuesday] |
| May 29 | #25 | Super50 | 8-Max | $50 | - | $5 | Day 1F | [3-Day Event] |
| May 29 | #26 | Super5 | 8-Max | $5 | - | $0.50 | Day 1F | [3-Day Event] |
| May 29 | | Mix-Max Turbo | Mix-Max | $300 | $30,000 | $20 | - | [1-Day Event] |
| May 30 | #34 | Warm Up | 7-Max PKO | $1,000 | - | $50 | Day 1C | [2-Day Event] |
| May 30 | #34 | Mini Warm Up | 7-Max PKO | $100 | - | $9 | Day 1C | [2-Day Event] |
| May 30 | #34 | Micro Warm Up | 7-Max PKO | $10 | - | $1 | Day 1C | [2-Day Event] |
| May 30 | #24 | WPT500 | 8-Max | $500 | - | $30 | Day 1G | [2-Day Event + FT Tuesday] |
| May 30 | #25 | Super50 | 8-Max | $50 | - | $5 | Day 1G | [3-Day Event] |
| May 30 | #26 | Super5 | 8-Max | $5 | - | $0.50 | Day 1G | [3-Day Event] |
| May 30 | #35 | The Big Game | 8-Max | $500 | $300,000 | $30 | - | [1-Day Event] |
| May 30 | #35 | The Mini Big Game | 8-Max | $50 | $150,000 | $5 | - | [1-Day Event] |
| May 30 | #34 | Warm Up | 8-Max PKO | - | - | - | Final Day | - |
| May 30 | #34 | Mini Warm Up | 8-Max PKO | - | - | - | Final Day | - |
| May 30 | #34 | Micro Warm Up | 8-Max PKO | - | - | - | Final Day | - |
| May 30 | #20 | Main Event | 8-Max | $3,000 | - | $200 | Day 1B | [3-Day Event + FT Wednesday] |
| May 30 | #36 | 7-Max | 7-Max PKO | $1,500 | $500,000 | $75 | Day 1A | [2-Day Event] |
| May 30 | #36 | Mini 7-Max | 7-Max PKO | $150 | $200,000 | $12 | Day 1A | [2-Day Event] |
| May 30 | #36 | Micro 7-Max | 7-Max PKO | $15 | $50,000 | $1.50 | Day 1A | [2-Day Event] |
| May 30 | #37 | Omaha Hi-Lo | 6-Max Hi-Lo PKO | $1,500 | $250,000 | $75 | Day 1A | [2-Day Event] |
| May 30 | #37 | Mini Omaha Hi-Lo | 6-Max Hi-Lo PKO | $150 | $50,000 | $12 | Day 1A | [2-Day Event] |
| May 30 | #37 | Micro Omaha Hi-Lo | 6-Max Hi-Lo PKO | $15 | $20,000 | $1.50 | Day 1A | [2-Day Event] |
| May 30 | #38 | High Roller | 7-Max | $10,000 | $1,000,000 | $300 | Day 1 | [2-Day Event] |
| May 30 | #24 | WPT500 | 8-Max | $500 | - | $30 | Day 1H | [2-Day Event + FT Tuesday] |
| May 30 | #25 | Super50 | 8-Max | $50 | - | $5 | Day 1H | [3-Day Event] |
| May 30 | #26 | Super5 | 8-Max | $5 | - | $0.50 | Day 1H | [3-Day Event] |
| May 30 | | High Roller Turbo | 7-Max | $5,000 | $250,000 | $200 | - | [1-Day Event] |
| May 30 | | 6-Max Hyper Knockout | 6-Max PKO | $300 | $40,000 | $20 | - | [1-Day Event] |
| May 31 | #24 | WPT500 | 6-Max | $500 | - | $30 | Day 1 Turbo | [2-Day Event + FT Tuesday] |
| May 31 | #25 | Super50 | 6-Max | $50 | - | $5 | Day 1 Turbo | [3-Day Event] |
| May 31 | #26 | Super5 | 6-Max | $5 | - | $0.50 | Day 1 Turbo | [3-Day Event] |
| May 31 | #20 | Main Event | 8-Max | - | - | - | Day 2 | [3-Day Event + FT Wednesday] |
| May 31 | #36 | 7-Max | 7-Max PKO | $1,500 | - | $75 | Day 1B | [2-Day Event] |
| May 31 | #36 | Mini 7-Max | 7-Max PKO | $150 | - | $12 | Day 1B | [2-Day Event] |
| May 31 | #36 | Micro 7-Max | 7-Max PKO | $15 | - | $1.50 | Day 1B | [2-Day Event] |
| May 31 | #39 | Closer | 6-Max PKO | $300 | $200,000 | $20 | Day 1A | [2-Day Event] |
| May 31 | #39 | Mini Closer | 6-Max PKO | $30 | $50,000 | $3 | Day 1A | [2-Day Event] |
| May 31 | #39 | Micro Closer | 6-Max PKO | $5 | $15,000 | $0.50 | Day 1A | [2-Day Event] |
| May 31 | #37 | Omaha Hi-Lo | 6-Max Hi-Lo PKO | $1,500 | - | $75 | Day 1B | [2-Day Event] |
| May 31 | #37 | Mini Omaha Hi-Lo | 6-Max Hi-Lo PKO | $150 | - | $12 | Day 1B | [2-Day Event] |
| May 31 | #37 | Micro Omaha Hi-Lo | 6-Max Hi-Lo PKO | $15 | - | $1.50 | Day 1B | [2-Day Event] |
| May 31 | #24 | WPT500 | 8-Max | - | - | - | Day 2 | [2-Day Event + FT Tuesday] |
| May 31 | #25 | Super50 | 8-Max | - | - | - | Day 2 | [3-Day Event] |
| May 31 | #26 | Super5 | 8-Max | - | - | - | Day 2 | [3-Day Event] |
| May 31 | | 7-Max | 7-Max | $500 | $50,000 | $30 | - | [1-Day Event] |
| June 1 | #20 | Main Event | 8-Max | - | - | - | Day 3 | [3-Day Event + FT Wednesday] |
| June 1 | #36 | 7-Max | 7-Max PKO | - | - | - | Day 2 | [2-Day Event] |
| June 1 | #36 | Mini 7-Max | 7-Max PKO | - | - | - | Day 2 | [2-Day Event] |
| June 1 | #36 | Micro 7-Max | 7-Max PKO | - | - | - | Day 2 | [2-Day Event] |
| June 1 | #37 | Omaha Hi-Lo | 6-Max Hi-Lo PKO | - | - | - | Day 2 | [2-Day Event] |
| June 1 | #37 | Mini Omaha Hi-Lo | 6-Max Hi-Lo PKO | - | - | - | Day 2 | [2-Day Event] |
| June 1 | #37 | Micro Omaha Hi-Lo | 6-Max Hi-Lo PKO | - | - | - | Day 2 | [2-Day Event] |
| June 1 | #40 | 8-Max | 8-Max | $500 | $150,000 | $30 | - | [1-Day Event] |
| June 1 | #40 | Mini 8-Max | 8-Max | $50 | $50,000 | $5 | - | [1-Day Event] |
| June 1 | #40 | Micro 8-Max | 8-Max | $5 | $10,000 | $0.50 | - | [1-Day Event] |
| June 1 | #41 | Omaha High Roller | 6-Max PLO | $5,000 | $200,000 | $200 | - | [1-Day Event] |
| June 1 | #41 | Mini Omaha Knockout | 6-Max PLO | $500 | $50,000 | $30 | - | [1-Day Event] |
| June 1 | #41 | Micro Omaha Knockout | 6-Max PLO | $50 | $10,000 | $5.00 | - | [1-Day Event] |
| June 1 | #42 | Super High Roller | 7-Max | $25,000 | $1,000,000 | $500 | Day 1 | [2-Day Event] |
| June 1 | #39 | Closer | 6-Max PKO | $300 | - | $20 | Day 1B | [2-Day Event] |
| June 1 | #39 | Mini Closer | 6-Max PKO | $30 | - | $3 | Day 1B | [2-Day Event] |
| June 1 | #39 | Micro Closer | 6-Max PKO | $5 | - | $0.50 | Day 1B | [2-Day Event] |
| June 1 | #24 | WPT500 | 8-Max | - | - | - | Final Table | - |
| June 1 | #25 | Super50 | 8-Max | - | - | - | Final Day | - |
| June 1 | #26 | Super5 | 8-Max | - | - | - | Final Day | - |
| June 1 | | High Roller Turbo | 7-Max | $5,000 | $250,000 | $200 | - | [1-Day Event] |
| June 1 | | Mix-Max Turbo Knockout | Mix-Max PKO | $200 | $30,000 | $15 | - | [1-Day Event] |
| June 2 | #20 | Main Event | 8-Max | - | - | - | Final Table | - |
| June 2 | #39 | Closer | 6-Max PKO | - | - | - | Final Day | - |
| June 2 | #39 | Mini Closer | 6-Max PKO | - | - | - | Final Day | - |
| June 2 | #39 | Micro Closer | 6-Max PKO | - | - | - | Final Day | - |
| June 2 | #43 | Turbo Finale | 6-Max | $500 | $75,000 | $30 | - | [1-Day Event] |
| June 2 | #43 | Mini Turbo Finale | 6-Max | $50 | $25,000 | $5 | - | [1-Day Event] |
| June 2 | #43 | Micro Turbo Finale | 6-Max | $5 | $10,000 | $0.50 | - | [1-Day Event] |
| June 2 | | Hyper Finale | 7-Max PKO | $250 | $30,000 | $15 | - | [1-Day Event] |
★★★ Looking to get in the action at partypoker? Click here for a complete site review and exclusive PokerScout bonus offers. ★★★