The World Poker Tour has slowly begun to return to the live poker felt. That also now includes more series internationally and in the United States as well as more online events.
The tour's DeepStacks series recently announced some new stops in Australia and Vietnam. Along with that, the complete schedule for the upcoming WPTDeepStacks series at 888poker has also been released.
Many players may be pleased to see the tour returning. The company continues to expand with both live and online poker options.
Claim Your $8 For Joining 888 Now
1
$8 Free No Deposit Needed
100% Up to $888 On Deposit
Use Promo Code: NEW888
Getting back in action with live WPT events
After running live events in Florida and Las Vegas already, the WPT continues to grow its schedule. The WPTDeepStacks Hanoi runs April 21-25 at the Crown Poker Club. The series features a VND22,000,000 ($950) buy-in and comes with a guarantee of about $173,000.
The WPTDeepStacks Gold Coast is set for May 27-31 at The Star Gold Coast and comes with a buy-in of AU$1,500 ($1,140).
The property is located about an hour south of Brisbane on Australia's luxurious coastal getaway. A guarantee hasn't been announced yet.
Both events produced 650-plus fields when last run in 2019. WPT live events specialist Danny McDonagh notes that foreign players made up more than 50% for previous Vietnam events. Because of that, producing a similar result may be ambitious.
"However, Vietnam is a relatively new market for poker and interest is growing, so for a country starved of major festivals for well over a year, the festival will surely generate excellent local numbers from locals and expats throughout Vietnam," McDonagh told PokerScout.
Tour hopes for success again in Australia 
The inaugural WPT Gold Coast attracted a large proportion of Australians. A similar result may be possible once again. Lifting of New Zealand tourist restrictions would also help, but that possibility remains to be seen.
Both properties will have COVID protocols in place including seven-handed tables in Australia. How does it feel to see live WPT events returning internationally?
"The big positive I see is that it is giving real hope to poker players that life is beginning to return to normal," McDonagh said.
"Poker players in Vietnam and Australia have the opportunity to attend the event, while poker players in other countries are encouraged by these developments and live in hope of travel restrictions being relaxed sometime in 2021 so they too can get to an event. Without a doubt poker players worldwide have missed live poker festivals." 
WPT Main Tour events crank up in US
The tour experienced big numbers recently at the Venetian in Las Vegas and at the Seminole Hard Rock in Florida. Players are in store for another Main Tour event soon.
The $3,500 Seminole Hard Rock Poker Showdown is set for April 23-27 with a $2 million guarantee. The event comes after the property's Lucky Hearts Poker Open attracted 1,573 entries in January.
That event produced a prize pool of $5 million, crushing the $1 million guarantee. The Venetian event brought in 937 entries in February for a $4.3 million prize pool, also easily topping the $1.5 million guarantee.
WPT officials hope similar results continue. No other US-based live events have been announced so far.
However three remaining final tables from 2020 have been scheduled to be played in Las Vegas at the PokerGO Studio. These events are set to be filmed for broadcast on FOX Sports:
Borgata Winter Poker Open – May 16

LA Poker Classic – May 17

Seminole Hard Rock Poker Showdown – May 18
Claim Your $8 For Joining 888 Now
1
$8 Free No Deposit Needed
100% Up to $888 On Deposit
Use Promo Code: NEW888
WPTDeepStacks hits the online poker tables in 888poker London series
Beyond live action, the WPTDeepStacks is also returning to action online. 888poker is hosting the DeepStacks London Online from April 18-26 with an overall guarantee of more than $2 million.
The series boasts 16 events with each winner taking home an official WPTDS trophy. The $1,050 Main Event highlights the series with $1 million guaranteed.
Players will find seven starting flights for the Main Event. Other highlights include:
$320 PKO (Event 3, April 19) – $100,000 guaranteed
$2,100 High Roller (Event 5, April 20) – $100,000 guaranteed
$525 Marathon (Event 9, April 22) – $100,000 guaranteed
$215 Mini Main Event (Event 15, April 25) – $100,000 guaranteed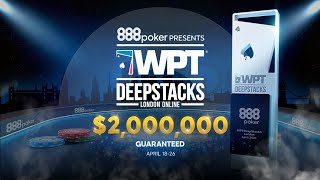 888 will also offer daily freerolls awarding $200,000 in tickets to qualifying events. Satellites are already underway. Poker fans can follow the action with four live streaming events on the 888 Facebook and YouTube channels including:
Opener (Event 1)

High Roller (Event 5)

Marathon (Event 9)

Main Event Day 2 (Event 15)
Celebrity guests and poker pros will  drop in the commentary booth throughout the events. The streams will feature giveaways, contests with Main Event tickets up for grabs, freerolls, and more. Here's a look at the complete tournament schedule:
| Date | Event | Buy-in | Guarantee |
| --- | --- | --- | --- |
| April 19 | #3 - $100,000 PKO | $320 | $100,000 |
| April 19 | #4 - $30,000 PKO | $55 | $30,000 |
| April 19 | #16 - $1,000,000 Main Event Day 1 | $1,050 | $1,000,000 |
| April 20 | #5 - $100,000 High Roller | $2,100 | $100,000 |
| April 20 | #6 - $75,000 Mini High Roller | $215 | $75,000 |
| April 20 | #16 - $1,000,000 Main Event Day 1 | $1,050 | $1,000,000 |
| April 21 | #7 - $100,000 Crazy 8 | $440 | $100,000 |
| April 21 | #8 - $30,000 Mini Crazy 8 | $88 | $30,000 |
| April 21 | #16 - $1,000,000 Main Event Day 1 | $1,050 | $1,000,000 |
| April 22 | #9 - $100,000 Marathon | $525 | $100,000 |
| April 22 | #10 - $50,000 Half Marathon | $160 | $50,000 |
| April 22 | #16 - $1,000,000 Main Event Day 1 | $1,050 | $1,000,000 |
| April 23 | #11 - $50,000 PKO 8-Max | $109 | $50,000 |
| April 23 | #12 - $20,000 Mini PKO 8-Max | $16.50 | $20,000 |
| April 23 | #16 - $1,000,000 Main Event Day 1 | $1,050 | $1,000,000 |
| April 24 | #13 - $100,000 6-Max | $320 | $100,000 |
| April 24 | #14 - $20,000 Mini 6-Max | $33 | $20,000 |
| April 24 | #16 - $1,000,000 Main Event Day 1 | $1,050 | $1,000,000 |
| April 25 | #15 - $100,000 Mini Main Event | $215 | $100,000 |
| April 25 | #16 - $1,000,000 Main Event Day 1 | $1,050 | $1,000,000 |
| April 26 | #16 - $1,000,000 Main Event Day 2 | | $1,000,000 |
★★★ Looking to get in on the 888poker WPTDeepStacks action? Click here for a complete site review and exclusive PokerScout bonus offers. ★★★