Online poker players in the Canadian province of Ontario now have another option and the chance to battle for World Series of Poker titles. Series officials and the site's partner GGPoker announced the launch of a new WSOP platform in the province on Friday.
The site is now available for Ontario-based players, following the successful soft-launch of the platform's software. As part of the announcement, GGPoker also kicked off an Ontario WSOP Online Circuit Series, which began on Saturday. The series features 12 championship ring events and major guaranteed prize pools.
"Growing up in Toronto, I dreamed of playing in the World Series of Poker," GGPoker ambassador and six-time WSOP bracelet winner Daniel Negreanu said in a news release. "Now, 25 years after I moved to Las Vegas to chase WSOP bracelets, you can compete online in WSOP events in Ontario, all running on GGPoker's amazing platform – how cool is that?"
WSOP is Now Available in Ontario!
BIGGEST TOURNAMENT
GUARANTEES
In Ontario
WSOP launches into Canadian province
Ontario revamped its online gaming market earlier this year and now features a completely ringed-in market. Several gaming companies, including online poker, have now entered the regulated provincial market.
WSOP.com already offers bracelet and ring events for players in these US markets:
GG also partners to offer WSOP-branded series and events on its international platform as well. That includes the WSOP Online, which recently concluded.
The Ontario platform now becomes the latest partnership between GG and the WSOP. Current GGPoker players hoping to compete will first have to transfer their accounts.
‼️ ONTARIO ‼️@RealKidPoker has a message you need to hear.

SHUFFLE UP AND DEAL. @WSOP #pokeronline pic.twitter.com/CzzerHSj8i

— GGPoker Ontario (@GGPokerOntario) October 1, 2022
The Ontario platform will prompt players logging in to complete an automatic account transfer. Once existing GGPoker players are successfully verified, they can access the platform.
Players can expect online bracelet events in the province at some point as well, according to WSOP executive director Ty Stewart.
"Canadian poker players have always been a significant portion of the WSOP playing base," Stewart said. "We are thrilled to bring the chance for WSOP glory to you. With online bracelets and exclusive qualifiers to the WSOP in Las Vegas, we expect a wave of new WSOP champions from the 6ix (a nickname for the Toronto area)."
WSOP is Now Available in Ontario!
BIGGEST TOURNAMENT
GUARANTEES
In Ontario
Inside the Online Circuit Series at WSOP Ontario via GGPoker
Players looking to win some WSOP hardware have a nice series to check out. Along with 12 ring events, players will find numerous other non-championship events as well.
Many ring events feature multiple starting flights and the schedule features numerous buy-in levels and tournament styles. Players can expect formats ranging from bounties to deepstack to turbos and more.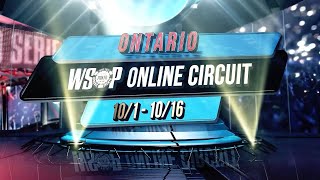 The $525 Main Event comes with a $300,000 guarantee and starting flights are already underway. Another highlight is the $777 Lucky Sevens with a $100,000 guarantee, set for Oct. 11.
Players with lower bankrolls can check out the $100 Hundred Stack No Limit Hold'em with $100,000 guaranteed. Here's a look at the entire series.
| Date | Event | Buy-in | Guarantee |
| --- | --- | --- | --- |
| Oct 1 | #7: $50 The Housewarming NLH [Day 1] | $50 | $100,000 |
| Oct 1 | WSOPC Series: $52.50 Bounty Blast-Off | $52.50 | $5,000 |
| Oct 1 | #1: BIG 500 Kickoff [Day 1A] | $500 | $100,000 |
| Oct 1 | WSOPC Series: $25 Daily Deepstack | $25 | $2,500 |
| Oct 1 | #7: $50 The Housewarming NLH [Day 1] | $50 | $100,000 |
| Oct 1 | WSOPC Series: $44 Forty Stack | $44 | $7,500 |
| Oct 1 | WSOPC Series: $105 Bounty King | $105 | $10,000 |
| Oct 1 | WSOPC Series: $150 Saturday Knockout [Bounty] | $150 | $15,000 |
| Oct 1 | #1: BIG 500 Kickoff [Day 1B] | $500 | $100,000 |
| Oct 1 | #7: $50 The Housewarming NLH [Day 1] | $50 | $100,000 |
| Oct 1 | WSOPC Series: $77 LUCKY SEVENS Superstack Turbo [7-max] | $77 | $7,000 |
| Oct 1 | WSOPC Series: $25 Saturday Heater [Bounty Turbo] | $25 | $2,000 |
| Oct 1 | WSOPC Series: $50 Saturday Saver [Hyper] | $50 | $2,500 |
| Oct 2 | WSOPC Series: $84 Midnight Madness [Bounty Hyper] | $84 | $2,500 |
| Oct 2 | #1: BIG 500 Kickoff [Day 1C] | $500 | $100,000 |
| Oct 2 | WSOPC Series: $50 Sunday Starter | $50 | $6,000 |
| Oct 2 | WSOPC Series: $21 Deepstack Bounty Turbo | $21 | $5,000 |
| Oct 2 | #1: BIG 500 Kickoff [Day 1D] | $500 | $100,000 |
| Oct 2 | #7: $50 The Housewarming NLH [Day 1] | $50 | $100,000 |
| Oct 2 | WSOPC Series: $100 Sunday Superstack | $100 | $10,000 |
| Oct 2 | WSOPC Series: $52.50 Sunday Bounty Blast-Off | $52.50 | $10,000 |
| Oct 2 | #2: $55 FIFTY STACK Bounty | $55 | $50,000 |
| Oct 2 | WSOPC Series: $25 Sunday Deepstack | $25 | $6,000 |
| Oct 2 | #1: BIG 500 Kickoff [Last Chance] | $500 | $100,000 |
| Oct 2 | #7: $50 The Housewarming NLH [Day 1] | $50 | $100,000 |
| Oct 2 | WSOPC Series: $150 Sunday Main Event | $150 | $40,000 |
| Oct 2 | #1: BIG 500 Kickoff [Final Day] | $500 | $100,000 |
| Oct 2 | WSOPC Series: $105 Sunday Bounty King | $105 | $20,000 |
| Oct 2 | WSOPC Series: $210 PLO Bounty Big Game | $210 | $15,000 |
| Oct 2 | WSOPC Series: $525 Sunday Fifty Stack HR | $525 | $20,000 |
| Oct 2 | WSOPC Series: $55 Sunday Fifty Stack | $55 | $7,500 |
| Oct 2 | #7: $50 The Housewarming NLH [Day 1] | $50 | $100,000 |
| Oct 2 | #12: $525 Main Event [Day 1] | $525 | $300,000 |
| Oct 2 | WSOPC Series: $77 Sunday LUCKY SEVENS Turbo [7-max] | $77 | $7,777 |
| Oct 2 | WSOPC Series: $210 Sunday Heater [Bounty Turbo] | $210 | $15,000 |
| Oct 2 | WSOPC Series: $25 Sunday Heater [Bounty Turbo] | $25 | $5,000 |
| Oct 2 | WSOPC Series: $50 Sunday Saver [Hyper] | $50 | $3,000 |
| Oct 3 | #7: $50 The Housewarming NLH [Day 1] | $50 | $100,000 |
| Oct 3 | WSOPC Series: $52.50 Bounty Blast-Off | $52.50 | $5,000 |
| Oct 3 | #12: $525 Main Event [Day 1] | $525 | $300,000 |
| Oct 3 | WSOPC Series: $25 Daily Deepstack | $25 | $2,500 |
| Oct 3 | #7: $50 The Housewarming NLH [Day 1] | $50 | $100,000 |
| Oct 3 | WSOPC Series: $44 Forty Stack | $44 | $7,500 |
| Oct 3 | WSOPC Series: $105 Bounty King | $105 | $10,000 |
| Oct 3 | WSOPC Series: $150 Monday Monster Stack | $150 | $15,000 |
| Oct 3 | #7: $50 The Housewarming NLH [Day 1] | $50 | $100,000 |
| Oct 3 | #12: $525 Main Event [Day 1] | $525 | $300,000 |
| Oct 3 | WSOPC Series: $77 LUCKY SEVENS Superstack Turbo [7-max] | $77 | $7,000 |
| Oct 3 | WSOPC Series: $25 Monday Heater [Bounty Turbo] | $25 | $2,000 |
| Oct 3 | WSOPC Series: $50 Monday Saver [Hyper] | $50 | $2,500 |
| Oct 4 | #7: $50 The Housewarming NLH [Day 1] | $50 | $100,000 |
| Oct 4 | WSOPC Series: $52.50 Bounty Blast-Off | $52.50 | $5,000 |
| Oct 4 | #12: $525 Main Event [Day 1] | $525 | $300,000 |
| Oct 4 | WSOPC Series: $25 Daily Deepstack | $25 | $2,500 |
| Oct 4 | #7: $50 The Housewarming NLH [Day 1] | $50 | $100,000 |
| Oct 4 | WSOPC Series: $44 Forty Stack | $44 | $7,500 |
| Oct 4 | #3: $400 MONSTER STACK NLH | $400 | $100,000 |
| Oct 4 | WSOPC Series: $105 Bounty King | $105 | $10,000 |
| Oct 4 | WSOPC Series: $150 Tuesday Classic | $150 | $15,000 |
| Oct 4 | #7: $50 The Housewarming NLH [Day 1] | $50 | $100,000 |
| Oct 4 | #12: $525 Main Event [Day 1] | $525 | $300,000 |
| Oct 4 | WSOPC Series: $77 LUCKY SEVENS Superstack Turbo [7-max] | $77 | $7,000 |
| Oct 4 | WSOPC Series: $25 Tuesday Heater [Bounty Turbo] | $25 | $2,000 |
| Oct 4 | WSOPC Series: $50 Tuesday Saver [Hyper] | $50 | $2,500 |
| Oct 5 | WSOPC Series: $52.50 Bounty Blast-Off | $52.50 | $5,000 |
| Oct 5 | WSOPC Series: $25 Daily Deepstack | $25 | $2,500 |
| Oct 5 | WSOPC Series: $44 Forty Stack | $44 | $7,500 |
| Oct 5 | WSOPC Series: $105 Bounty King | $105 | $10,000 |
| Oct 5 | WSOPC Series: $150 Wednesday Double Stack | $150 | $15,000 |
| Oct 5 | WSOPC Series: $77 LUCKY SEVENS Superstack Turbo [7-max] | $77 | $7,000 |
| Oct 5 | WSOPC Series: $25 Wednesday Heater [Bounty Turbo] | $25 | $2,000 |
| Oct 5 | WSOPC Series: $50 Wednesday Saver [Hyper] | $50 | $2,500 |
| Oct 6 | WSOPC Series: $52.50 Bounty Blast-Off | $52.50 | $5,000 |
| Oct 6 | WSOPC Series: $25 Daily Deepstack | $25 | $2,500 |
| Oct 6 | WSOPC Series: $44 Forty Stack | $44 | $7,500 |
| Oct 6 | #4: $1,050 Bounty High Roller 6-Max NLH | $1,050 | $100,000 |
| Oct 6 | WSOPC Series: $105 Bounty King | $105 | $10,000 |
| Oct 6 | WSOPC Series: $150 Thursday Throwdown Bounty | $150 | $15,000 |
| Oct 6 | WSOPC Series: $77 LUCKY SEVENS Superstack Turbo [7-max] | $77 | $7,000 |
| Oct 6 | WSOPC Series: $25 Thursday Heater [Bounty Turbo] | $25 | $2,000 |
| Oct 6 | WSOPC Series: $50 Thursday Saver [Hyper] | $50 | $2,500 |
| Oct 7 | WSOPC Series: $52.50 Bounty Blast-Off | $52.50 | $5,000 |
| Oct 7 | WSOPC Series: $25 Daily Deepstack | $25 | $2,500 |
| Oct 7 | WSOPC Series: $44 Forty Stack | $44 | $7,500 |
| Oct 7 | WSOPC Series: $105 Bounty King | $105 | $10,000 |
| Oct 7 | WSOPC Series: $150 Friday Night Fight $150 [Bounty 6-Max] | $150 | $15,000 |
| Oct 7 | WSOPC Series: $77 LUCKY SEVENS Superstack Turbo [7-max] | $77 | $7,000 |
| Oct 7 | WSOPC Series: $25 Friday Heater [Bounty Turbo] | $25 | $2,000 |
| Oct 7 | WSOPC Series: $50 Friday Saver [Hyper] | $50 | $2,500 |
| Oct 8 | WSOPC Series: $52.50 Bounty Blast-Off | $52.50 | $5,000 |
| Oct 8 | WSOPC Series: $25 Daily Deepstack | $25 | $2,500 |
| Oct 8 | WSOPC Series: $44 Forty Stack | $44 | $7,500 |
| Oct 8 | #5: $315 Bounty GIANT No Limit Hold'em | $315 | $100,000 |
| Oct 8 | WSOPC Series: $105 Bounty King | $105 | $10,000 |
| Oct 8 | WSOPC Series: $150 Saturday Knockout [Bounty] | $150 | $15,000 |
| Oct 8 | WSOPC Series: $77 LUCKY SEVENS Superstack Turbo [7-max] | $77 | $7,000 |
| Oct 8 | WSOPC Series: $25 Saturday Heater [Bounty Turbo] | $25 | $2,000 |
| Oct 8 | WSOPC Series: $50 Saturday Saver [Hyper] | $50 | $2,500 |
| Oct 9 | WSOPC Series: $84 Midnight Madness [Bounty Hyper] | $84 | $2,500 |
| Oct 9 | #7: $50 The Housewarming NLH [Day 1] | $50 | $100,000 |
| Oct 9 | WSOPC Series: $50 Sunday Starter | $50 | $6,000 |
| Oct 9 | WSOPC Series: $21 Deepstack Bounty Turbo | $21 | $5,000 |
| Oct 9 | #7: $50 The Housewarming NLH [Day 1] | $50 | $100,000 |
| Oct 9 | WSOPC Series: $100 Sunday Superstack | $100 | $10,000 |
| Oct 9 | WSOPC Series: $52.50 Sunday Bounty Blast-Off | $52.50 | $10,000 |
| Oct 9 | #6: $365 GIANT No Limit Hold'em | $365 | $125,000 |
| Oct 9 | #7: $50 The Housewarming NLH [Last Chance] | $50 | $100,000 |
| Oct 9 | #12: $525 Main Event [Day 1] | $525 | $300,000 |
| Oct 9 | WSOPC Series: $25 Sunday Deepstack | $25 | $6,000 |
| Oct 9 | WSOPC Series: $150 Sunday Main Event | $150 | $40,000 |
| Oct 9 | #7: $50 The Housewarming NLH [Final Day] | $50 | $100,000 |
| Oct 9 | WSOPC Series: $105 Sunday Bounty King | $105 | $20,000 |
| Oct 9 | WSOPC Series: $210 PLO Bounty Big Game | $210 | $15,000 |
| Oct 9 | WSOPC Series: $525 Sunday Fifty Stack HR | $525 | $20,000 |
| Oct 9 | WSOPC Series: $55 Sunday Fifty Stack | $55 | $7,500 |
| Oct 9 | #12: $525 Main Event [Day 1] | $525 | $300,000 |
| Oct 9 | WSOPC Series: $77 Sunday LUCKY SEVENS Turbo [7-max] | $77 | $7,777 |
| Oct 9 | WSOPC Series: $210 Sunday Heater [Bounty Turbo] | $210 | $15,000 |
| Oct 9 | WSOPC Series: $25 Sunday Heater [Bounty Turbo] | $25 | $5,000 |
| Oct 9 | WSOPC Series: $50 Sunday Saver [Hyper] | $50 | $3,000 |
| Oct 10 | WSOPC Series: $52.50 Bounty Blast-Off | $52.50 | $5,000 |
| Oct 10 | #12: $525 Main Event [Day 1] | $525 | $300,000 |
| Oct 10 | WSOPC Series: $25 Daily Deepstack | $25 | $2,500 |
| Oct 10 | WSOPC Series: $44 Forty Stack | $44 | $7,500 |
| Oct 10 | WSOPC Series: $105 Bounty King | $105 | $10,000 |
| Oct 10 | WSOPC Series: $150 Monday Monster Stack | $150 | $15,000 |
| Oct 10 | #12: $525 Main Event [Day 1] | $525 | $300,000 |
| Oct 10 | WSOPC Series: $77 LUCKY SEVENS Superstack Turbo [7-max] | $77 | $7,000 |
| Oct 10 | WSOPC Series: $25 Monday Heater [Bounty Turbo] | $25 | $2,000 |
| Oct 10 | WSOPC Series: $50 Monday Saver [Hyper] | $50 | $2,500 |
| Oct 11 | WSOPC Series: $52.50 Bounty Blast-Off | $52.50 | $5,000 |
| Oct 11 | #12: $525 Main Event [Day 1] | $525 | $300,000 |
| Oct 11 | WSOPC Series: $25 Daily Deepstack | $25 | $2,500 |
| Oct 11 | WSOPC Series: $44 Forty Stack | $44 | $7,500 |
| Oct 11 | #8: $777 LUCKY SEVENS 7-Max NLH | $777 | $100,000 |
| Oct 11 | WSOPC Series: $105 Bounty King | $105 | $10,000 |
| Oct 11 | WSOPC Series: $150 Tuesday Classic | $150 | $15,000 |
| Oct 11 | #12: $525 Main Event [Day 1] | $525 | $300,000 |
| Oct 11 | WSOPC Series: $77 LUCKY SEVENS Superstack Turbo [7-max] | $77 | $7,000 |
| Oct 11 | WSOPC Series: $25 Tuesday Heater [Bounty Turbo] | $25 | $2,000 |
| Oct 11 | WSOPC Series: $50 Tuesday Saver [Hyper] | $50 | $2,500 |
| Oct 12 | WSOPC Series: $52.50 Bounty Blast-Off | $52.50 | $5,000 |
| Oct 12 | WSOPC Series: $25 Daily Deepstack | $25 | $2,500 |
| Oct 12 | WSOPC Series: $44 Forty Stack | $44 | $7,500 |
| Oct 12 | WSOPC Series: $105 Bounty King | $105 | $10,000 |
| Oct 12 | WSOPC Series: $150 Wednesday Double Stack | $150 | $15,000 |
| Oct 12 | WSOPC Series: $77 LUCKY SEVENS Superstack Turbo [7-max] | $77 | $7,000 |
| Oct 12 | WSOPC Series: $25 Wednesday Heater [Bounty Turbo] | $25 | $2,000 |
| Oct 12 | WSOPC Series: $50 Wednesday Saver [Hyper] | $50 | $2,500 |
| Oct 13 | WSOPC Series: $52.50 Bounty Blast-Off | $52.50 | $5,000 |
| Oct 13 | WSOPC Series: $25 Daily Deepstack | $25 | $2,500 |
| Oct 13 | WSOPC Series: $44 Forty Stack | $44 | $7,500 |
| Oct 13 | #9: $210 DOUBLE STACK BOUNTY NLH | $210 | $100,000 |
| Oct 13 | WSOPC Series: $105 Bounty King | $105 | $10,000 |
| Oct 13 | WSOPC Series: $150 Thursday Throwdown Bounty | $150 | $15,000 |
| Oct 13 | WSOPC Series: $77 LUCKY SEVENS Superstack Turbo [7-max] | $77 | $7,000 |
| Oct 13 | WSOPC Series: $25 Thursday Heater [Bounty Turbo] | $25 | $2,000 |
| Oct 13 | WSOPC Series: $50 Thursday Saver [Hyper] | $50 | $2,500 |
| Oct 14 | WSOPC Series: $52.50 Bounty Blast-Off | $52.50 | $5,000 |
| Oct 14 | WSOPC Series: $25 Daily Deepstack | $25 | $2,500 |
| Oct 14 | WSOPC Series: $44 Forty Stack | $44 | $7,500 |
| Oct 14 | WSOPC Series: $105 Bounty King | $105 | $10,000 |
| Oct 14 | WSOPC Series: $150 Friday Night Fight $150 [Bounty 6-Max] | $150 | $15,000 |
| Oct 14 | WSOPC Series: $77 LUCKY SEVENS Superstack Turbo [7-max] | $77 | $7,000 |
| Oct 14 | WSOPC Series: $25 Friday Heater [Bounty Turbo] | $25 | $2,000 |
| Oct 14 | WSOPC Series: $50 Friday Saver [Hyper] | $50 | $2,500 |
| Oct 15 | WSOPC Series: $52.50 Bounty Blast-Off | $52.50 | $5,000 |
| Oct 15 | WSOPC Series: $25 Daily Deepstack | $25 | $2,500 |
| Oct 15 | WSOPC Series: $44 Forty Stack | $44 | $7,500 |
| Oct 15 | #10: $840 Bounty Deepstack Pot-Limit Omaha | $840 | $100,000 |
| Oct 15 | WSOPC Series: $105 Bounty King | $105 | $10,000 |
| Oct 15 | WSOPC Series: $150 Saturday Knockout [Bounty] | $150 | $15,000 |
| Oct 15 | WSOPC Series: $77 LUCKY SEVENS Superstack Turbo [7-max] | $77 | $7,000 |
| Oct 15 | WSOPC Series: $25 Saturday Heater [Bounty Turbo] | $25 | $2,000 |
| Oct 15 | WSOPC Series: $50 Saturday Saver [Hyper] | $50 | $2,500 |
| Oct 16 | WSOPC Series: $84 Midnight Madness [Bounty Hyper] | $84 | $2,500 |
| Oct 16 | #12: $525 Main Event [Day 1] | $525 | $300,000 |
| Oct 16 | WSOPC Series: $50 Sunday Starter | $50 | $6,000 |
| Oct 16 | WSOPC Series: $21 Deepstack Bounty Turbo | $21 | $5,000 |
| Oct 16 | #12: $525 Main Event [Day 1] | $525 | $300,000 |
| Oct 16 | WSOPC Series: $100 Sunday Superstack | $100 | $10,000 |
| Oct 16 | WSOPC Series: $52.50 Sunday Bounty Blast-Off | $52.50 | $10,000 |
| Oct 16 | #11: $100 HUNDRED STACK NLH | $100 | $100,000 |
| Oct 16 | WSOPC Series: $25 Sunday Deepstack | $25 | $6,000 |
| Oct 16 | #12: $525 Main Event [Last Chance] | $525 | $300,000 |
| Oct 16 | WSOPC Series: $150 Sunday Main Event | $150 | $40,000 |
| Oct 16 | #12: $525 Main Event [Final Day] | $525 | $300,000 |
| Oct 16 | WSOPC Series: $105 Sunday Bounty King | $105 | $20,000 |
| Oct 16 | WSOPC Series: $210 PLO Bounty Big Game | $210 | $15,000 |
| Oct 16 | WSOPC Series: $525 Sunday Fifty Stack HR | $525 | $20,000 |
| Oct 16 | WSOPC Series: $55 Sunday Fifty Stack | $55 | $7,500 |
| Oct 16 | WSOPC Series: $77 Sunday LUCKY SEVENS Turbo [7-max] | $77 | $7,777 |
| Oct 16 | WSOPC Series: $210 Sunday Heater [Bounty Turbo] | $210 | $15,000 |
| Oct 16 | WSOPC Series: $25 Sunday Heater [Bounty Turbo] | $25 | $5,000 |
| Oct 16 | WSOPC Series: $50 Sunday Saver [Hyper] | $50 | $3,000 |
★★★ Ready to get in the action at WSOP.com? Click here for a complete site review with exclusive PokerScout bonus offers. ★★★