PokerStars streamer ambassador Parker "Tonkaaap" Talbot has hit the poker road for the long haul. The Canadian has $1.1 million in live tournament winnings and hopes to boost that with some time away from home.
Talbot has been a bit of a poker nomad lately. More travel is in the works for the coming months, he told PokerScout while at the PokerStars Caribbean Adventure.
"It'll be fun," he said of the continued travel. "I'm still young and hip with it enough that I can get away with that. I feel like I'm getting a bit old for living out of a suitcase, but it'll be alright. I'll enjoy it for sure."
Recently Talbot visited the Bahamas, Croatia, and other parts of Europe. More live poker and more travel certainly seem on his menu. He spoke with PokerScout about poker in Canada, travel, streaming, new projects, and more.
Claim Your £50 at PokerStars Now
1
Deposit £10, Get £50 Bonus Play

World's Biggest Poker Room
Bonus Code: SPINANDGO
Poker changes in Ontario, hitting the road
Originally from Toronto, Ontario, Talbot (pictured in lead image courtesy PokerStars/Eloy Cabacas) witnessed the online poker changes in his home province last year. Ontario went from a wide-open market to a ringed-in environment.
Some skilled players, like fellow Stars ambassador Arlie Shaban, have found success in smaller fields. Others would rather be part of the larger international online poker landscape.
So far, Talbot hasn't played in the Ontario market after hitting the road for more live action. 
"I was only really home for a couple of weeks over the holidays," he said. "I basically bounced from Ontario when it happened.
"I stayed at Spraggy's (Ben Spragg) house for a couple months, just bopping around and playing on the .com client. So I've just stayed out of the Ontario player pool and stayed in the main player pool outside of Ontario. I've just been traveling around and that's going to be the plan for the next few months."
The road trip paid off in December with a fifth-place finish in the European Poker Tour Prague Main Event for $293,352.
More travel on the horizon
Croatia has been a particular favorite. Talbot visited a friend in the country for a couple weeks and is eager for a return trip.
"I might end up there for a couple months this year at some point just to chill and whatever," he says. "It's just a really nice place. Everybody's really friendly, everything's cheap."
Some other potential trips include South America, notably Brazil, as well as Asia. Also next up for Talbot is a poker trip to the EPT stop in Paris, France. Life as a full-time poker player has gone hand in hand with traveling for those who enjoy life on the road exploring. That seems to describe the Canadian poker pro.
"I really need to do some traveling abroad," he says. "I've literally just spent my life in North America and in Europe more or less … but not really outside of those. I could just bounce around. I like to plan to go to places where I have friends or know people already."
That's me, @spraggy, and @MarleSpragg off to Vegas!!!! Impromptu last minute trip for me to battle in the cash games streets before EPT Paris. pic.twitter.com/Jv1NCHcAsn

— Parker Talbot (@tonkaaaap) February 4, 2023
Moving beyond streaming
Many poker fans know Talbot from his Twitch channel, which has 125,000 followers. He's also active on social media and has a YouTube channel with 69,000 subscribers.
Talbot has streamed less lately, but still plans on some upcoming month-long stints of major online series. Some new media projects are also ahead including teaming up with Spragg
"I'll be doing a lot of YouTube this year, playing and doing some live poker vlogs,`" he says. "Spraggy and I have got a bunch of YouTube cooked up for the pipeline this year. So you're going to do a bunch of YouTube content this year in a couple of months."
Returning to YouTube brings Talbot back to a place earlier in his career. He regularly dropped stream highlights on the site and had one of the biggest poker YouTube channels at one point. The new effort will offer more unique content.
Viewers may not realize just how much work goes into creating video content, Talbot notes. Seeing return on investment requires plenty of effort and content creators do much more than turn on the cameras.
"I'm not editing videos myself or doing anything like that, I've got a team for that," he says. "But even on the content side, obviously it's a grind. During the whole back end of uploading and editing and all that, the people who do YouTube and do all that stuff on their own, I have mad respect because it's serious. It's a lot of work."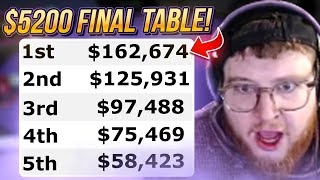 Bringing something new
Finding an audience among a packed Twitch, YourTube, and podcast environment isn't easy. A quick search for "poker" among any of these platforms yields dozens and dozens of options. Finding a niche can be challenging. Talbot sees YouTube as quite different however
"With YouTube, I find that there's really no reason to separate each other," he says. "YouTube is really a different beast than Twitch. On Twitch, you have a listing and you're competing with everyone in the listing for viewers. The top dog is always going to get the most viewership.
"Whereas on YouTube, if you have similar content you can just push people toward each other. Because you don't watch a video at the same time – you watch a video and then another video and then another video. So if you have a whole bunch of similar content like me, Fintan Hand, Lex Veldhuis, and Spragg all in the Twitch poker listing, obviously we're going to be cutting each other's throats battling for viewership."
However on YouTube, Talbot sees more of a team approach with his fellow PokerStars ambassadors and streamers.
"I think we can push viewers to each other's channels and kind of grow together," he says. "So I don't think it's necessarily that important to differentiate each other – just make good content."
Claim Your £50 at PokerStars Now
1
Deposit £10, Get £50 Bonus Play

World's Biggest Poker Room
Bonus Code: SPINANDGO
Advice for others & fun times in the Bahamas
As poker streaming and vlogging continue to grow in popularity, more players seem ready to fire up the microphone and camera. With hundreds of hours on stream, Talbot offered some advice for those looking to dive. Making sure there is some consistency is a major part of that.
"If you want to do it, just do it," he says. "It's not that hard. We've all got iPhones these days with good cameras. You can vlog if you want to.
"Once you make a go of something, be it streaming, YouTube, whatever, you have to make a schedule and stick to it. It's the most important thing with any kind of social media, influencing, Twitch, YouTube, anything like that. Hopefully have a personality for it and be a little bit entertaining."
Talbot was pleased to see the PCA return this year. He thinks the series served as a great way to bring players of all levels together, especially for the PokerStars Players Championship.
"Four years later, finally," he says. "It's incredible. I haven't heard any bad things yet. Everybody that I've talked to just had a good time."
★★★ Ready to get in the action at PokerStars? Click here for a complete site review with exclusive PokerScout bonus offers. ★★★