As a whole, video gaming is a $180 billion industry and competitive events have attracted huge crowds and sponsorship deals. Experts now expect the global esports market to top $1 billion this year.
The idea of a video game player "going pro" is no longer a foreign concept. And team owners are lining up to become the next Jerry Jones or Robert Craft.
That includes a group of five poker players looking to see the QLASH esports team and organization become a household name in the space. Some of these are among the biggest names in poker and hope to see the team follow a familiar path.
The Best Social Poker Room in the USA
1
GET 150,000
GOLD COINS for $10
PLUS 30 FREE Sweeps Coins

Most US Players Accepted

Get Over 65% Off Your First Purchase
Daily Free GC and SC on Log In

Use Promo Code: FLUSH
"To describe in a simple way, we're trying to do for gaming and esports what PokerStars did for poker during its heyday," says Eugene Katchalov, one of the key owners of the team and winner of a World Series of Poker bracelet and World Poker Tour title.
The industry is growing at over 14% year over year and even professional sports teams have begun launching their own e-counterparts.
"We see a lot of these trends continuing, mainly because of some of the statistics that I've seen about sports where fanbases continue to get older," Katchalov says.
"This means that kids are watching less and less sports and are instead interested in games and esports. This is who we are focused on and hence our mission to build 'the go-to place for gamers' with our platform."
Launching the platform
Katchalov founded the organization in 2017 along former PokerStars ambassador Luca Pagano, who has $2.2 million in live poker tournament winnings. Both invested $4 million between them in the project.
"Luca and I became close in 2016 and realized that we were both very interested in esports," Katchalov says.
"We were longtime gamers, even before poker. Considering our experience in PokerStars and Luca's experience with Pagano events, which ran all live events for PokerStars in Italy and Malta for 12-plus years, we thought we had the right tools to transfer some of that knowledge into the exploding esport industry and see which aspects could be applicable."
The pair's first endeavor involved a simple competitive Hearthstone esports organization. The game exploded in popularity over the last few years, attracting players around the world.
Katchalov and Pagano travelled with the team to events to network and learn about the industry. The more they learned, the more they believed there was an opportunity.
"We realized no one was properly focused on the community and decided this is where we should focus," Katchalov says.
Within the poker industry, many have already seen a possible crossover between the two games. The WPT began an esports arm a few years ago and others within the industry have also focused on esports.
Many players also see the potential and other players investing in the team include Phil Hellmuth, Daniel Negreanu, and Jeff Gross. Former PokerStars CEO and CFO Michael Hazel also serves as one of the company's top advisors.
"I love the esports space and Eugene's reputation, and my experience with him as a professional made it an easy choice," Gross says. "Also, with Daniel and Phil being involved, I knew they also did their due diligence and had believed the same."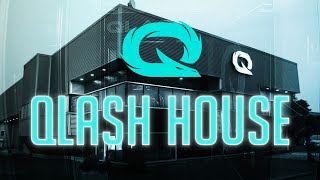 Building a gaming brand, following the PokerStars online poker path
That idea of building a community comes from years of serving as PokerStars ambassadors. For Katchalov and Pagano, their duties included:
attending live events

interacting with the poker community

representing the brand throughout the world

inviting others to play on the PokerStars platform
They now hope to bring some of those aspects to the esports space with QLASH.
"Essentially we were a marketing tool for PokerStars rather than an end goal on its own," Katchalov says. "This is approximately the approach we're taking with QLASH, albeit through quite a different starting route and with a very different business model."
That includes focusing on building communities in different games. QLASH then connects with those by organizing differing live and online events.
Katchalov says QLASH has signed deals with professional esport players, influencers, and streamers. These help promote the brand and engage with player communities.
Since its founding, QLASH has focused on building the brand through social media channels and a large Discord community.
The company has now moved on to developing its own event platforms. The "QLASH Community" platform launched in November 2020 and is available on iOS and Android.
"It's still in early beta," Katchalov says, "but we've already accomplished quite a lot of traction by using it for event organization for our existing community."
Did you KNOW that one of those players is responsible for over HALF that $80 million?

— Daniel Negreanu (@RealKidPoker) August 4, 2021
Unique funding approach
Part of the QLASH concept is a daily schedule of events that run for different games, much as PokerStars or other online poker sites might offer.
"Our monetization will, however, be quite different and will consist of things like sponsorships with global brands, providing marketing and event creation for game publishers, subscription models, skin and badge sales, et cetera," Katchalov says. "We cover 15 different games with varying levels of focus."
The most popular communities so far are for the games Clash Royale, Brawl Stars, Fifa, Fortnite, and League of Legends.
The company is also now undergoing its funding round with the goal of continuing to invest in platform development. Owners believe it's important to allow community members to become owners as well.
Players and fans can invest for as little as €10. QLASH recently launched an equity crowdfunding campaign on the British platform Seedrs to help make the funding effort a success.
US-based players can't use the funding platform, but QLASH offers other investment options.
The Best Social Poker Room in the USA
1
GET 150,000
GOLD COINS for $10
PLUS 30 FREE Sweeps Coins

Most US Players Accepted

Get Over 65% Off Your First Purchase
Daily Free GC and SC on Log In

Use Promo Code: FLUSH
Success in a growing market
Finding a foothold in a crowded market isn't easy. There are now numerous teams, organizations, and players. Dallas Mavericks owner and Shark Tank investor Mark Cuban even owns a piece of a team.
QLASH has had some success stories so far. As a brand, the team has become the top esports organization in Italy and among the top five in Spain.
The team has also done well in the actual competitive video game environment as well. Its FIFA soccer player was the No. 1 player in the world on PS4 in 2020.
The current Brawl Stars team is also considered by many to be the best. QLASH's Starcraft 2 pro, Reynor, is also considered No. 1 in the world.
Reynor vs Clem in the Lower Bracket of @DreamHackSC2 Masters Fall EU. 🇪🇺 Must win. 😳 #DHSC2 #ESLProTour

🆚️ Clem
⏰ NOW
📺 https://t.co/iznvPEkX58 pic.twitter.com/psVH7YJQiH

— QLASH (@QLASH_Esports) August 14, 2021
In Italy, the company has even created a separate brand in partnership with the AC Milan football club. Milan QLASH serves as an esports arm for the club, splitting revenues between the two organizations.
"All this success has allowed us to create important relationships with game publishers and big brands that we work with," Katchalov says. "Likewise, it has brought many new people to our communities."
Owners are hoping the market continues to grow, but even Cuban offers some words of warning. He recently noted that there's not much revenue for US-based teams but believes there's plenty of opportunity in the future.
That potential is what these poker-playing esports team owners are betting on. As Gross notes: "I really think esports is just scratching the service and I am a big believer in the future."