Twitch remains a key focus for PokerStars and the site added to its streaming roster again over the weekend. The site announced the addition of rap freestyler and poker player Papo MC (aka Alejandro Andres Lococo).
Unlike most of the site's Twitch streamers, Lococo will be showcasing his play on the free-to-play PokerStars.net site.
The company and the rapper have formed "an exciting new partnership focused on bringing his passion for poker to life with engaging and entertaining content," PokerStars noted in a news release.
Claim Your £50 at PokerStars Now
1
Deposit £10, Get £50 Bonus Play

World's Biggest Poker Room
Bonus Code: SPINANDGO
Rap game to poker game
Jumping in the poker action is nothing new for Papo MC, who streams about various topics on his Twitch channel. He'll now add online poker to that mix.
"Today is a big day for me, I feel very proud to wear the PokerStars.net patch," Papo said of partnering with the company. "It's a big step in my career, a partnership that will leave its mark.
"This is the place every poker player dreams to be. We are going to work to take poker to a whole new level. See you all at the tables."
Lococo's love for the game began in 2016, when he started playing the live poker circuit in his home country of Argentina. In five years, his interest in the game has grown into a passion.
"What I enjoy most about poker is the different emotions that you experience while playing," Papo told PokerScout this week. "Beyond this, poker has helped me get to know wonderful people and visit wonderful places. It's given me great friends and amazing stories."
Since beginning his music career in 2011, Papo MC is now one of the most recognizable freestylers in Latin America. His resumé includes winning Batalla de los Gallos in Argentina.
The show is a competition among the best freestylers in the Spanish-speaking world. Lococo also represented his country in the international competition in 2016.
Along with adding another streamer, his presence allows PokerStars to reach a young Spanish-speaking demographic. The company continues to focus on expansion and reaching potential players who may be new to poker.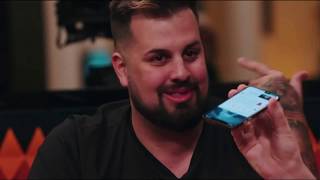 What to expect from the partnership
PokerStars says fans can look forward to seeing plenty of exciting content following the partnership. That includes Papo's Talk Show, a monthly home game featuring his friends, including freestylers, influencers, and celebrities.
Plans call for Papo to also host monthly play money poker streams on Twitch. Fans and members of his community can also jump in regular freerolls he hosts on the platform.
Papo will also explore PokerStars.net VR (virtual reality) and invite friends to participate in challenges on his YouTube channel. The free site also allows Lococo to show newer players how to play.
"We have very funny ideas that we will go live with soon, from educational content to poker games in VR with incredible guests and some other surprises," he said.
What sets Papo's stream apart from others?
"I think it's the transparency in everything that is said and done," he said. "When I start a stream, it feels like talking or playing with my friends. Instead of looking into their eyes, I look to the camera. People can tell I have a great time doing it."
PokerStars.net isn't a gambling site and doesn't provide an opportunity to win real money. The games are intended for players 18 and up for amusement purposes only.
★★★ Looking to get in the action at PokerStars? Click here for a complete site review and exclusive PokerScout bonus offers. ★★★