The inaugural Match Poker Online World Cup recently concluded with top-tier players from around the world competing for bragging rights and cash prizes.
The tournament was held over the course of two weeks in December with hundreds of online poker players taking part. Israeli player Shachar "OctopuSZ" Zvang emerged as the winner and tournament organizers were pleased with the results.
"We were thrilled with the turnout and good sportsmanship of all involved in the competition – many sending congratulations and expressing how fun and close the final results were," said Jake Colman, Match Poker Online head of customer relations.
The Best Social Poker Room in the USA
1
GET 150,000
GOLD COINS for $10
PLUS 30 FREE Sweeps Coins

Most US Players Accepted

Get Over 65% Off Your First Purchase
Daily Free GC and SC on Log In

Use Promo Code: FLUSH
World Cup action and a look at winners
Players qualified for the World Cup by participating on the app throughout the year. Competitors were placed into one of two categories. The "Ruby" division featured the game's best players and the "Ivory" division included the game's second tier.
After two weekends of playoffs, the field was narrowed down to 36 finalists in each category for the finals, held on Dec. 17-18. At the end of the event, Zvang emerged as the winner, taking home $625, a digital certificate, and a trophy.
After his big win, Zvang took to Twitter to thank the organizers for the "amazing experience." American poker player and writer Matt Matros finished runner-up. He shared his own World Cup story on Twitter. He'd hoped to "come full circle" and win the tournament, but settled for the silver medal.
More than a decade ago I competed for the US in a Match Poker team event on the London Eye, so I was really hoping to come full circle and win this World Cup. Alas, I will have to settle for the silver medal! https://t.co/W5mGnWss9Y

— Matt Matros (@Matt_Matros) December 18, 2022
German player Daniel "Zealot" Eylenfeldt finished third, winning $125. Eylenfeldt is a regular in live match poker events. His team, Piranhas Hamburg, previously won the German National Live Match Poker competition.
In the Ivory division, German player "MacHarry" came out on top for $450. "AndyLai" from Hong Kong took second place for $175. "NutsHK," also from Hong Kong, came in third for $75.
A total of 632 players qualified for the Ruby and Ivory divisions. Match Poker Online officials are looking forward to an even bigger and better tournament in 2023.
What is Match Poker and how does it work?
Released in February, the free Match Poker app highlights a "battle royale" game mode. In this structure, 36 players are dealt the same hand across tables and compete to see who can score the best in each round.
The goal is to eliminate luck as the app focuses on player results and offers tips on how to play the hand for the best possible outcomes. 
Additionally, the app collects statistics on player behavior, allowing users to see if they are playing too aggressively, passively, loose, or tight. The app also includes various statistics, graphs, and other enjoyable gameplay features.
"This makes it a pure test of skill – a sport – an official mind sport," Colman says. "And, for the first time in the history of poker, you can obtain an official world ranking. No other poker experience gives you this."
Colman recently appeared on the Nerdthusiast Poker Podcast and discussed the game and its future.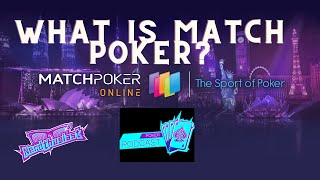 Match Poker introduces a new twist on traditional poker by allowing players to compete not only against those at their own table, but also against players seated at other tables in the same seat as them.
In this format, all players in the same seat are dealt the same two hole cards and see the same flop, turn, and river. This adds an extra layer of strategy to the game and allows for more detailed statistical analysis.]
Developers have announced that more game features and statistical options will be added in 2023.
After years of development, players can now test their skills by using real-time updated data. Match Poker Online is now available in the Apple App Store and the Google Play Store.