In a packed poker media landscape, there's no shortage of websites, publications, and video options for poker fans. The team behind the new Twitch poker show Seat Wide Open are hoping to find a niche and offer something new.
Riffld, the production company behind the industry series The Orbit, debuted the new show last week. The pilot featured hosts Des Duffy and Leigh Wiltshire interviewing Unibet ambassador Dara O'Kearney.
A unique aspect of the game is seeing each guest play online poker while chit chatting with the hosts. O'Kearney, who co-hosts The Chip Race podcast and is also an author, played a Unibet cash game session while discussing topics ranging from his play on the virtual felt to cryptocurrency to writing and blogging.
Duffy recently spoke with PokerScout about the show and how Riffld hopes to offer some twists to the typical poker production.
The Best Social Poker Room in the USA
1
GET 150,000
GOLD COINS for $10
PLUS 30 FREE Sweeps Coins

Most US Players Accepted

Get Over 65% Off Your First Purchase
Daily Free GC and SC on Log In

Use Promo Code: FLUSH
What to expect from the show
Seat Wide Open works in some additional features to add to the entertainment value. Viewers ride along as each week's guest battles it out online.
That effort includes some multitasking for a wide ranging interview with Duffy and Wiltshire. The hosts also use some fun game show segments to add to turn up the fun.
Those features include: Stake a Shark, Sing a Long, Hot or Not, and Review a Flick. Each of these segments is meant to bring a television variety show feel. It's a late night talk show mixed with a bit of The Gong Show and some Twitch poker thrown in.
On the poker side, viewers get a detailed insight into each player's approach to the game. Each guest plays for 100 minutes with hole cards visible for viewers.
The show also keeps a leaderboard for show guests throughout the season. Producers hope this accomplishes two things:
Allowing viewers to see some varied thought processes and strategies across a full season.

Players are really working hard to post a great session to challenge at the top of the leaderboard.
"This absolutely lends itself to the competitive nature of poker players and it'll be interesting to see what impact the leaderboard has on decision making live on the show," Duffy says of the leaderboard.
"While all of this is going on, we are also conducting a deep interview with the guest through direct questions and some unique game show style segments, which will occasionally take the guest out of their comfort zone.
"There's quite a mix of things going on, but they segued together well in our pilot episode with Dara O'Kearney and we've come out feeling confident that the format can find an audience. Plus, we had fun making it and that's important to us too."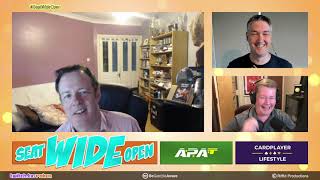 A passion for poker
The show becomes the latest program for twitch.tv/poker. The Riffld team, which also includes Cardplayer Lifestyle blog founder Robbie Strazynski, hope to inform and entertain at the same time.
The team's previous effort, The Orbit, received some nice buzz among players and fans. Seat Wide Open is meant to build on that momentum.
While entertainment is a big part of the show, the hosts bring plenty of industry knowledge.
Duffy formerly worked as head of product at SkyBet and in other roles with online gaming operators. He also co-founded the Amateur Poker Association and Tour with Wiltshire.
"Robbie, Leigh and I are recreational players with a great passion for poker," Duffy says. "We come from a mix of backgrounds. I've worked for industry operators, for example. We do have a lot in common, particularly a wish to promote poker as the great social game that it is."
"The Orbit was our first format and it had a great response from the industry. We evolved the format by adding a complimentary Orbit Extra, which was a live reaction show to what was discussed on the show. We've had some outstanding guests on both of those shows."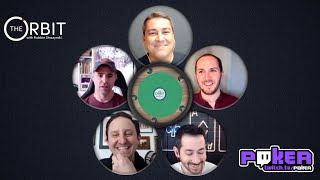 The Best Social Poker Room in the USA
1
GET 150,000
GOLD COINS for $10
PLUS 30 FREE Sweeps Coins

Most US Players Accepted

Get Over 65% Off Your First Purchase
Daily Free GC and SC on Log In

Use Promo Code: FLUSH
Growing a poker channel
Seat Wide Open streams live each Thursday and fans can tune in to ask each guest questions. Hosts and viewers can inquire why certain hands were played in certain ways as well as other strategy questions. With the casual format, some of those questions may evolve outside the poker realm as well.
With so many operators and streamers on Twitch, Duffy, Wiltshire, and Strazynski hope the channel reaches all types of players.
"We see an opportunity for a more highly-produced show, with less emphasis on single operators or platforms," Duffy says."We want to showcase the best streamers, the best players and operators at any given time – whether through a news, game show, or live reporting format.
"Ultimately we'd like to build up a weekly schedule of shows and become a destination for viewers who want to add greater variation into what they watch. Everyone's time is valuable these days and we just want to add a little more choice into the mix."
O'Kearney believes the team is moving in the right direction and says he had a great time on the show.
"The show was tremendous fun," he says. "Leigh and Des are great at keeping the chat flowing. I really enjoyed it and it reminded me how much fun live poker is."
The next episode of Seat Wide Open streams live July 29 and features Jesse Sylvia, 2010 World Series of Poker Main Event runner-up. Riffld is seeking players or streamers interested in taking part in future episodes. Contact producers at [email protected] or @riffld via Twitter.