The bluff is a critical part of poker – whether live in the online game. Some might say it's what makes poker so unique – the ability to win with an inferior hand.
What poker fan could forget Chris Moneymaker's "bluff of the century" in the 2003 World Series of Poker Main Event? With K♠7♥ and no pair on a board of 9♠2♦6♠8♠, Moneymaker made a huge raise with Sammy Farha holding Q♠9♥.
Moneymaker missed his straight and flush draws when the 3♥ fell on the river Rather than slow down, he made a bold move – an all-in bluff. Farha ultimately folded and Moneymaker would go on to make poker history.
In the spirit of the bluff, PokerStars has designated Sunday, Feb. 7, as "International Bluff Day." The hoopla is meant to celebrate all things bluffing and the site has plenty of fun in the works.
Claim Your £50 at PokerStars Now
1
Deposit £10, Get £50 Bonus Play

World's Biggest Poker Room
Bonus Code: SPINANDGO
What's planned for PokerStars Bluff Day?
Why was Feb. 7 picked as the day to celebrate Bluff Day? Because 7-2 is the worst hand in poker, and also a specific date on the calendar, Feb. 7.
American players may note that date as 2/7, but the point is the same. The day seemed appropriate to get bullish on bluffing.
"You may get a bad hand like 7-2, but it's up to you what you do with it," PokerStars noted in a news release announcing the promotion. "You can make that bad hand, a great hand. It's the way you play that makes a difference. And bluffing sits at the heart of this."
"Bluffing can be applied to many aspects of our lives outside of poker and it happens in a variety of different situations, and the talent to successfully execute a bluff is respected."
To celebrate this fine art, PokerStars is dedicating the day to the bluff. No doubt every poker player has bluffed at some point – whether successful or not.
And PokerStars is inviting players to share their stories and experiences about their own epic bluffs. Players can simply use the hashtag #internationalbluffday to provide some light-hearted tales for others to read.
Additionally, the PokerStars social media channels (Twitter, Instagram, Facebook) will host videos and activities to celebrate the occasion.
A look at some amazing poker bluffs
To commemorate the day, PokerStars has even put together a special video with some great bluffs. Some of those flexing their bluffing muscles include poker superstars Liv Boeree and Daniel Negreanu.
The top bluff includes a seven-bet with K♠J♥. It's quite an assortment of rounder fearlessness.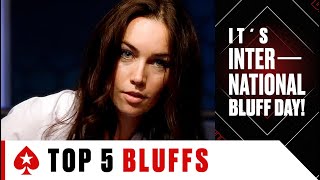 As if that weren't enough, the PokerStars creative team also got in the act. The animated "Legend of the Bluff" offers a unique take on the beginnings of this poker concept.
Claim Your £50 at PokerStars Now
1
Deposit £10, Get £50 Bonus Play

World's Biggest Poker Room
Bonus Code: SPINANDGO
Three more great poker bluffs to check out
Moneymaker's Main Event bluff may be the best-known in poker. However, plenty of other big card-playing fake-outs have left victims frustrated. Here are a look at a few more.
1 – Bluffing Ivey
In the 2000s, Brad Booth was a regular in televised poker shows like High Stakes Poker and Poker After Dark. Booth had no problem moving some chips around the table.
That includes this amazing bluff against poker star Phil Ivey. Amazingly, his 2♠4♠ got the job done and Ivey got rid of his pocket Kings.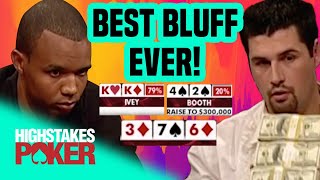 2 – Miss Finland earns her crown
The Shark Cage welcomed Miss Finland to the pool and she ran an unexpected huge bluff. Her opponent eventually folded a monster hand. Not only did the victim lose the hand, but also got sent to solitary confinement.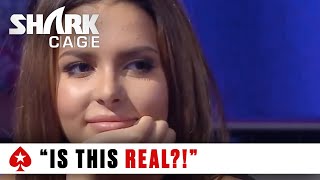 3 – Scott Seiver ships it
Longtime pro Scott Seiver is no stranger to raking big pots. In this hand from the WSOP Big One for One Drop, he takes a massive pot from Marvin Reinkemeier.
This comes with an all-in shove and Reinkemeier folding Aces.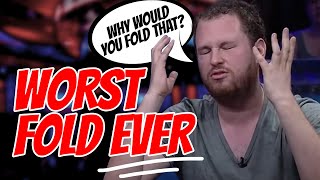 ★★★ Looking to get in the action at PokerStars? Click here for a complete site review and exclusive PokerScout bonus offers. ★★★