Brazilian football star Neymar Jr. steps into the new role of cultural ambassador with PokerStars, the site announced Wednesday. The move will have Neymar working on a series of creative projects inspired by art, design, music, and more.
"Bringing his passions and interests to the table, he will be shaking up poker with a series of exciting experiences for the PokerStars community," the company noted in a news release.
The news comes after PokerStars announced in December that Neymar would be rejoicing the company as an ambassador.
Claim Your $30 At PokerStars Now
1
$30 on $20 Deposit -or-
100% Up to $600 On Deposit
World's Biggest Poker Room
To Claim: Click Play Now
Neymar releases PokerStars
musical selections
In his first foray as cultural ambassador, Neymar has curated a series of music playlists in partnership with PokerStars. Stars hopes the playlists provide "the ultimate soundtrack for every type of poker game."
His favorite songs are available via PokerStars.net on NJRadio at Spotify.
"Poker is so much more than just the game," the athlete said in a news release. "It is a community and a culture and that is what I love about it. I am excited to start this next chapter with PokerStars,  and we are already collaborating on a number of key areas.

Neymar Jr. has taken the new role of cultural ambassador at PokerStars.
"Music is a real passion of mine, so that was first on the list, but there is much more to come. I am excited for you to see what else we have in store."
New promotion giving away major money
To celebrate his new role, PokerStars and Neymar are also launching the Golden Chip giveaway promotion. As part of the events, the company is awarding $1 million in cash prizes.
Players can also win a number of limited edition Golden Chips. The sites  has "hidden" the prizes on the platform. Players can "discover" them over the next few weeks.
Each chip unlocks a high value prize including signed merchandise and clothing. Some also include VIP experiences and gifts curated by Neymar.
The announcement coincides with a new ad campaign going live in a number of markets. The new advertisements will see Neymar "shaking up the poker scene."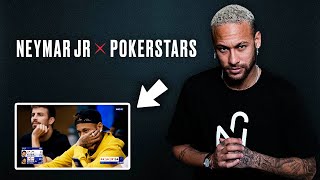 PokerStars promises even more with the superstar in the coming months.
"Neymar Jr. is not just a globally recognized sports star, he is also a proven creative with a deep interest in the culture around him," PokerStars global director of brand and creative Martin Nieri said.
"This new role marks the start of something exciting for the PokerStars community, a merging of two worlds, where poker meets culture. In a first for the industry, together we'll be creating moments to truly shake up poker and rewarding those who get involved in all that's to come."
★★★ Looking to get in the action at PokerStars? Click here for a complete site review and exclusive PokerScout bonus offers. ★★★