The Coronavirus pandemic has not only brought an explosion in online poker but also the elevation of streaming coverage. PokerStars has now added even more punch to the Stadium Series after partnering with a lineup of well-known content creators.
The United Kingdom-based Sidemen YouTube collective stream on a multi-channel network. The group is creating a series of videos on the YouTube channels as well as the PokerStars Twitch channel.
The Best Social Poker Room in the USA
1
GET 150,000
GOLD COINS for $10
PLUS 30 FREE Sweeps Coins

Most US Players Accepted

Get Over 65% Off Your First Purchase
Daily Free GC and SC on Log In

Use Promo Code: FLUSH
Sidemen battle it out on PokerStars
As part of the promotion, the Sidemen will be playing poker together and entertaining viewers.
Crew members are also competing to see who can do the best in the Stadium Series. The group reaches millions of YouTube viewers and include:
The Sidemen will also battle PokerStars ambassadors Ben "Spraggy" Spragg, Lex Veldhuis, and Fintan Hand. The whole group will play in an eight-person stream on the PokerStars Twitch channel.
Additionally, British YouTube podcaster Brian "True Geordie" Davis will also join in the events. Davis also participated in the Stars Call for Action charity tournament for COVID-19 relief.
When the Sunday Freezeout Grand Finals, Davis will be playing on his YouTube channel. UK poker pro Charlie Carrel will be coaching him throughout the event.
Twitch streaming playing a major role
The Stadium Series runs through Aug. 2 with more than $50 million guaranteed. PokerStars is also giving away more than $2 million worth of events tickets throughout the series.
The series offers something for every bankroll with buy-ins ranging from $5.50 to $10,300. In addition to the YouTubers' involvement, plenty of action will be streamed on Twitch.
The later stages of most Stadium Series tournaments will be streamed with James Hartigan and Joe Stapleton providing commentary.
Players accustomed to watching televised poker will enjoy some added enhancements to the stream. The Stadium Series will be the first PokerStars online series to feature cards-up coverage. Viewers can see players' hole cards on a short delay.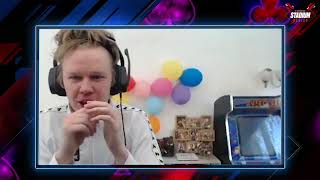 Find complete Stadium Series schedules below.
PokerStars drops another 'unique' Throwable
After introducing Throwables to the platform in May, PokerStars has been adding to the collection. Players can now throw virtual "poo" at their opponents with the launch of the latest Throwable.
The scatological animation is unlocked by losing a hand holding pocket Aces or Kings. The feature is only available for a limited time and comes with its own TP.
Players can also add to their Throwables collection as well with exclusive Stadium Series animations. These include the ability to throw a gold bar at an opponent.
Unlock these Throwables by finishing in the money, making a final table, or winning a tournament in the Stadium Series.
The Best Social Poker Room in the USA
1
GET 150,000
GOLD COINS for $10
PLUS 30 FREE Sweeps Coins

Most US Players Accepted

Get Over 65% Off Your First Purchase
Daily Free GC and SC on Log In

Use Promo Code: FLUSH
2020 Stadium Series – .COM
| Date | Stakes | Buy-In | Guarantee | PKO | Speed | Special add-on contents |
| --- | --- | --- | --- | --- | --- | --- |
| 5-Jul | Low | $ 5.50 | $125,000 | N | Regular | Top 100 receive $55 |
| 5-Jul | Medium | $ 55.00 | $400,000 | N | Regular | Top 50 receive $530 |
| 5-Jul | High | $530.00 | $750,000 | N | Slow | |
| 5-Jul | Low | $5.50 | $75,000 | Y | Semi-Turbo | Top 100 receive $55 |
| 5-Jul | Medium | $55.00 | $300,000 | Y | Semi-Turbo | Top 50 receive $530 |
| 5-Jul | High | $530.00 | $500,000 | Y | Semi-Turbo | |
| 6-Jul | Low | $5.50 | $75,000 | Y | Regular | Top 100 receive $55 |
| 6-Jul | Medium | $55.00 | $200,000 | Y | Regular | Top 50 receive $530 |
| 6-Jul | High | $530.00 | $350,000 | Y | Slow | |
| 7-Jul | Low – Freezeout | $5.50 | $50,000 | N | Regular | Top 100 receive $55 |
| 7-Jul | Medium – Freezeout | $55.00 | $150,000 | N | Regular | Top 50 receive $530 |
| 7-Jul | High – Freezeout | $530.00 | $250,000 | N | Slow | |
| 8-Jul | Low | $5.50 | $75,000 | N | Regular | Top 100 receive $55 |
| 8-Jul | Medium | $55.00 | $150,000 | N | Regular | Top 50 receive $530 |
| 8-Jul | High | $530.00 | $250,000 | N | Slow | |
| 9-Jul | Low | $5.50 | $75,000 | Y | Regular | Top 100 receive $55 |
| 9-Jul | Medium | $55.00 | $250,000 | Y | Regular | Top 50 receive $530 |
| 9-Jul | High | $530.00 | $500,000 | Y | Slow | |
| 10-Jul | Low – Deep Stack | $5.50 | $50,000 | N | Regular | Top 100 receive $55 |
| 10-Jul | Medium – Deep Stack | $55.00 | $150,000 | N | Regular | Top 50 receive $530 |
| 10-Jul | High – Deep Stack | $530.00 | $250,000 | N | Slow | |
| 11-Jul | Low | $5.50 | $75,000 | Y | Regular | Top 100 receive $55 |
| 11-Jul | Medium | $55.00 | $200,000 | Y | Regular | Top 50 receive $530 |
| 11-Jul | High | $530.00 | $350,000 | Y | Slow | |
| 12-Jul | Low – Freezeout Final | $5.50 | $150,000 | N | Regular | Top 9 receive $5,200 |
| 12-Jul | Medium – Freezeout Final | $55.00 | $500,000 | N | Regular | Top 9 receive $5,200 |
| 12-Jul | High – Freezeout Final | $530.00 | $1,000,000 | N | Slow | Top 9 receive $5,200 |
| 12-Jul | Low | $11.00 | $175,000 | N | Semi-Turbo | Top 100 receive $109 |
| 12-Jul | Medium | $109.00 | $400,000 | N | Semi-Turbo | Top 20 receive $1,050 |
| 12-Jul | High | $1,050.00 | $500,000 | N | Semi-Turbo | |
| 13-Jul | Low | $11.00 | $175,000 | Y | Regular | Top 100 receive $109 |
| 13-Jul | Medium | $109.00 | $350,000 | Y | Regular | Top 20 receive $1,050 |
| 13-Jul | High | $1,050.00 | $500,000 | Y | Slow | |
| 14-Jul | Low – Freezeout | $11.00 | $125,000 | N | Regular | Top 100 receive $109 |
| 14-Jul | Medium – Freezeout | $109.00 | $250,000 | N | Regular | Top 20 receive $1,050 |
| 14-Jul | High – Freezeout | $1,050.00 | $400,000 | N | Slow | |
| 15-Jul | Low | $11.00 | $125,000 | N | Regular | Top 100 receive $109 |
| 15-Jul | Medium | $109.00 | $250,000 | N | Regular | Top 20 receive $1,050 |
| 15-Jul | High | $1,050.00 | $500,000 | N | Slow | |
| 16-Jul | Low | $11.00 | $200,000 | Y | Regular | Top 100 receive $109 |
| 16-Jul | Medium | $109.00 | $500,000 | Y | Regular | Top 20 receive $1,050 |
| 16-Jul | High | $1,050.00 | $750,000 | Y | Slow | |
| 17-Jul | Low – Deep Stack | $11.00 | $125,000 | N | Regular | Top 100 receive $109 |
| 17-Jul | Medium – Deep Stack | $109.00 | $250,000 | N | Regular | Top 20 receive $1,050 |
| 17-Jul | High – Deep Stack | $1,050.00 | $400,000 | N | Slow | |
| 18-Jul | Low | $11.00 | $200,000 | Y | Regular | Top 100 receive $109 |
| 18-Jul | Medium | $109.00 | $350,000 | Y | Regular | Top 20 receive $1,050 |
| 18-Jul | High | $1,050.00 | $500,000 | Y | Slow | |
| 19-Jul | Low – Freezeout Final | $11.00 | $500,000 | N | Slow | Top 9 receive $5,200 |
| 19-Jul | Medium – Freezeout Final | $109.00 | $ 1,500,000 | N | Slow | Top 9 receive $5,200 |
| 19-Jul | High – Freezeout Final | $1,050.00 | $1,500,000 | N | Slow | Top 9 receive $5,200 |
| 19-Jul | Low | $22.00 | $275,000 | N | Semi-Turbo | Top 75 receive $215 |
| 19-Jul | Medium | $215.00 | $500,000 | N | Semi-Turbo | Top 10 receive $2,100 |
| 19-Jul | High | $2,100.00 | $500,000 | N | Semi-Turbo | |
| 20-Jul | Low | $ 22.00 | $275,000 | Y | Regular | Top 75 receive $215 |
| 20-Jul | Medium | $ 215.00 | $500,000 | Y | Regular | Top 10 receive $2,100 |
| 20-Jul | High | $ 2,100.00 | $500,000 | Y | Slow | |
| 21-Jul | Low – Freezeout | $22.00 | $200,000 | N | Regular | Top 75 receive $215 |
| 21-Jul | Medium – Freezeout | $215.00 | $400,000 | N | Regular | Top 10 receive $2,100 |
| 21-Jul | High – Freezeout | $2,100.00 | $500,000 | N | Slow | |
| 22-Jul | Low | $22.00 | $200,000 | N | Regular | Top 75 receive $215 |
| 22-Jul | Medium | $215.00 | $400,000 | N | Regular | Top 10 receive $2,100 |
| 22-Jul | High | $2,100.00 | $500,000 | N | Slow | |
| 23-Jul | Low | $22.00 | $300,000 | Y | Regular | Top 75 receive $215 |
| 23-Jul | Medium | $215.00 | $750,000 | Y | Regular | Top 10 receive $2,100 |
| 23-Jul | High | $2,100.00 | $1,000,000 | Y | Slow | |
| 24-Jul | Low – Deep Stack | $22.00 | $200,000 | N | Regular | Top 75 receive $215 |
| 24-Jul | Medium – Deep Stack | $215.00 | $400,000 | N | Regular | Top 10 receive $2,100 |
| 24-Jul | High – Deep Stack | $2,100.00 | $500,000 | N | Slow | |
| 25-Jul | Low | $22.00 | $300,000 | Y | Regular | Top 75 receive $215 |
| 25-Jul | Medium | $215.00 | $500,000 | Y | Regular | Top 10 receive $2,100 |
| 25-Jul | High | $2,100.00 | $500,000 | Y | Slow | |
| 26-Jul | Low – Freezeout Final | $22.00 | $500,000 | N | Slow | Top 9 receive $5,200 |
| 26-Jul | Medium – Freezeout Final | $215.00 | $1,500,000 | N | Slow | Top 9 receive $5,200 |
| 26-Jul | High – Freezeout Final | $2,100.00 | $1,500,000 | N | Slow | Top 9 receive $5,200 |
| 26-Jul | Low | $55.00 | $300,000 | N | Semi-Turbo | Top 50 receive $530 |
| 26-Jul | Medium | $530.00 | $750,000 | N | Semi-Turbo | Top 5 receive $5,200 |
| 26-Jul | High | $5,200.00 | $1,000,000 | N | Semi-Turbo | |
| 27-Jul | Low | $55.00 | $250,000 | Y | Regular | Top 50 receive $530 |
| 27-Jul | Medium | $530.00 | $500,000 | Y | Slow | Top 5 receive $5,200 |
| 27-Jul | High | $5,200.00 | $500,000 | Y | Slow | |
| 28-Jul | Low – Freezeout | $55.00 | $200,000 | N | Regular | Top 50 receive $530 |
| 28-Jul | Medium – Freezeout | $530.00 | $500,000 | N | Slow | Top 5 receive $5,200 |
| 28-Jul | High – Freezeout | $5,200.00 | $500,000 | N | Slow | |
| 29-Jul | Low | $55.00 | $200,000 | N | Regular | Top 50 receive $530 |
| 29-Jul | Medium | $530.00 | $500,000 | N | Slow | Top 5 receive $5,200 |
| 29-Jul | High | $5,200.00 | $500,000 | N | Slow | |
| 30-Jul | Low | $55.00 | $400,000 | Y | Regular | Top 50 receive $530 |
| 30-Jul | Medium | $530.00 | $1,000,000 | Y | Slow | Top 5 receive $5,200 |
| 30-Jul | High | $5,200.00 | $500,000 | Y | Slow | |
| 31-Jul | Low – Deep Stack | $55.00 | $200,000 | N | Regular | Top 50 receive $530 |
| 31-Jul | Medium – Deep Stack | $530.00 | $500,000 | N | Slow | Top 5 receive $5,200 |
| 31-Jul | High – Deep Stack | $5,200.00 | $500,000 | N | Slow | |
| 1-Aug | Low | $55.00 | $250,000 | Y | Regular | Top 50 receive $530 |
| 1-Aug | Medium | $530.00 | $500,000 | Y | Slow | Top 5 receive $5,200 |
| 1-Aug | High | $5,200.00 | $500,000 | Y | Slow | |
| 2-Aug | Low – Freezeout Grand Final | $55.00 | $1,000,000 | N | Slow | |
| 2-Aug | Medium – Freezeout Grand Final | $530.00 | $2,000,000 | N | Slow | |
| 2-Aug | High – Freezeout Grand Final | $5,200.00 | $5,000,000 | N | Slow | |
| 2-Aug | Low | $109.00 | $500,000 | N | Semi-Turbo | |
| 2-Aug | Medium | $1,050.00 | $1,000,000 | N | Semi-Turbo | |
| 2-Aug | High | $10,300.00 | $1,000,000 | N | Semi-Turbo | |
2020 Stadium Series – Spain, France, Portugal
| Date | Buy-In | GTD | Game | PKO | Speed |
| --- | --- | --- | --- | --- | --- |
| 5-Jul | € 50 | € 100,000 | NLHE | Y | Regular |
| 5-Jul | € 50 | € 100,000 | NLHE | N | Slow |
| 5-Jul | € 30 | € 75,000 | NLHE | Y | Regular |
| 5-Jul | € 20 | € 125,000 | NLHE | N | Regular |
| 5-Jul | € 50 | € 150,000 | NLHE | Y | Slow |
| 6-Jul | € 10 | € 20,000 | NLHE | N | Regular |
| 6-Jul | € 30 | € 30,000 | NLHE | Y | Regular |
| 6-Jul | € 125 | € 60,000 | NLHE | Y | Regular |
| 7-Jul | € 5 | € 20,000 | NLHE | N | Regular |
| 7-Jul | € 20 | € 30,000 | NLHE | Y | Regular |
| 7-Jul | € 50 | € 40,000 | NLHE | Y | Regular |
| 8-Jul | € 10 | € 20,000 | NLHE | N | Regular |
| 8-Jul | € 30 | € 30,000 | NLHE | Y | Regular |
| 8-Jul | € 125 | € 40,000 | NLHE | Y | Regular |
| 9-Jul | € 10 | € 25,000 | NLHE | N | Regular |
| 9-Jul | € 30 | € 40,000 | NLHE | Y | Regular |
| 9-Jul | € 125 | € 60,000 | NLHE | Y | Regular |
| 10-Jul | € 5 | € 15,000 | NLHE | N | Regular |
| 10-Jul | € 20 | € 20,000 | NLHE | Y | Regular |
| 10-Jul | € 50 | € 30,000 | NLHE | Y | Regular |
| 11-Jul | € 10 | € 20,000 | NLHE | N | Regular |
| 11-Jul | € 30 | € 30,000 | NLHE | Y | Regular |
| 11-Jul | € 125 | € 40,000 | NLHE | Y | Regular |
| 12-Jul | € 50 | € 100,000 | NLHE | Y | Regular |
| 12-Jul | € 50 | € 100,000 | NLHE | N | Slow |
| 12-Jul | € 30 | € 75,000 | NLHE | Y | Regular |
| 12-Jul | € 20 | € 150,000 | NLHE | N | Regular |
| 12-Jul | € 50 | € 250,000 | NLHE | Y | Slow |
| 13-Jul | € 10 | € 20,000 | NLHE | N | Regular |
| 13-Jul | € 30 | € 30,000 | NLHE | Y | Regular |
| 13-Jul | € 125 | € 60,000 | NLHE | Y | Regular |
| 14-Jul | € 5 | € 20,000 | NLHE | N | Regular |
| 14-Jul | € 20 | € 30,000 | NLHE | Y | Regular |
| 14-Jul | € 50 | € 40,000 | NLHE | Y | Regular |
| 15-Jul | € 10 | € 20,000 | NLHE | N | Regular |
| 15-Jul | € 30 | € 30,000 | NLHE | Y | Regular |
| 15-Jul | € 125 | € 40,000 | NLHE | Y | Regular |
| 16-Jul | € 10 | € 25,000 | NLHE | N | Regular |
| 16-Jul | € 30 | € 40,000 | NLHE | Y | Regular |
| 16-Jul | € 125 | € 60,000 | NLHE | Y | Regular |
| 17-Jul | € 5 | € 15,000 | NLHE | N | Regular |
| 17-Jul | € 20 | € 20,000 | NLHE | Y | Regular |
| 17-Jul | € 50 | € 20,000 | NLHE | Y | Regular |
| 18-Jul | € 10 | € 20,000 | NLHE | N | Regular |
| 18-Jul | € 30 | € 30,000 | NLHE | Y | Regular |
| 18-Jul | € 125 | € 40,000 | NLHE | Y | Regular |
| 19-Jul | € 50 | € 100,000 | NLHE | Y | Regular |
| 19-Jul | € 50 | € 100,000 | NLHE | N | Slow |
| 19-Jul | € 30 | € 75,000 | NLHE | Y | Regular |
| 19-Jul | € 20 | € 150,000 | NLHE | N | Regular |
| 19-Jul | € 125 | € 250,000 | NLHE | Y | Slow |
| 20-Jul | € 10 | € 20,000 | NLHE | N | Regular |
| 20-Jul | € 30 | € 30,000 | NLHE | Y | Regular |
| 20-Jul | € 125 | € 60,000 | NLHE | Y | Regular |
| 21-Jul | € 5 | € 20,000 | NLHE | N | Regular |
| 21-Jul | € 20 | € 30,000 | NLHE | Y | Regular |
| 21-Jul | € 50 | € 40,000 | NLHE | Y | Regular |
| 22-Jul | € 10 | € 20,000 | NLHE | N | Regular |
| 22-Jul | € 30 | € 30,000 | NLHE | Y | Regular |
| 22-Jul | € 125 | € 35,000 | NLHE | Y | Regular |
| 23-Jul | € 10 | € 25,000 | NLHE | N | Regular |
| 23-Jul | € 30 | € 40,000 | NLHE | Y | Regular |
| 23-Jul | € 125 | € 60,000 | NLHE | Y | Regular |
| 24-Jul | € 5 | € 15,000 | NLHE | N | Regular |
| 23-Jul | € 20 | € 20,000 | NLHE | Y | Regular |
| 24-Jul | € 50 | € 20,000 | NLHE | Y | Regular |
| 25-Jul | € 10 | € 20,000 | NLHE | N | Regular |
| 25-Jul | € 30 | € 30,000 | NLHE | Y | Regular |
| 25-Jul | € 125 | € 35,000 | NLHE | Y | Regular |
| 25-Jul | € 50 | € 100,000 | NLHE | Y | Regular |
| 26-Jul | € 50 | € 100,000 | NLHE | N | Slow |
| 26-Jul | € 30 | € 75,000 | NLHE | Y | Regular |
| 26-Jul | € 20 | € 150,000 | NLHE | N | Regular |
| 26-Jul | € 250 | € 1,000,000 | NLHE | Y | Slow |
| | | € 5,005,000 | | | |
2020 Stadium Series – Italy
| Date | Buy-In | Guarantee | Game | PKO | Speed | Add-On Contents |
| --- | --- | --- | --- | --- | --- | --- |
| 5-Jul | € 5 | € 20,000 | NLHE | N | Regular | 12X €125 Ticket 1 |
| 5-Jul | € 20 | € 30,000 | NLHE | N | Regular | 12X €125 Ticket 1 |
| 5-Jul | € 50 | € 40,000 | NLHE | N | Slow | 12X €125 Ticket 1 |
| 5-Jul | € 10 | € 30,000 | NLHE | Y | Regular | 12X €125 Ticket 1 |
| 5-Jul | € 30 | € 35,000 | NLHE | Y | Regular | 12X €125 Ticket 1 |
| 5-Jul | € 125 | € 125,000 | NLHE | Y | Slow | 12X €125 Ticket 1 |
| 6-Jul | € 10 | € 20,000 | NLHE | N | Regular | 10X €125 Ticket 1 |
| 6-Jul | € 30 | € 30,000 | NLHE | N | Regular | 10X €125 Ticket 1 |
| 6-Jul | € 125 | € 50,000 | NLHE | N | Regular | 10X €125 Ticket 1 |
| 7-Jul | € 10 | € 20,000 | NLHE | Y | Regular | 10X €125 Ticket 1 |
| 7-Jul | € 30 | € 30,000 | NLHE | Y | Regular | 10X €125 Ticket 1 |
| 7-Jul | € 125 | € 50,000 | NLHE | Y | Regular | 10X €125 Ticket 1 |
| 8-Jul | € 10 | € 20,000 | NLHE | N | Regular | 10X €125 Ticket 1 |
| 8-Jul | € 30 | € 30,000 | NLHE | N | Regular | 10X €125 Ticket 1 |
| 8-Jul | € 125 | € 40,000 | NLHE | N | Regular | 10X €125 Ticket 1 |
| 9-Jul | € 10 | € 20,000 | NLHE | Y | Regular | 10X €125 Ticket 1 |
| 9-Jul | € 50 | € 40,000 | NLHE | Y | Regular | 10X €125 Ticket 1 |
| 9-Jul | € 250 | € 75,000 | NLHE | Y | Regular | 10X €125 Ticket 1 |
| 10-Jul | € 10 | € 20,000 | NLHE | N | Regular | 10X €125 Ticket 1 |
| 10-Jul | € 30 | € 25,000 | NLHE | N | Regular | 10X €125 Ticket 1 |
| 10-Jul | € 125 | € 30,000 | NLHE | N | Regular | 10X €125 Ticket 1 |
| 11-Jul | € 10 | € 20,000 | NLHE | Y | Regular | 10X €125 Ticket 1 |
| 11-Jul | € 30 | € 25,000 | NLHE | Y | Regular | 10X €125 Ticket 1 |
| 11-Jul | € 125 | € 30,000 | NLHE | Y | Regular | 10X €125 Ticket 1 |
| 12-Jul | € 5 | € 20,000 | NLHE | Y | Regular | 12X €125 Ticket 1 |
| 12-Jul | € 20 | € 30,000 | NLHE | Y | Regular | 12X €125 Ticket 1 |
| 12-Jul | € 50 | € 40,000 | NLHE | Y | Slow | 12X €125 Ticket 1 |
| 12-Jul | € 10 | € 30,000 | NLHE | N | Regular | 12X €125 Ticket 1 |
| 12-Jul | € 30 | € 35,000 | NLHE | N | Regular | 12X €125 Ticket 1 |
| 12-Jul | € 125 | € 150,000 | NLHE | N | Slow | 9x €250 ticket 3 |
| 13-Jul | € 10 | € 20,000 | NLHE | Y | Regular | 18x €125 ticket 2 |
| 13-Jul | € 30 | € 30,000 | NLHE | Y | Regular | 12x €125 ticket 2 |
| 13-Jul | € 125 | € 50,000 | NLHE | Y | Regular | 18x €125 ticket 2 |
| 14-Jul | € 10 | € 20,000 | NLHE | N | Regular | 18x €125 ticket 2 |
| 14-Jul | € 30 | € 30,000 | NLHE | N | Regular | 12x €125 ticket 2 |
| 14-Jul | € 125 | € 50,000 | NLHE | N | Regular | 18x €125 ticket 2 |
| 15-Jul | € 10 | € 20,000 | NLHE | Y | Regular | 18x €125 ticket 2 |
| 15-Jul | € 30 | € 30,000 | NLHE | Y | Regular | 18x €125 ticket 2 |
| 15-Jul | € 125 | € 40,000 | NLHE | Y | Regular | 12x €125 ticket 2 |
| 16-Jul | € 10 | € 20,000 | NLHE | N | Regular | 12x €125 ticket 2 |
| 16-Jul | € 50 | € 40,000 | NLHE | N | Regular | 18x €125 ticket 2 |
| 16-Jul | € 250 | € 75,000 | NLHE | N | Regular | 18x €125 ticket 2 |
| 17-Jul | € 10 | € 20,000 | NLHE | Y | Regular | 18x €125 ticket 2 |
| 17-Jul | € 30 | € 25,000 | NLHE | Y | Regular | 18x €125 ticket 2 |
| 17-Jul | € 125 | € 30,000 | NLHE | Y | Regular | 12x €125 ticket 2 |
| 18-Jul | € 10 | € 20,000 | NLHE | N | Regular | 18x €125 ticket 2 |
| 18-Jul | € 30 | € 25,000 | NLHE | N | Regular | 12x €125 ticket 2 |
| 18-Jul | € 125 | € 30,000 | NLHE | N | Regular | 18x €125 ticket 2 |
| 19-Jul | € 5 | € 20,000 | NLHE | Y | Regular | 18x €125 ticket 2 |
| 19-Jul | € 20 | € 30,000 | NLHE | Y | Regular | 18x €125 ticket 2 |
| 19-Jul | € 50 | € 40,000 | NLHE | Y | Slow | 12x €125 ticket 2 |
| 19-Jul | € 10 | € 30,000 | NLHE | N | Regular | 12x €125 ticket 2 |
| 19-Jul | € 30 | € 35,000 | NLHE | N | Regular | 18x €125 ticket 2 |
| 19-Jul | € 125 | € 150,000 | NLHE | N | Slow | 9x €250 ticket 3 |
| 20-Jul | € 10 | € 20,000 | NLHE | N | Regular | 18x €250 ticket 3 |
| 20-Jul | € 30 | € 30,000 | NLHE | N | Regular | 12x €250 ticket 3 |
| 20-Jul | € 125 | € 50,000 | NLHE | N | Regular | 18x €250 ticket 3 |
| 21-Jul | € 10 | € 20,000 | NLHE | Y | Regular | 18x €250 ticket 3 |
| 21-Jul | € 30 | € 30,000 | NLHE | Y | Regular | 12x €250 ticket 3 |
| 21-Jul | € 125 | € 50,000 | NLHE | Y | Regular | 18x €250 ticket 3 |
| 22-Jul | € 10 | € 20,000 | NLHE | N | Regular | 18x €250 ticket 3 |
| 22-Jul | € 30 | € 30,000 | NLHE | N | Regular | 18x €250 ticket 3 |
| 22-Jul | € 125 | € 40,000 | NLHE | N | Regular | 12x €250 ticket 3 |
| 23-Jul | € 10 | € 20,000 | NLHE | Y | Regular | 12x €250 ticket 3 |
| 23-Jul | € 50 | € 40,000 | NLHE | Y | Regular | 18x €250 ticket 3 |
| 23-Jul | € 250 | € 75,000 | NLHE | Y | Regular | 18x €250 ticket 3 |
| 24-Jul | € 10 | € 20,000 | NLHE | N | Regular | 18x €250 ticket 3 |
| 24-Jul | € 30 | € 25,000 | NLHE | N | Regular | 18x €250 ticket 3 |
| 24-Jul | € 125 | € 30,000 | NLHE | N | Regular | 12x €250 ticket 3 |
| 25-Jul | € 10 | € 20,000 | NLHE | Y | Regular | 18x €250 ticket 3 |
| 25-Jul | € 30 | € 25,000 | NLHE | Y | Regular | 12x €250 ticket 3 |
| 25-Jul | € 125 | € 30,000 | NLHE | Y | Regular | 18x €250 ticket 3 |
| 25-Jul | € 5 | € 20,000 | NLHE | N | Regular | |
| 26-Jul | € 20 | € 30,000 | NLHE | N | Regular | |
| 26-Jul | € 50 | € 40,000 | NLHE | N | Slow | |
| 26-Jul | € 30 | € 30,000 | NLHE | Y | Regular | |
| 26-Jul | € 125 | € 150,000 | NLHE | Y | Regular | |
| 26-Jul | € 250 | € 500,000 | NLHE | Y | Slow | |