888poker continues adding to the site's ambassador roster and announced the signing of Spanish poker pro Lucia Navarro on Tuesday.
Originally from Alicante, Spain, Navarro has traveled the world playing poker and loves the game. Much of her career has focused on online poker and she also vlogs about her poker adventures on YouTube.
Her new role with 888 should be part of those media efforts now as well.
"I am super excited and grateful to be part of a strong and diverse team of ambassadors at 888poker," she said in a news release "The brand is dedicated to player enjoyment and satisfaction, which are some of the reasons I decided to wear the 888poker patch."
Claim Your $20 For Joining 888 Now
1
$20 Free No Deposit Needed
100% Up to $888 On Deposit
Use Promo Code: NEW888
Navarro's journey to poker success
Even from an early age, poker and card games in general were a major part of Navarro's life. Family members remember the youngster chasing anyone down she could to play.
That eventually led to launching a professional poker career in her home country in 2013. Navarro, who later moved to Portugal, focused mainly on online cash games. She also played live cash and tournaments at the local Casino Mediterraneo.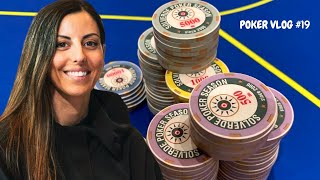 A year later, Navarro won her first major tournament, collecting $22,000 at a CNP Valencia main event. In 2015, she moved to London "to take advantage of the juicy live cash games at the Victoria Casino," 888poker's announcement of the signing notes.
More tournament play also followed, including a repeat main event title at CNP Alicante in 2019 for $35,000. The win came while on a visit back to her hometown to visit family and friends.
Navarro is the only woman on the Spanish national poker circuit to hold two major titles.
Joining the 888 team
As a member of the team, Navarro will join plenty of online action at 888poker. She also may be on the road as well for 888 live events.
Navarro says she enjoys traveling for live events, but also welcomes the calm and tranquility when playing online tournaments at home.
One of her recent YouTube videos featured Navarro playing in a tournament in Portugal. She also produced a video focusing on her online poker setup as well.
With the new 888 signing, the company will place the poker pro even more in the spotlight as she represent the brand.
"With so much love for the game and an eye to making it even more player-focused," she says, "I look forward to representing 888poker with pride. Thank you for the opportunity."
* Photos courtesy 888poker
★★★ Ready to get in the action at 888poker? Click here for a complete site review with exclusive PokerScout bonus offers. ★★