PokerStars continues adding to its ambassador lineup with some players appealing to wider audiences. After recently announcing a deal with soccer star Neymar, the site has also added English YouTuber Brian "True Geordie" Davis.
True Geordie is no stranger to poker and the game has been a regular focus of his channel. The new deal follows a trend of adding ambassadors not seen as traditional poker pros.
Davis has almost 2 million subscribers on YouTube and 113,000 on Twitch. Those platforms are a major part of his role with the company as he charts his progress improving his skills.
"I'm delighted to bring a massive passion of mine to my audience," he said in a news release. "People who know me well know that I give 100% to anything I enjoy and poker is no different. I've even drafted in some experts to train me up with the hope that one day I might be able to face the best in the game."
Claim Your £50 at PokerStars Now
1
Deposit £10, Get £50 Bonus Play

World's Biggest Poker Room
Bonus Code: SPINANDGO
Growing his presence with PokerStars
Adding True Geordie gives PokerStars a social media star who has a deep connection with his audience. Along with poker, Davis also streams about his love of soccer, mixed martial arts, and other topics.
That mix has the potential to bring new players into the PokerStars universe. Playing at the site won't be a new experience for Davis and he's partnered with PokerStars in the past. That included playing in the Stadium Series over the summer.
As part of that promotion, True Geordie played against other well-known YouTubers. He also participated in the Stars Call for Action COVID relief event.
Reaching a wide audience
Davis now joins the PokerStars fold with content geared toward poker fans and his regular viewers alike. Fans can follow his journey to improve his poker skills.
The ultimate goal is to transition from a recreational player to a professional with viewers along for the ride.
"PokerStars are the best at what they do and becoming a member of the team really is a proud moment for me," Davis said. "I have to say a big thank you to PokerStars, who are ahead of the game in supporting digital creators and their content."
As part of his new ambassador announcement, Geordie released a short film last week. The Showdown documents a cash game between Davis and some friends.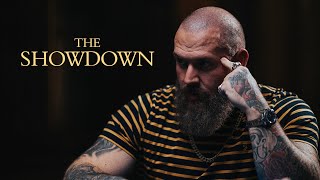 Fans can look forward to live streams of True Geordie playing home games and freerolls. They'll have a shot to even get in on the action and play along with him.
"Over the next twelve months," he said, "I hope to improve my game, play with my audience and against some of the best players in the world to show just how entertaining, fun and mentally challenging poker can be."
★★★ Looking to join True Geordie at the PokerStars tables? Click here for a site review and exclusive PokerStars bonus offers. ★★★